Get Ready To Celebrate The Holidays With A Hivelist Store Sale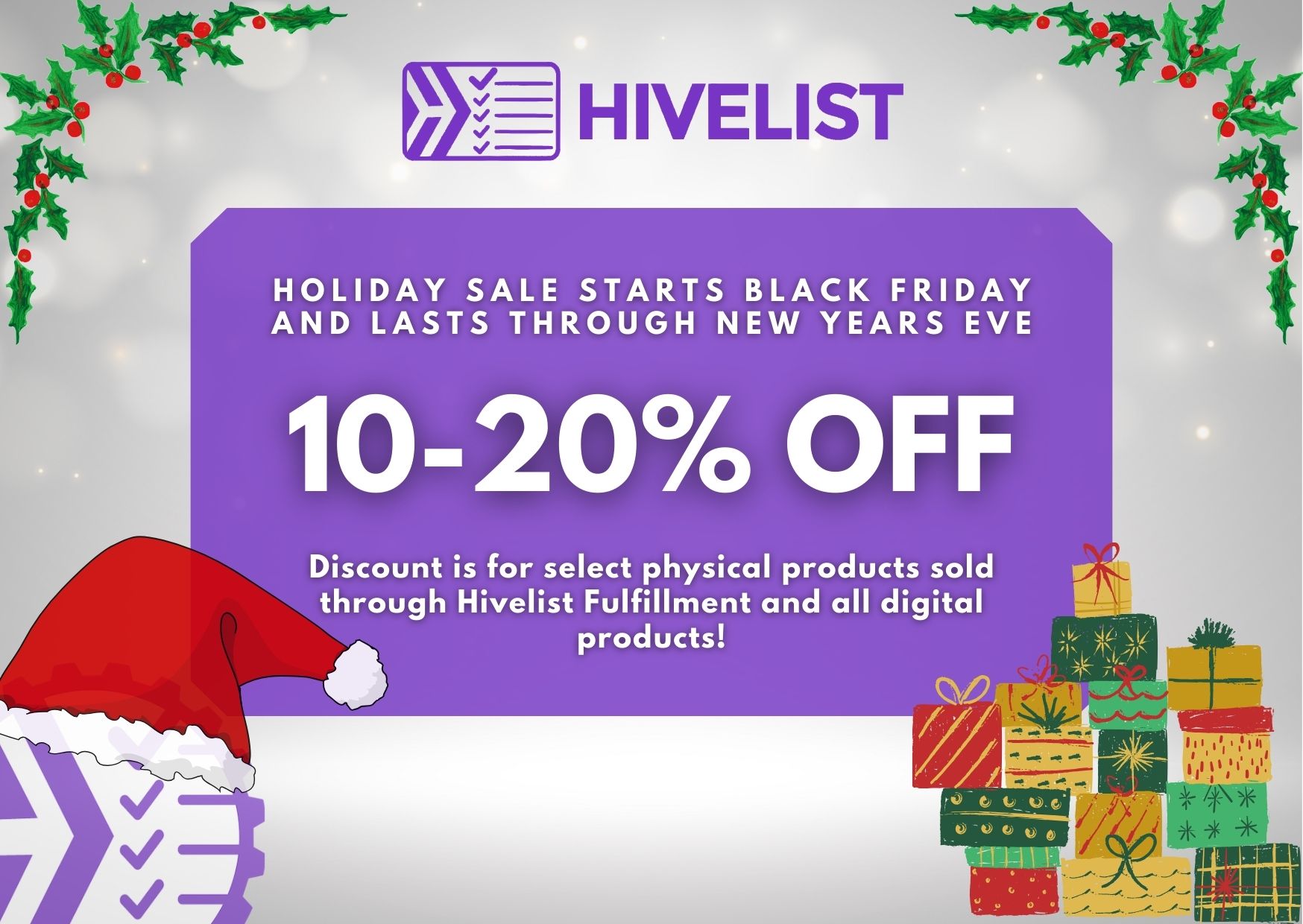 We are gearing up for the holidays over here at Hivelist! We are making some major updates on both the front end and back end of things to prepare for not only the holidays but the future e-commerce revolution we are starting! Want to help support our budding economy? Shop the Hivelist Store using your HBD and support entrepreneurs trying to build a future economy through cryptocurrencies!
Holiday Sale Start Black Friday
Our holiday sale is going to start on Black Friday and go all the way through New Years Eve! We will have select items for sale, all provided by Hivelist Fulfillment. We won't force our vendors to do any sales of their own, but they are more than welcome put their stuff up for sale too!
All Digital Items 20% Off
That's right! All of our digital downloadable items will be 20% off throughout the holidays! Give the gift of motivation and education by purchasing one of our ebooks and video courses! @thelogicaldude just launched his Logical Trading Indicator there as well, so you can get an awesome indicator to help you with your trading career!
Physical Items 10-20% Off
We will have an array of our Print on Demand items up for sale! Men's, Women's, and kid's collections, as well as some accessories, artwork, and more! We will have an entire category of items that will be for sale for the holidays!
New Gift Cards Available
If you can't decide the perfect gift, then you can pick up a Hivelist Store gift card! These gift cards are usable for anything on the Hivelist.store, even our vendor items!
With our gift card sales, we put them HBD savings in the @hivelist account and let it sit until a sale is made with a gift card. When that occurs, we extract the sale amount from the savings wallet to pay the vendor!
Get Ready Because The Holidays Are HERE!
Get your holiday shopping done early by shopping at the Hivelist Store using HBD, USDC on Polygon, or even BTC, LTC, BCH, DOGE, or MATIC! We do not accept that old dirty fiat money, so don't even ask! We are here to create a circular economy for the future of the Hive blockchain!
Black Friday is coming soon! Happy holidays from us at Hivelist!
Keep calm and Hive on!
https://hivelist.io - main info site
https://hivelist.org - blockchain classifieds/NFTs/DEFI Pool
https://hivelist.store - multi-vendor e-commerce retail store and professional services marketplace
If you like our work, please support our developer by voting for @thelogicaldude on Tribaldex with your WORKERBEE power!

Posted using HiveLIST
---
---