For Hire Category Post Template for the Hivelist Classifieds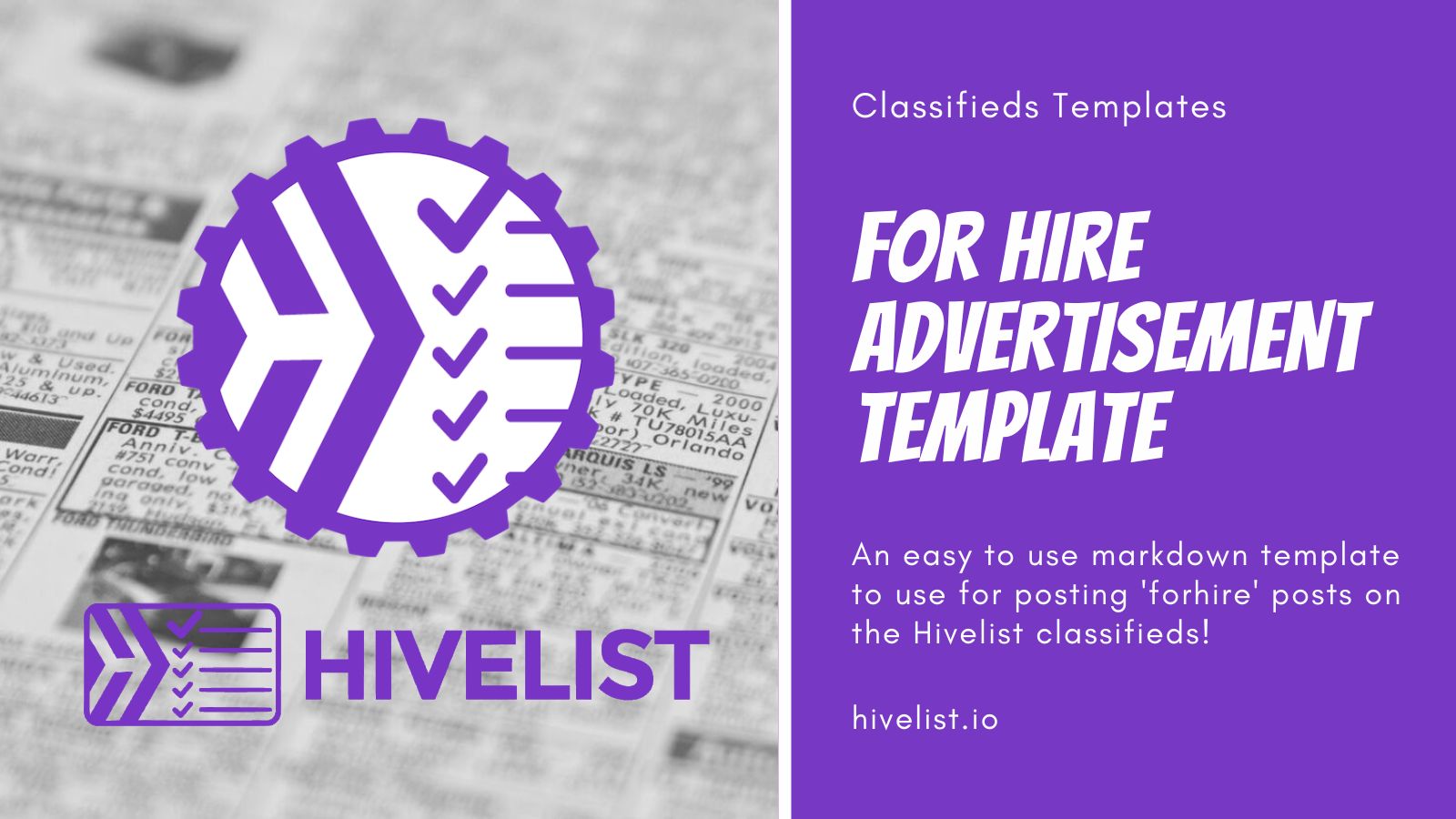 Hello Hivers! Today we are happy to post an easy to use template written in markdown language that you can use to copy and paste into a Hivelist 'forhire' post and fill out with the information for the service you are offering!
These templates will hopefully help create some consistency across our classifieds platform and really help drive the point across to what this community is all about!
Below is the temaplate you can use to copy and paste and get your post started. The first line is meant to be the title so you will be able to put that line in the title line of your Hivelist post. Feel free to edit as needed, but we do ask to please stick to somewhat of the same format for consisency.
For Hire Post Template
Use the template below along with the suggested tags: forhire,hivelist,hivecommerce for your For Hire post on the Hivelist classifieds.
# For Hire: [Your Name or Business Name]

## About Me
[Give a brief introduction about yourself or your business. Talk about your expertise, skills, and what sets you apart in your field.]

## Services Offered
[List the services you provide in detail. Explain how you can add value to potential clients and the benefits they will receive by hiring you.]

## Specializations
[If applicable, mention any specific areas you specialize in or any niche services you offer.]

## Previous Work and Portfolio
[Provide examples of your previous work or a link to your portfolio if applicable. Showcase your accomplishments and demonstrate your capabilities.]

## Contact Information
[Provide the best way for potential clients to reach you. This can be an email address, phone number, or any other contact method you prefer.]

## Rates and Availability
[Indicate your rates for the services you offer, as well as the cryptocurrencies you accept such as HIVE, HBD, BTC, LTC, ETH, etc. You can either provide a fixed rate or an hourly rate, depending on your business model. Also, mention your availability and any time constraints.]

## Additional Information
[Include any other relevant information that potential clients may find helpful or interesting.]

## Testimonials (Optional)
[If you have testimonials or reviews from past clients, include a few here to build trust and credibility.]

I am dedicated to providing top-notch services and ensuring client satisfaction. If you have any questions or need more information, please don't hesitate to get in touch.

Let's work together to achieve your goals! Reach out to me at [Contact Email Address] to discuss your project.

Suggested tags: forhire,hivelist,hivecommerce


Keep calm and Hive on!
https://hivelist.io - main info site
https://hivelist.org - blockchain classifieds/NFTs/DEFI Pool
https://hivelist.store - multi-vendor e-commerce retail store and professional services marketplace
If you like our work, please support our developer by voting for @thelogicaldude on Tribaldex with your WORKERBEE power!

Posted using HiveLIST
---
---