For Sale Category Post Template For Hivelist Classifieds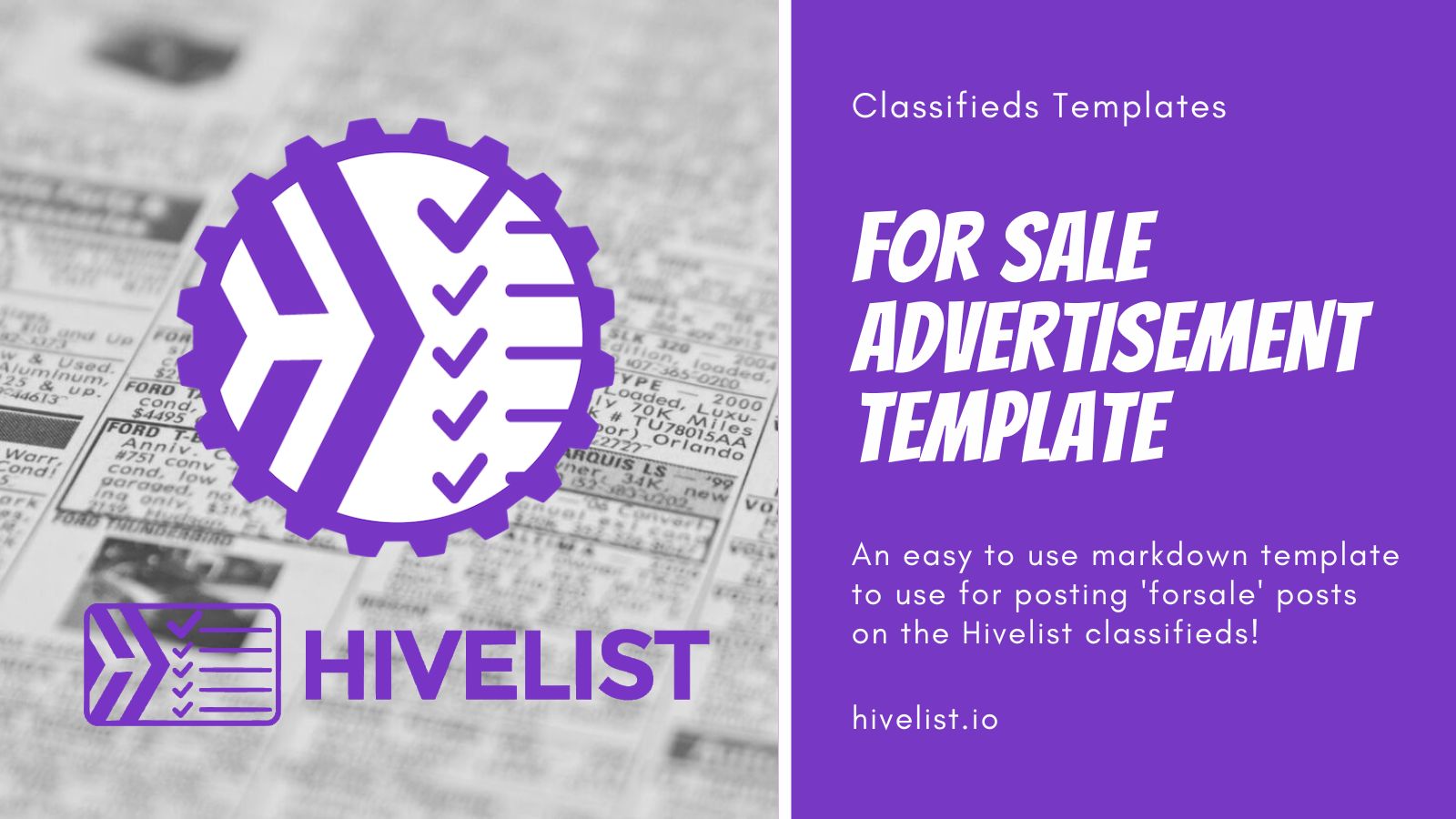 Hivelist classifieds is a place for users of the Hive blockchain to perform commerce with other trusted members of the community in a transparent manner. Problems with sites like Craigslist and others is that you don't know who you are dealing with. With Hivelist and the Hive blockchain, users have an on-chain reputation that ties to their account, so you can know if they are a trusted member of the community or not.
One issue is that people haven't been properly using out little ecommerce and advertising platform correctly, so it hasn't had the impact we had hoped for. In response of this, we have created some easy to use templates that you can copy and paste into your Hivelist post to help get you started, and to bring some consistency across our platform.
Below is the markdown language template that you can copy and paste and fill in with the information for your product! Feel free to edit this to fit your needs! We just hope that these category templates can help you get started on your journey of commerce on the Hive blockchain!
For Sale Template
This template is for use when selling items on the Hivelist classifieds. Please use the 'forsale' tag when posting to ensure the post is indexed correctly so the post shows on the classifies in the right category as well as your post will earn LIST tokens!
# Item Title: [Enter your item's title here]

## Images
[Add images of the item here. You can use the following format for each image:]
![Image 1](image_url_1)
![Image 2](image_url_2)
![Image 3](image_url_3)
[Add more images as needed]

## Description
[Provide a detailed description of the item you're selling. Include information about its condition, features, and any relevant specifications.]

## Price
[Indicate the asking price for the item. Feel free to mention if the price is negotiable or if you're open to offers.]

## Payment Type
[Clarify the accepted payment methods (e.g., HIVE, HBD, BTC, XMR, USD, etc.)]

## Contact Information
[Provide the best way for interested buyers to reach you. This can be an email address, phone number, or any other contact method you prefer.]

## Location and Delivery
[Specify the country where the item is available for pickup or the regions where you're willing to ship it. If you can ship the item globally, make sure to note that here as well. Clarify any delivery or shipping options you have.]

## Additional Information
[Include any extra details about the item, its history, or any specific terms and conditions for the sale.]

Thank you for considering this item. If you have any questions or need further information, don't hesitate to contact me!

Suggested community tags: forsale,hivelist,hivecommerce




Keep calm and Hive on!
https://hivelist.io - main info site
https://hivelist.org - blockchain classifieds/NFTs/DEFI Pool
https://hivelist.store - multi-vendor e-commerce retail store and professional services marketplace
If you like our work, please support our developer by voting for @thelogicaldude on Tribaldex with your WORKERBEE power!

Posted using HiveLIST
---
---