Last chance to get your hands on CCDPACK tokens – last month began! Now open: buy unlimited quantities*! (*=within the 999 limited edition, as long as stocks last)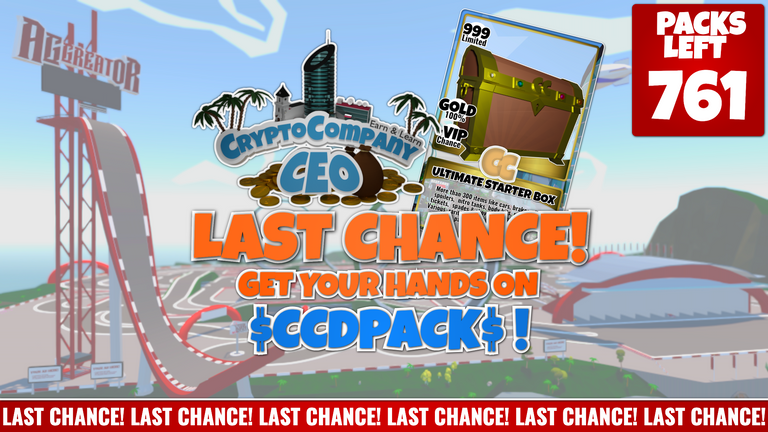 Hello dear supporters of CryptoCompany CEO! Big thanks to those who bought their CCDPACK tokens already! So far we have sold 84 CCDPACK tokens and we raised 1,020,000 CCD in the process. Big thanks to our community and supporters!
We are constantly working behind the scenes to make your pack opening experience smooth and easy. But as you can see we have been busy on other things as well and if you have not read the news yet, just check out our latest post about delegation rewards paid in CCD!
But back to the actual news:
After the reservation time for CCDPACK token is over, we start into the phase of CCDPACK selling without any restrictions. So the last month of selling CCDPACK started. Timeline & info in short:
April 2023
198 $CCDPACK reserved for 99ers. Only one pack per Hive account, two for 99ers.
May 2023
Reservations gone.

Anybody can buy $CCDPACK in an unlimited amount.

Last month of CCDPACK / golden CCDALPHA sales.
June 2023
Exchange your $CCDPACK to $CCDALPHA and open your golden CCDALPHA in our market. All $CCDALPHA are 100% gold foil in this month.
July 2023
Output of golden $CCDALPHA packs ended. Regular $CCDALPHA are sold and can be opened immediately.
According to your amount of CCPower you maybe receive a discount. Check your CCPower on FLEXNet and your tier and benefits on our website.
Regular Price per Pack: 20,000 CCD
25% Reduced Price: 15,000 CCD
(starting at tier Bronze 2)
50% Reduced Price: 10,000 CCD
(starting at tier Silver 1)
Hurry! A big part of the 999 CCDPACKs is already sold!
Act now!

Also 99 packs will be reserved for promotional purposes and distributed via giveaways and competitions for Cryptocompany CEO. Additional 55 packs will be opened by @ccceo.rewards for later in-game distribution. This further limits the amount of CCDPACK available.
Raise your CCPower to take advantage of the discounts!
The easiest way to gather a lot of CCPower in a relatively short time period is by delegating to @cryptocompany and @ccceo.invest, this does not only raise your CCPOWER but it pays you $CCD in return for your Hive power too! Check out a full guide by clicking on the banner below!


Note: Delegations are scored as soon as they are seven days old so hurry up ;)
What happens to the rest of the packs?
If not all of the 999 CCDPACK are converted to CCDALPHA Gold Packages, the remaining CCDALPHA will be added to the regular 9000 CCDALPHA.
---
Now it only remains for me to say goodbye for today.

See you later in the comments!

Make the most of the day!
---






---
---