🍀🍕 PACK OPENING GIVEAWAY 5x CARD 105 - NOV 23, 2022 🍕🍀

Hey guys,
I will open some packs every now and then to be used as prizes for the giveaways.
Results for the last round of giveaways and here are the details for the next giveaway.
CARD PRIZE FOR THIS GIVEAWAY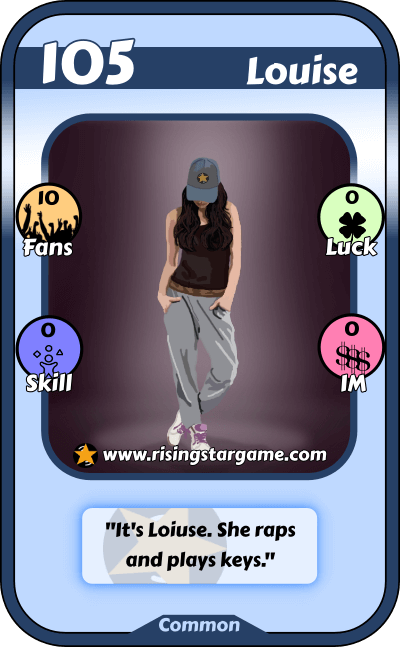 PACK OPENING
Here are the contents for this pack :


I will be giving away cards that came from packs. For commons, I will buy up some at the market to increase the number of prizes upto 5.
---
---
🍕🍕LAST GVEAWAY RESULT🍕🍕
The winners are : @rayius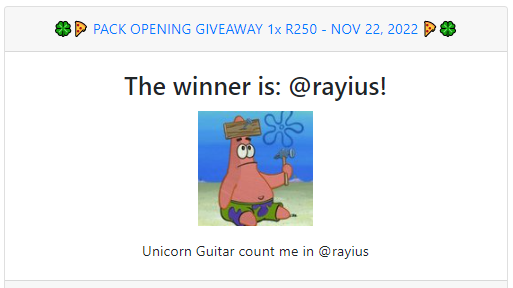 Prize sent today :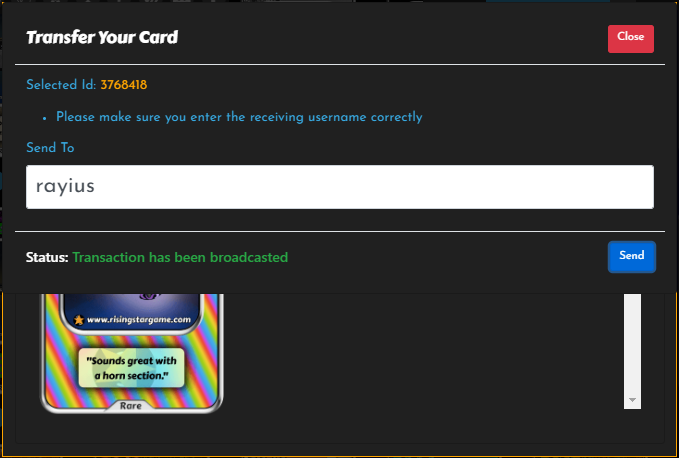 🍀🍕CARD GIVEAWAY🍕🍀
RULES :
To join this round just comment the name of the card prize for the current round (example : if prize is "1 The Busker" comment "The Busker")
Winners will just be run through "HIVE RANDOM COMMENT PICKER". In case there are site problems in it, I will just use wheelofnames
Any entry after I posted the results will be invalid.
I will tag the winner in a post for the results.
---
---
⭐️PERMANENT TAGGED LIST⭐️
If you would like to be notified everytime there are giveaways, just say so in the comments. Just comment "Stop Tag". The ones listed here will always be notified per round of giveaways
@rayius @new.things @servelle @gwajnberg @ruralio @tengolotodo @ekavieka @lordanquek @jonimarqu @meitanteikudo @breadead @lumpiadobo @zatsuchan @uggya @vaynard86 @pirulito.zoado @ifarmgirl @coquicoin @tjnew14 @tawadak24 @dizzyapple @middle-earthling @jdike @blitzzzz @jfang003 @criptosectadepit @caelum1infernum @tydynrain @stamato @newsc0rpi0 @pooky @nozzy @ifarmgirl-leo @danideuder @adysscheryl @yeckingo1 @roscar9 @henruc @circlebubble @sieghard1990 @mario02 @hoosie @vrezyy @rentaw03 @rtonline @bitandi @supriya.gupta @lundall @vicer0y @pix21 @altharoz @pero82 @davideownzall @pedrobrito2004 @bandada @lologom @belzebuzi @dafusa @bokica80 @noroi @philipp87 @edskymiguel @laaalunaaa @coccodema @duekie @monsterbuster @lorddiablo @deepspiral @heatman @imno @mueeya @camillecrls629 @darkeis @kryptofire @sorsa @gpanda911 @hhayweaver @giorvis23 @wazock @jimboy04 @nomaddreamer @strongmek @senyong @kaibagt @josman831 @thaddeusprime @ricestrela @caren07 @kaiggue @yourwhisper @crazyphantombr @blumela @treefrognada @mephiko @daethical @cryptoace33 @diegoloco @arieruzzzz @akiraymd
🍀🍀GOODLUCK 🍀🍀
Upvote is not required but are highly appreciated
Follow me if you want to get updates of future planned giveaways
---
---
⚠️ WARNING ‼️ ⚠️ THERE MIGHT BE PHISHING LINKS IN THE COMMENT SECTION. I SUGGEST TO NOT CLICK ANY SUSPICIOUS LINKS OR JUST PROCEED WITH CAUTION. THANKS.
---
---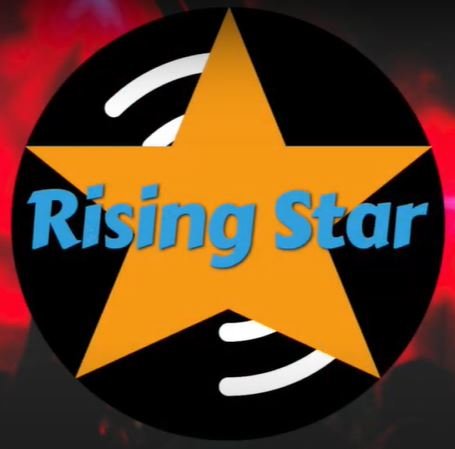 ~If you are still not playing Rising Star, Click this link to Start : RISING STAR
---
---