Hivelist Tag Guide - A Guide To Proper Hivelist Tag Usage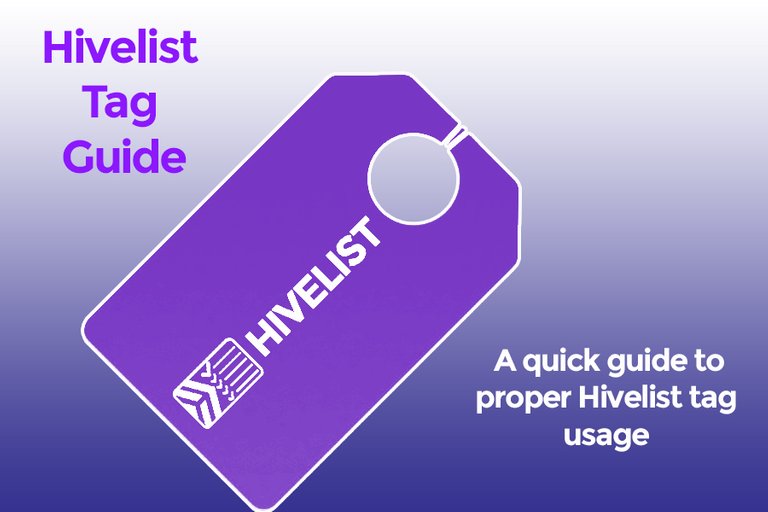 Hello everyone! This post is to address the proper use of the Hivelist tags and to give a quick explanation of the platform. This is coming in response to having to do too much moderation on the community as there have been too many random posts that have nothing to do with the purpose of Hivelist. What this does is cause a riff in the user base because people come to look for items for sale or services that are being offered and all they see are random posts that are showing up because people are improperly using the tags just to earn a token, and in many cases, dump the token back on the market. I call that leeching the rewards pool, and going to be frank and honest, I don't like it. Not only the team, but other users make comments about this quite often.
In response to the tag abuse, I have created a channel on the @hivehustlers discord in the Hivelist section for community members to come and report posts that are abusing the posts and spamming the Hivelist network.
https://discord.gg/pytM4GCWeT - This link will take you to the Abuse-report channel in the Discord server.
The purpose of Hivelist is to be an advertising, marketing, and ecommerce platform. It is meant to try and build a place that people can come and promote their work for sale, services, offer gigs and job, or post that you are in search of items or jobs etc. It is also a place to post contests and any events you might be having. If you have never seen the site Craigslist.org... This is kind of what we are trying to model after, but in a different way. It's all about advertising, promotion, marketing, and ecommerce related posts... PERIOD.
With the new addition of the @hivehustlers community to the Hivelist family, and with the launch of that tribe site, I am perfectly happy to see allot of the content that I am having to moderate on that tag. For example, you want to talk about your Splinterlands battles or your DCity progress, or you want to post about your investments etc... This is what the 'hivehustlers'or 'hustler' tags are for. We would love to see that kind of content there on https://HiveHustlers.com and https://Hivehustlers.io! Those posts are not exactly Hivelist material though...
Another example would be posting your photography and art... For this example, if you are trying to sell your art either as physical art or as digital NFT's or whatever, that is what Hivelist is for... If you are just showing off your work... please refrain from using the Hivelist tags, HiveHustlers or Hustler is perfectly fine for that as well! We love to see what your hustle is over there! But we want to keep Hivelist pure for ecommerce, or Hivecommerce I should say.
Proper tag use helps with the search functions and it also helps put your post in the right place for people to easily find it. If you are selling tshirts, you want your post to show in the forsale area, don't you? If you do not use the correct tags, your post will not be as effective. You want people to find your product or service dont' you?
Proper use of tags result in nice upvotes, positive comments, and possible post promotion by burning LIST tokens by the Hivelist account.
Improper use of tags lead to a one comment warning, like some have recieved, explaining the proper use of the tags, then further abuse will lead to downvoting and the possibility of being muted from the platform all together. I really don't want to do that... So let's get into the proper use of the Hivelist tag set!
Tag Descriptions and Proper Use
Below are all of the Hivelist activator tags...
Hivelist - This tag is the overall hivelist tag and is the one that gets the most abuse overall. Please only use this tag if you are posting about the Hivelist platform itself, I am perfectly okay with the community helping promote the platform.
Classifieds - This is the least used tag... Use it the same way you would use the Hivelist tag... Or use it in conjunction of any of the other tags like forsale, services, etc...
Hivecommerce - Hivecommerce tag is meant to be used for posts that discuss well, ecommerce or any business related topics. For example, How to posts for businesses, business tips, etc. These are all great uses of the Hivecommerce tag. This goes the same for the Hivehustlers community. This tag earns BOTH LIST and HUSTLER dollars... But please use properly and only use if you are discussing business and entrepreneur related topics.
Forsale - This one should be pretty obvious... If you have an item to sell, make sure to use the 'forsale' tag in your post! This can be items you have on an outside store, or linked to your store on Hivelist (when the community store is released). If you have NFT art for sale or any other NFT's you want to sell, Make a post and use the 'forsale' tag, it's perfect for that kind of action.
Services - Use the services tag if you are advertising a service that you offer. For example, if you are a graphic designer and you want to advertise your services, make a post on Hivelist and use the 'services' tag for your post and it will end up in the right place!
Contests - the 'contests' tag is one of the more popular tags and is meant for users to promote any contests they are holding. For example, if you are holding a contest for your tribe or community and you want to promote it, simply add the 'contests' tag to your post and it will show up on Hivelist in the Contests area! Please do not use for contest result posts, we really just want the contest promotion itself.
Gigs - This tag is to be used for promoting any job or gig you may be offering or in search of. For instance, if you are looking for a developer for your project, you can make a post, In Search of Developer for XYZ and use the 'gigs' tag and it will show up in the Gigs section of Hivelist. If you are a service provider looking for customers, you would be better to use the 'services' tag.
These are all of the 7 main activator tags for the Hivelist platform and their proper uses. We also suggest that you use any so called descriptor tags in addition to the main tags to help other users with searching, etc. For example, if you offer tshirts for sale, you might think about use the tag set: forsale, clothing, tshirt, men, women... this is just an example...
If you are selling NFT art from @nftshowroom for instance, you will want to use the tags: forsale, nft, art, classifieds, and then any other descriptive tags you want. Even throw in the 'hivehustlers' tag for an added bonus, because we love NFT art over there as well! Be sure to put a link to your NFT's in your post so customers can easily find it!
If you are offering a landscaping service in particular city, you may structure your tags to be something like this... services, classifieds, landscaping, maintenance, city, state, country... Again, these are examples of what we are looking for.
Wrapping it up
I think, or at least hope at this point, you get the idea of how the Hivelist tags are supposed to be used. We want to try to keep it as pure to the intent as possible and not be abused just to earn tokens. We want proper use of the platform. For many of the posts that we have sent warnings to, most of that content is great for the HiveHustlers tag, but not for Hivelist. So again, if you want to talk about your hustle, share your portfolio updates, game results, etc... That is what Hivehustlers.io is for.
Thank you all for supporting us through this development! I hope that the vision is becoming more clear as things evolve. So let's help each other by creating one of the best marketplaces in the crypto space, not just Hive!
Thank you for your time,
@thelogicaldude and The Hivelist Team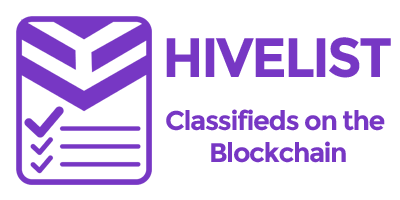 Throwing mentions to the LIST Staking Club in an effort to help get this word out! Please reblog this post!
@richardcrill
@nulledgh0st
@d00k13
@merlin7
@uyobong
@toni.photo
@jeffjagoe
@charityball
@recording-box
@thatsweeneyguy
@crusin
@jonyoudyer
@holovision
@ganjafarmer
@djsl82
@tomlee
@badmusgreene
@lifeskills-tv
@r1s2g3
@metzli
@jongolson
@idkpdx
@invest4free
@deuceman
@forykw
@hivehustlers
@pixiepost
@bucipuci
@aiovo
@blainjones
@hivetrending
@valchiz
@adhammer
@saachi
@chubb149
@roger.remix
@jzn
@chireerocks
@bellaian
@sirdemian
@monsterbuster
@bucipuci
@apostlevincent
@bitandi
---
---