Hive Authentication Services - Update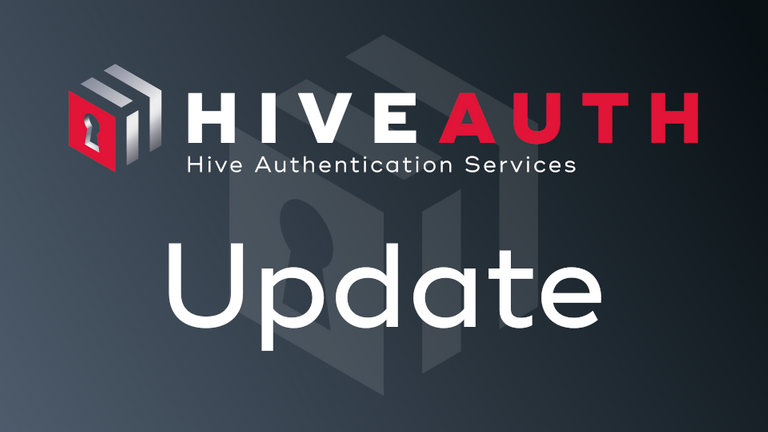 It has now been two months since the Hive Authentication Services was officially put into production successfully. Apart from a very small hiccup in the first hours, there were no major problems and the services are now running at their cruising speed.
A lot of work has been provided during these two months to fix small bugs here and there, improve the HAS protocol, assist developers in integrating HiveAuth into their applications and coordinate with Keychain developers.
With the help of @louis88, I also created the HiveAuth website to provide all information related to HiveAuth, keeping in mind people who are not used to the Hive ecosystem.
Applications supporting HiveAuth
Several tools and applications have now added HiveAuth as a means of authenticating and signing transactions.
Private Key Storage Applications
Front-ends
Many other applications are being adapted or have shown interest in this new technology. I also contacted several apps developers to help them to integrate HiveAuth into their applications.
PS: Did I miss any app supporting HiveAuth in the list. Feel free to comment and I will update the post.
Developers tools
HiveAuth statistics
You probably already know, I'm a big fan of statistics!
Unfortunately, in the case of the HiveAuth project, I sabotaged myself. As I explained on the CryptoManiacs podcast with @taskmaster4450 and @jongolson, for obvious security and privacy reasons, I did ensure that as much of the data that passes through the Hive Authentication Services gateways is encrypted and therefore unusable by the operators of these servers. All a HiveAuth host can see are the account names and the HiveAuth protocol message type.
Although some suggested adding plaintext metadata to the protocol to be able to break down the traffic per app, that's something I declined. Privacy is important to me and I don't want anyone (including me) to track or be tracked for what they are doing, as most web 2.0 players do. This has been (and still is) a key selling point for HiveAuth.
Therefore, I do not have much information to provide you on this subject apart from the following:

As you can see, every day around 150 users rely on HiveAuth to authenticate. In all, no less than 3775 accounts have already used HiveAuth as an authentication method since the launch of the service.

Regarding the operations carried out, you can see that half a thousand operations are signed and published on the blockchain every day and that the number of authentications carried out has almost doubled in recent days.
This is most likely due to the arrival of new applications that have integrated HiveAuth and to the tests carried out by the developers who are currently working on this integration.
These usage statistics may seem low to you, but it has their good sides. The technology is relatively young and it is better to grow gently rather than to see a massive adoption followed by a loss of confidence because of the problems encountered in its infancy.
What is certain is that according to the feedback I regularly receive, those who use it are delighted and convinced of the security benefits of this authentication method, especially mobile users.
What's next?
The work is not yet finished.
HiveAuth has now demonstrated its stability and reliability. But to see the above numbers grow, we now need to promote the integration of HiveAuth into more applications to accelerate its adoption.
The goal is no less than revolutionize the way users authenticate on their applications by providing a keyless and passwordless solution (at least at the User Interface level).
For this to happen, we need to get out of the (currently) small world of Hive and convince as many developers and users of other applications as possible.
That's why I am currently working with a digital marketing agency to think about the best way to promote HiveAuth inside but also outside the Hive ecosystem.
I will come back to you with the result of our cogitation!
---
---
Check out my apps and services
---
---