(Google translate from Czech)
What is the probability that in the current situation I will get beyond the borders of the Czech Republic?
What is the probability that you will look to another country?
---
---
Welcome to the announcement of the next round of a small photo competition for all Hive users
𝓐𝓻𝓸𝓾𝓷𝓭 𝓣𝓱𝓮 𝓦𝓸𝓻𝓵𝓭
---
---
One answer would be there. Through this competition, we can "travel" around the world. Just take a photo of your surroundings, enter the competition and show us what it looks like for you.
Don't know how to enter the competition?
It is simple. The following lines will tell you everything you need :-)
There is only one rule for participating in the competition. Use a tag

#aroundworld
There are a few additions:
write the mark in one of the first five places
for my better overview, insert a link to the competition photo in the comments to this article
provide a photo of the photo where it was taken (place, city, country)
What do you need a description of where the photo was taken?
It's simple. I want to know what part of the world I'm looking at :-)
And will I get anything out of it?
Of course. In addition to the regular prize for an article published on Hive, the following prizes await the winner:

First place ... 1 HBD
Second place ... 0.6 HBD
Third place ... 0.4 HBD
If your competition photo is part of the daily report for Actifit, the winning images will receive the following additional prize:

First place ... 100 AFIT
Second place ... 60 AFIT
Third place ... 40 AFIT
So take diligent photos and send photos so we can safely see the whole world :-)
---
And the usual addition at the end. This competition round will end on April 9, 2021 at 20:00 CET



created by @xlisto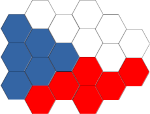 Jaká je pravděpodobnost, že se v současné situaci dostanu za hranice České republiky?
Jaká je pravděpodobnost, že se vy podíváte do jiné země?
---
---
Vítejte u vyhlášení dalšího kola malé fotografické soutěže pro všechny uživatele Hive
𝓐𝓻𝓸𝓾𝓷𝓭 𝓣𝓱𝓮 𝓦𝓸𝓻𝓵𝓭
---
---
Jedna odpověď by tu byla. Prostřednictvím této soutěže můžeme "cestovat" po celém světě. Stačí udělat fotografii z vašeho okolí, přihlásit se do soutěže a ukázat nám, jak to u vás vypadá.
Že nevíte, jak se do soutěže přihlásit?
Je to jednoduché. Následující řádky vám řeknou vše potřebné :-)
Pro účast na soutěži platí jediné pravidlo. Použít značku

#aroundworld
K tomu ještě pár dodatků:
značku napište na jednom z prvních pěti míst
pro můj lepší přehled vložte odkaz na soutěžní fotografii do komentářů k tomuto článku
fotografii opatřete popisem, kde byla pořízena (místo, město, země)
Na co potřebuješ popis místa pořízení fotografie?
To je prosté. Chci vědět, na kterou část světa se dívám:-)
A budu z toho něco mít?
Samozřejmě. Kromě běžné odměny za článek uveřejněný na Hive, čekají na vítěze tyto odměny:

První místo ... 1 HBD
Druhé místo ... 0.6 HBD
Třetí místo ... 0.4 HBD
Pokud bude vaše soutěžní fotografie součástí denního hlášení pro Actifit, obdrží vítězné obrázky navíc tuto odměnu:

První místo ... 100 AFIT
Druhé místo ... 60 AFIT
Třetí místo ... 40 AFIT
Tak pilně foťte a posílejte fotografie abychom mohli bezpečně vidět celý svět :-)
---
A obvyklý dodatek na závěr. Toto soutěžní kolo bude ukončeno 9.4.2021 ve 20:00 SEČ