Indonesia Bersatu Live Perform at Punkgahan Gigs (Tebing Tinggi City)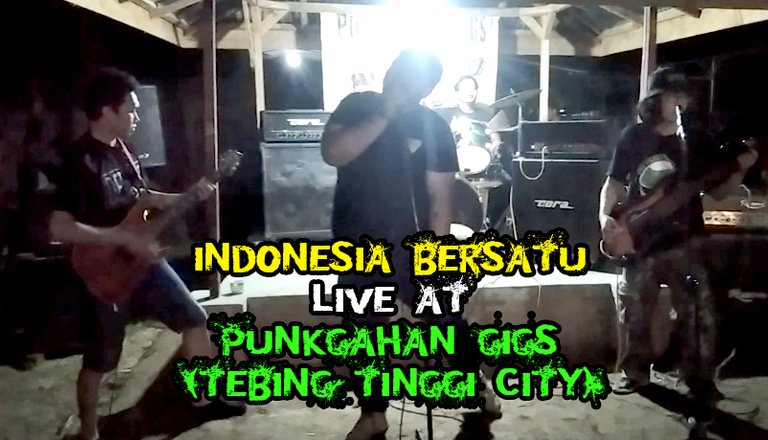 ---
Hello, my brothers and sisters. On February 26, 2022, our band "Indonesia Bersatu" was invited to join and participate in a Gigs event organized by street punk friends from the city of Tebing Tinggi. there were about 15 punk bands who joined the event.
There, we met punkers from various cities. There we also stay in touch and dance together in every band that plays. Our band got their turn for the night to perform. The friends there are very excited to dance and have fun.
At the event, our band performed six punk songs, but I didn't include one song in this video, because one person who wasn't from the punk community was making trouble intentionally, so there was a bit of chaos between the punk community and the local youth. Finally, the problem can be overcome so that the event continues again
The first song we performed was a song called "Pelacur" (Bitch). This song was created and popularized by a band from the city of Jakarta called "Bunga Hitam" which was released in 2003. Until now, the song, entitled "Pelacur", is often performed by punk bands in our city, namely Medan.
The second song that we brought was a song entitled "Buktikan" (Proof). This is our original song which will soon be included in the next album. For your information, we have released three albums. The song, entitled "Buktikan", contains lyrics that invite everyone to unite and build a better life. If we are together to work together, then the burdens of life are very easy to go through.
The third song that we brought was entitled "Lawan" (Fight). This song is a creation of the Hardcore Punk band from Bandung named "Jeruji" which was released in 2002. This song contains lyrics that are firm and full of anger. Challenge the government and want to destroy power.
The fourth song that we performed was entitled "Luka Kita" (Our Pain) which was created by a band from Jakarta called "Marjinal". This song is about a natural disaster. The lyrics of this song invite us to care and want to help victims of natural disasters that occur. By helping them, it will reduce their burden in the face of calamity. This is the song I like the most.
The fifth song is a song that I didn't include in the video. the song is entitled "Jeritan Suara Rakyat" (Scream of People). This is our original song which has been released on our third album. This song contains lyrics that criticize the government for not caring about the poor who are starving. This song was released in 2009 when the crisis occurred in our country.
The sixth song is the last song we performed, entitled "Kaum Marjinal" (The Marginal). This is also our original song which was released in our second album, this song was released in 2006, I was still in school at that time and I was too young in a band. The lyrics of the song remain a critique of the greedy and corrupt government.
Those are the songs that we performed at the "Punkgahan Gigs" event in Tebing Tinggi city. We miss these gigs again and we also miss our punk friends who were there.
---
▶️ DTube
▶️ IPFS
---
---