In 2020, I'll Plan and Start Execution for my retirement at "40"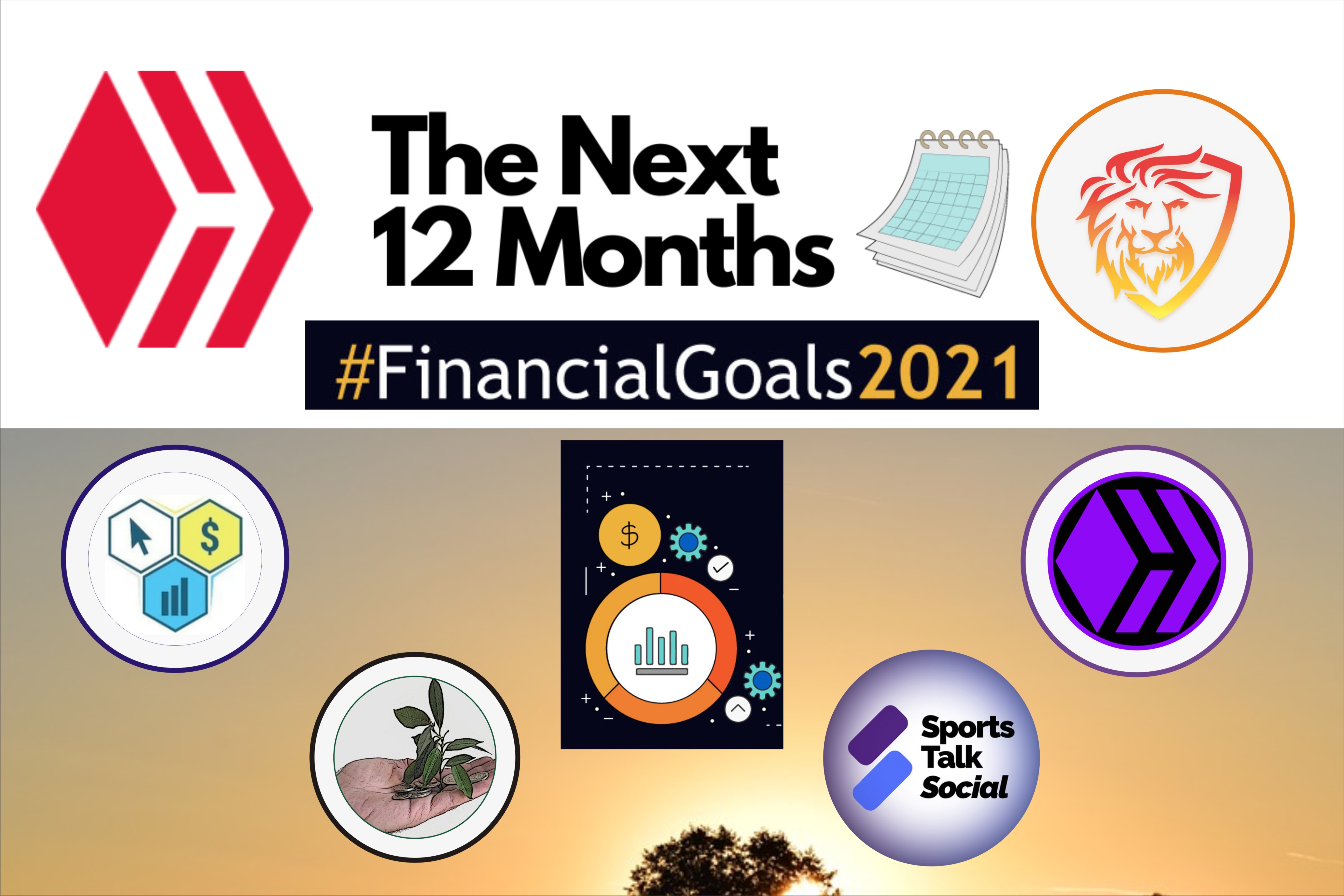 I've been very optimistic about the year 2021 and finally it' hear and we're 12 days in already. So far, all I see is a greener year for restoration for the losses that were accrued in year 2020. The last year was a year for learning as far as cryptocurrency investment is involved. I tried my hands into a lot of new things to see how the outcome would change from what I got in the past years and I learnt my lessons.
Eventually, I ventured into futures trading towards the end of 2020 and the outcome was superbly full of joys and jerks and I told myself "its always safer to earn crypto especially in a community where there is no censorship and security of assets is guaranteed such as we have on Hive blockchain.
With the lessons from year 2020, I built my strategy for the new year and I'm really in with a "Passive investment strategy". I want to build my stakes of cryptos that can mine other cryptos or fractions of itself sustainably. There is no better place to have that than on Hive. However, I'll have a little peck of BTC and other alts like HAG, ETH and others.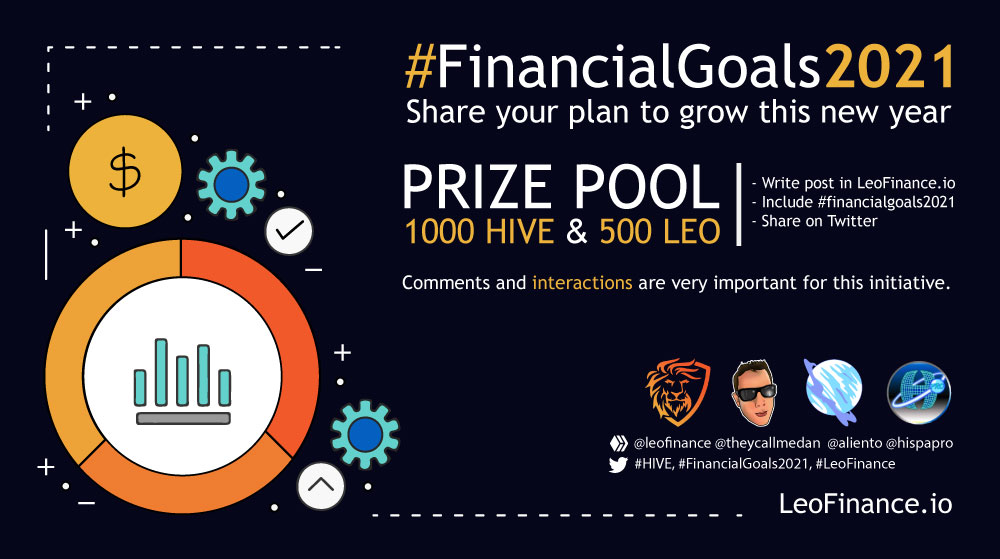 It's exciting top participate in this 2021 goal initiative by Theycallmedan. Let me try to attempt to the questions asked on how my new year would look financially.

Which is going to be your investment strategy for 2021?
I am breaking my financial year into months to look at how I'll be able to attain my grand goals. While one could be optimistic of a bullish market in the year, I would prefer to earn cryptos that buy them. Below is my monthly targets for the next Six months.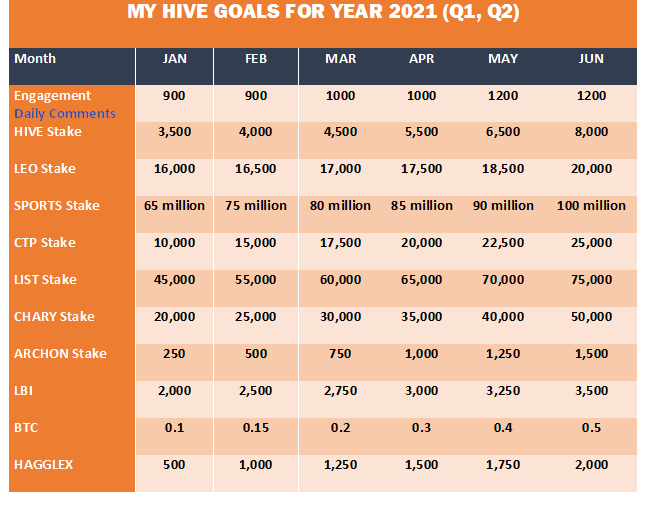 The drive is to ensure that I build a stake system of Hive tokens that can earn me curation rewards of say $500 monthly. That sounds huge but I need to get to that level because of the budget for the year, and crypto would be the basic source of income.
Do you have any specific assets that you want to invest in?
My interest areas are:
HIVE
Hive Tokens - LEO, SPORTS, LIST, CTP, CHARY, ARCHON
Hive Token pools like LBI, INDEX
BTC and HAGGLEX
Preferred Investment? Crypto, Real State, Commodities, Stocks?
Cetrtainly Crypto. In fact, it seems I'll be retiring from earning Fiat in 2021 while I start planning and execution for my work retirement at 40. Outcomes from Crypto investment profits would be used to purchase lands and landed properties for personal and organizational use.
Do you have a plan or a set of goals on how to use and grow your stake?
To grow my crypto holdings and stakes, I wish to do it on daily, weekly and monthly baais depending on the asset cost and mode of earning.
For Hive and Hive tokens, I'll do more content creation/engagement on daily basis to earn the tokens and stake same.
For BTC, I'll wait for a dip to say $25k and hopeful it'll be to buy some tangible amounts.
I am going for HAGGLE tokens by the end of January which would be the end of the pre-sale. The token promises several realtime financial usecases that would finally take me off the bank and banking transactions.
Price predictions
The following are my predictions for the following cryptos by the end of the year:
HIVE - $1
LEO - $5
SPORTS - $0.01
LIST - $0.1
CTP - $0.5
CHARY - $0.5
BTC - $100,000
ETH - $6,000
HAGGLE - $10

Indeed, 2021 would be a year to reckon with and grand of all my financial goals is to startup my plans for retirement at 40. I hope to be a Billionaire (in my local currency) by then and I'll be able to fully fund my charity and humanitarian organization. My interest is education adn I had highligted it in this post and this post.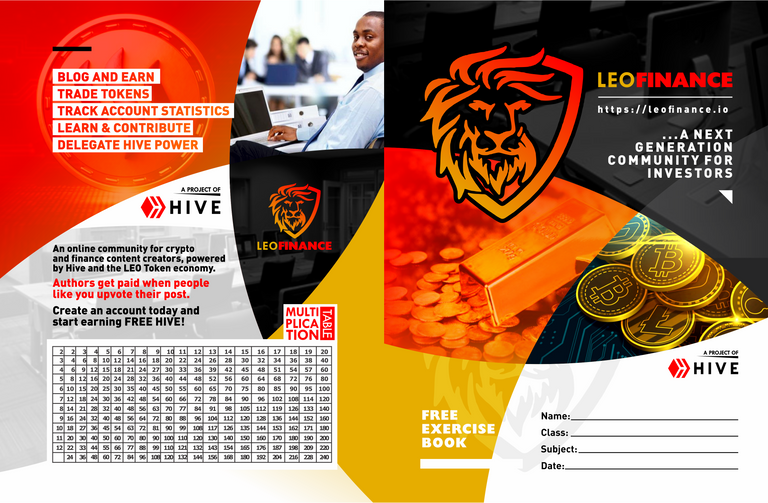 A sample design of LEO Book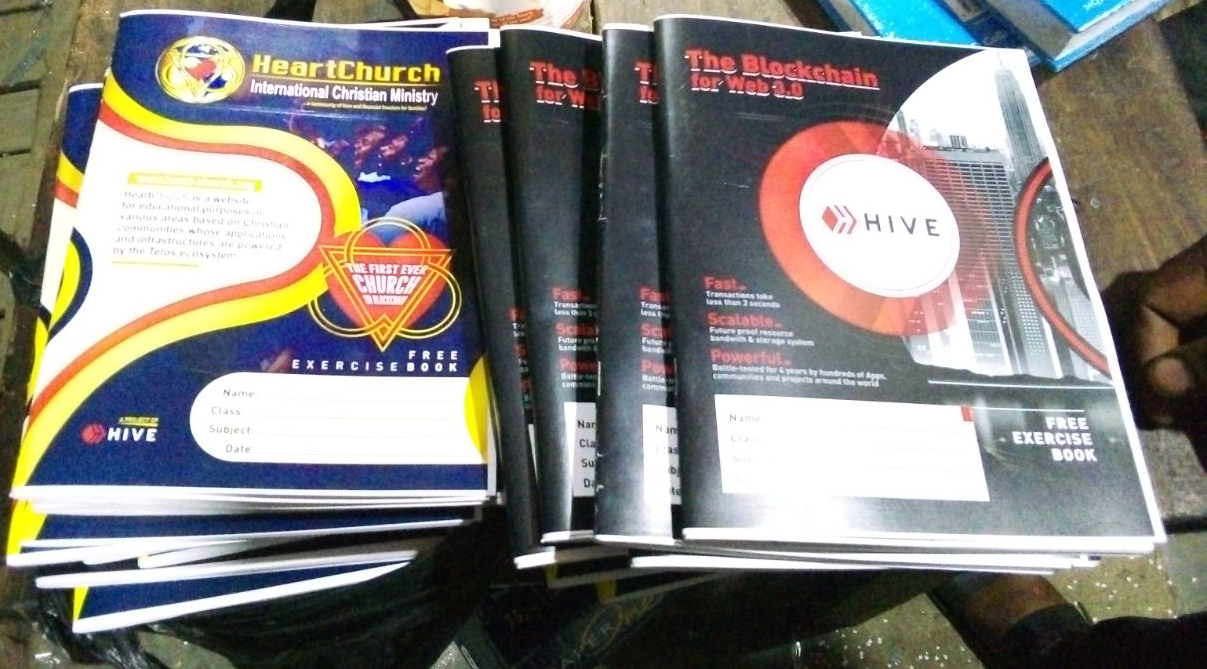 A Test Print of Hive Books
Let's keep being hopeful until we get the best. 2021 shall be the best of years so far for me financially.
Posted Using LeoFinance Beta
---
---