Use HBD (or BTC) to pick up my books... anywhere in the world 🌍 (FINALLY!)
I'll say it: Hivelist is the most underrated project at Hive.
Talk about a potential way to keep money in the ecosystem and get people using Hive.
---
About a year ago I put my first mini-novella, Confessions of the Damaged 1.1 up at Amazon, Apple, Barnes and Noble, Kobo and a bunch of platforms I've never heard of.
It was exciting!
I never imagined it would be that easy, and even if I only sold a few copies, I can call myself a published author now! Self published!
It was easy for anyone using those platforms to buy it but friends in many countries don't have access to these platforms, especially friends at Hive. Another problem is that I have no desire to make money for Amazon or Apple.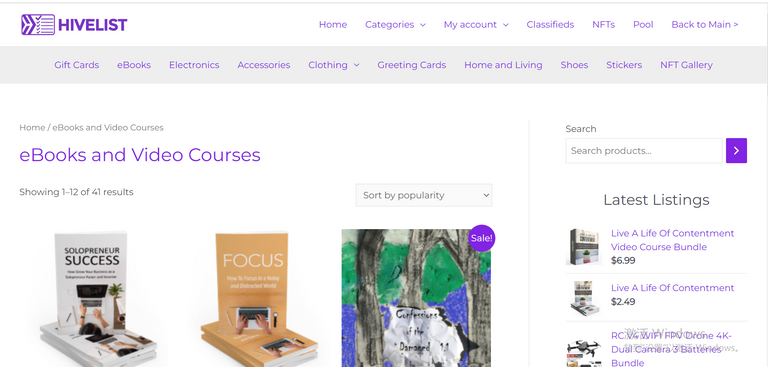 I've been aware of this project for a while but I am amazed at how much it has grown! @thelogicaldude totally rocks!
Hivelist let's you create products and automate distribution so you barely have to do anything. Ebooks are always rather straightforward, but unlike other shops, you can keep 90% of the profits.
As for clothing, accessories and the like, Hivelist is similar to printify, printful, or Redbubble, except you can pay with HBD and other crypto, and unlike the cheaper services like this, you don't have to pay for or manage a website and store integration, it's all much simpler! For other merchandise you can set your own prices and decide your profit margin and hivelist takes a small percentage for managing everything.
You can buy and sell e-books or other merchandise WITH HIVE or BTC, anywhere in the world with no restrictions. Hivelist merely automates the process and give you an onramp.
And so my novella series is finally available using HIVE and because of the crash, I decided to offer Confessions of the Damaged 1.1 and 1.2 for 40% off.
That means you can pick up each of these novellas for $2 USD in Hive or HBD.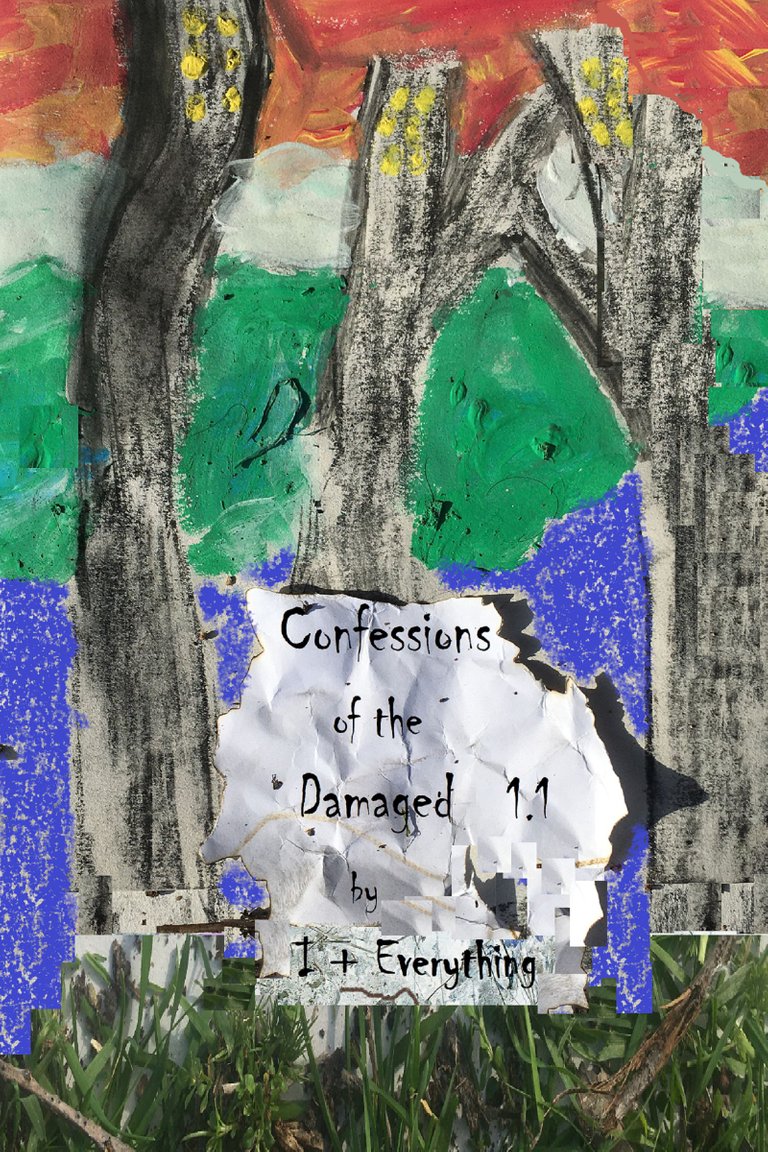 1.1 artwork by @vincentnijman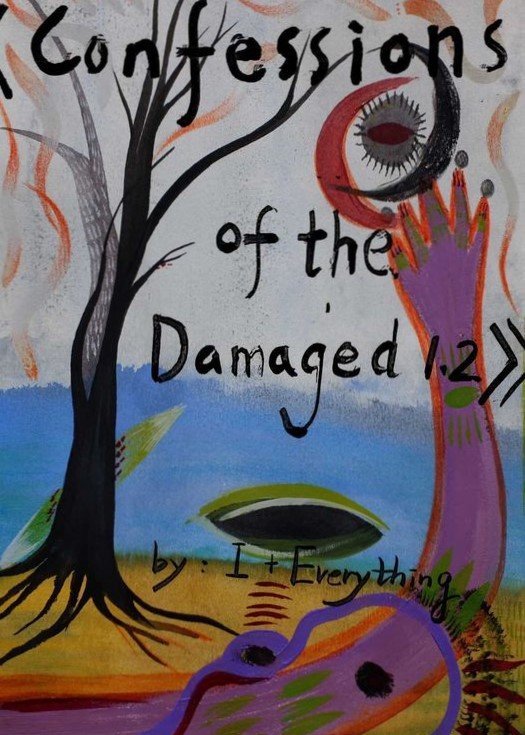 Confessions of the Damaged
The story follows a mean who is untangling his past as he wanders the streets with nowhere to go, tuning in to other worlds and discovering true beauty and meaning. It's a mildly psychedelic journey into the self, one that may leave you weeping and smiling and contemplating your own life.
It started as a memoir, but as I began to write it, the characters started to tell me what to do, and so in the end it is around 70% fictional.
1.1 is around 35 pages and 1.2 is around 50 pages, so they are a quick read, but they are also dense and invite multiple reads. There is a continuous narrative but most chapters can function as their own short stories.
Until July 15, both novellas are 40% off. That's 2 HBD (down from 3.6 HBD)
Here's how to buy my book (or any ebook) at Hivelist:
1 For Confessions of the Damaged 1.1 click here and for part 1.2 click here
2 Click "Add to cart", then "View Cart"
3 Click "Proceed to checkout" towards the bottom
4 Check "Pay directly with HBD" and fill out your email and hive name. Check the "Agree to conditions"
5 You will see a confirmation page, that means the order went through but you still have to transfer the HBD manually, so go to your wallet of choice and transfer 2 HBD per book to @hivelist
Payment will be processed within 24 hours but usually within an hour
6 At the menu on top, click "My account" and "My downloads" and from there you can download the PDF to read the book!
Here are some pics to get an idea: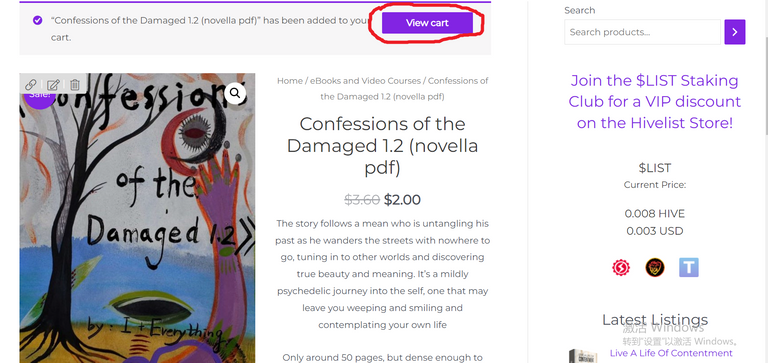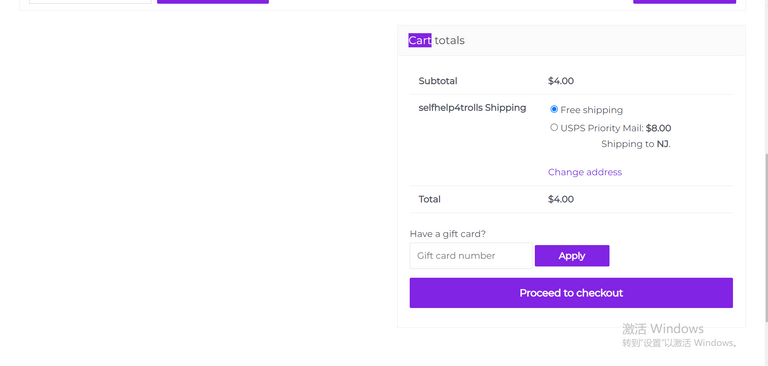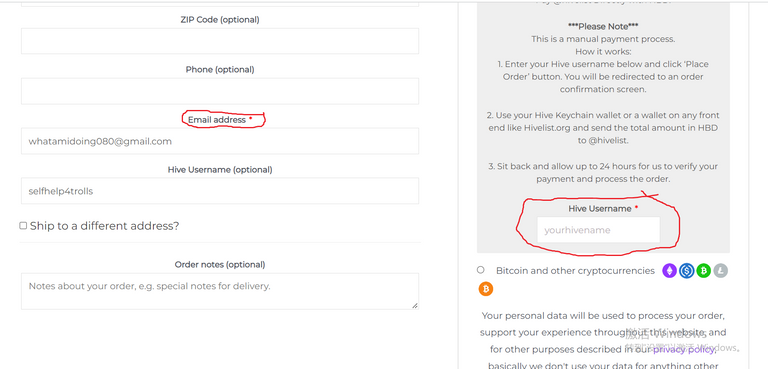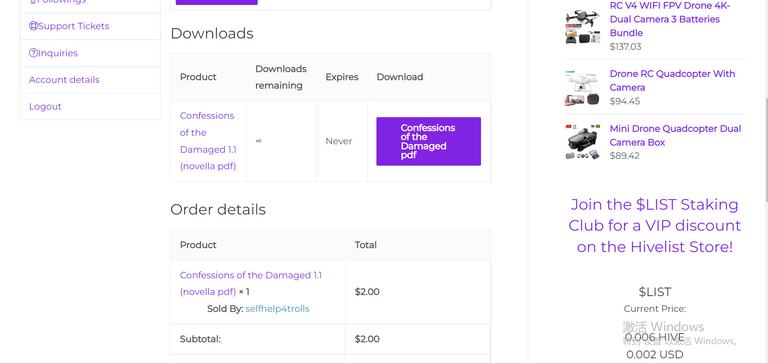 I put so much of myself into this story and so I hope you pick up a copy of each and let me know what you think! If you read it please give it a review at goodreads
I am so incredibly excited at being able to offer it with Hive and look forward to more people buying and selling with Hive to keep our resources inside the community and make this place stronger!
❤️
💚💜
💛
Check out Hivelist discord here. It's not very active now but @thelogicaldude is always there to answer questions and I'm gonna pop in to keep the chat active. Maybe we can build some kind of support group for people selling merchandise and building social media accounts outside hive so we can bring more people to this place!
🌎🌎🌎🌎🌎🌎🌎🌎🌎🌎🌎🌎🌎
Check out my Books 📕 Music 🎸 Podcast 🎬 and Merchandise HERE
Confessions of the Damaged 1.1 and 1.2 novellas - Out now!


---
---