My Splinterland Card Drawing #25.
Hi, sorry for the supper late post I took my wife on a 6-day cruise in the family boat around the Puget Sound and the San Juan Islands. We were not allowed to use any internet or phones except for emergencies. She did really a really good job for what she is going thru, I was supper happy that she agreed to go for how sick she is anyways that's enough blabbing. Don't forget to thank all the people that upvote these post they help keep it and going. THANK YOU FOR THE UPVOTES! Remember with the hbit command you can only do two other ! commands now with it in a reply. I want to thank all of you for all the best wishes, support and for being understanding and positive with the comments. All of you are awesome and I could not have paid for a better community of people. THANK YOU ALL for being understanding.
I am now down to every 2 days, and I am sorry to say that I have decided it is going to stay at 2 days for a while. For each card that I put up for prizes, I have also added the lore of the card below them, read them if you are interested, together they kind of make a story. If you can, do an upvote so the cards can get better everything these giveaways make go to getting better cards it is not for me.
Congratulations on the to the winners of drawing #24 and to gondek and sygxwin that got a Chaos Legion card for being followers.
The cards are sent.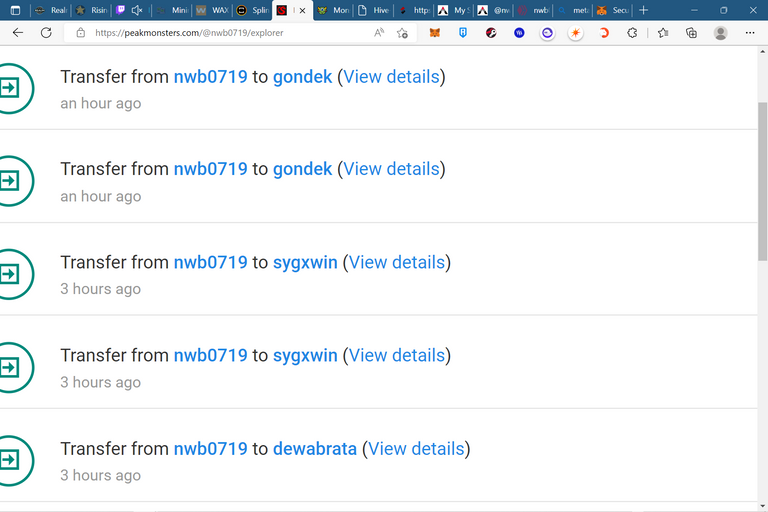 Now on to the drawing.
I have decided to start giving to the community by holding a card raffle every five days starting off,(Now down to every two days) then decreasing every two raffles, until it is every day. I have had to change it two every two days for a while do to family business.
It will consist of a first, second and third place, randomly selected. The hive that is earned will be used for future contests for more expensive cards. The more followers, upvotes and comments, the better the drawing gets. I have added where you can get extra entries into the drawing not required but very appreciated.
To be entered:
*Comment bellow and like.
*Add your in-game name in comment.
*Repost= extra entry(more than ten followers)
*Mining in the comment with !HBIT= extra entry
*Please follow=extra entry and if you take 1st, 2nd, or 3rd place you get an extra random card, not required but very appreciated.
*Check out TEERANDOM and GOLDMEMBER ARCADE on TWITCH.TV, follow and get an extra entry into every drawing.
THE CARDS
                                         First Place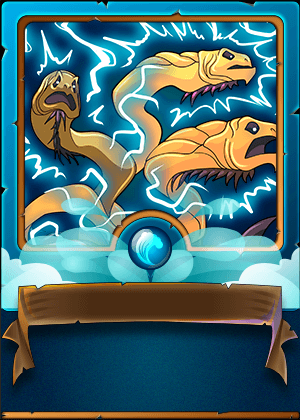 Eels have always been an excellent source of food for the Uman inhabitants of the Archipelago of ΛZMΛRÉ. They are easy to catch and quite delectable when properly seared. Unfortunately, a Fisherman can never tell if an Eel is electric or not… until it's too late. When summoned to tournament battle, Electric Eels show amazing skills of cooperation, with precisely coordinated movement and their infamous Targeted Groupshock technique.
                                         Second Place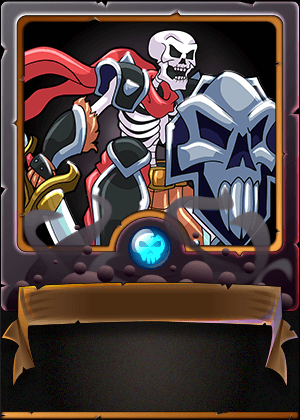 Some Dark Eternals remain in their Skeletal form after the flesh has eroded longer than expected. Many of these are eventually promoted, given armor and weaponry, and sent to the front lines of the latest war. Their shields are embedded with dark matter, which strikes fear into the living.
                                          Third Place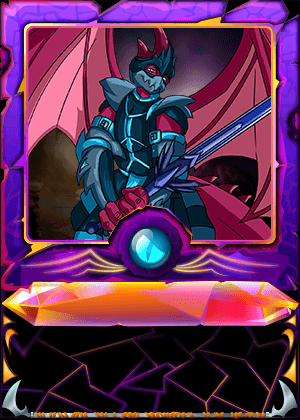 What the Gloridax call a soldier many of the other armies of the Splinterlands consider a highly specialized master of weaponry, one who wears custom armor and carries into battle all the might and fury of Dragons. Most of the Soldiers are scaled, and some can even fly. The Gloridax also allow dropborn (The alternative to eggborn) to become Soldiers, but of course they always use those ones first in any skirmish..
GOOD LUCK
THE POINTS LIST
screamheart-111
candnpg-1card-11111111
jakkal-2card-
kheldar1982-111
instamental-card
curtis90-1card-
dub-c-1card-111111
eijibar-1
drnoobpro-11
tinyputerboy-111
thaddeusprime-1card-1111
shawnmichael-gt-11111111
elfino28-1111
casimirio-1111
taintedblood-11
eustacekid-1111
gregory-f-1card-11111
maakue-1
waynechuasy-111111
danideuder-11111
lorddiablo-1
arpuch-1card-111111111
mxm0unite-1
kimikimi-11
txracer-11
xheadhunterz-card-
noonespecialz-11
ericburgoyne-111
sieghard1990-11
jonimarqu-11111111
lordshah-1
butops-11
irisworld-1
brando28-1
johnripper-1
angelinafia22-1
Please let me know if you do not want to be on this list below for my giveaway's.
@lorddiablo @monster.farmer @teerandom @mattlafourcade @walnutz
@blackfoot92 @aemaez @eirth @alexis666 @fire-born @yasky @Butops
@emitv @jakkal @drnoobpro @shawnmichael-gt @thegoliath @rtonline @eirik @sheikh27 @luizeba @tengolotodo @blitzzzz @dubble @relf87 @mr-house @seeweed @patomal666 @handtalk5 @mcrahman91 @dagz @kimikimi @hatdogsensei @highhaschdi @spicywing @kheldar1982 @tertius @danideuder @circlebubble @lordflu @magalli @cynano @casimirio @kyo-gaming @stekene @bananofarmer @dtam @dewabra @jmehta @makhinoo @amaillo-m @jfang003 @irisworld @pix21 @technocrypton @elfino28 @candnpg @squishna @ghostlybg @gregory-f @taintedblood @screamheart @trashyomen @nex711 @myeong @mairapanelo @thaddeusprime @orebutb3 @tinyputerboy @nysster @instamental @stamato @kimikimi @curtis90 @jingo-submo @lordanquek @ianballantine @vaporent @donpapy @ecto1337 @diochen @deathstarer7 @henruc @scfather @submo @mxm0unite @brando28 @pero82 @pandachef @tub3r0.gaming @highfist @mcrahman91 @tedus @koodies @assasinos3 @derfabs @gondek @lordshah @flummi97 @karmaa13 @lovefallen @tub3r02 @dub-c @jonimarqu @maurye23 @nfteam0173 @angelinafia22
---
---