My Splinterland Card Drawing #21.
Hello, sorry I am a day late on this I have been depressed the last few days and stressed so I have been sleeping a lot I am trying to keep it together. I hope you all had a good weekend! Remember with the !hbit command you can only do two other ! commands now with it in a reply. I will let you know that I will be doing an extra contest on the fourth of Jully for a Legendary. I have the list done and it will be at the bottom of the blog. I have noticed again some people that have used ! commands that I give points for don't go thru so if you don't see your name there means your command never worked. I want to thank all of you for all the best wishes, support and for being understanding and positive with the comments. All of you are awesome and I could not have paid for a better community of people. THANK YOU ALL for being understanding.
I am now down to every 2 days, and I am sorry to say that I have decided it is going to stay at 2 days for a while. For each card that I put up for prizes, I have also added the lore of the card below them, read them if you are interested, together they kind of make a story. If you can do an upvote so the cards can get better everything these giveaways make, go to getting better cards it is not for me.
Congratulations on the to the winners of drawing #19 who were jonimarqu and gregory-f who got a Chaos Legion card for being followers.
The cards are sent.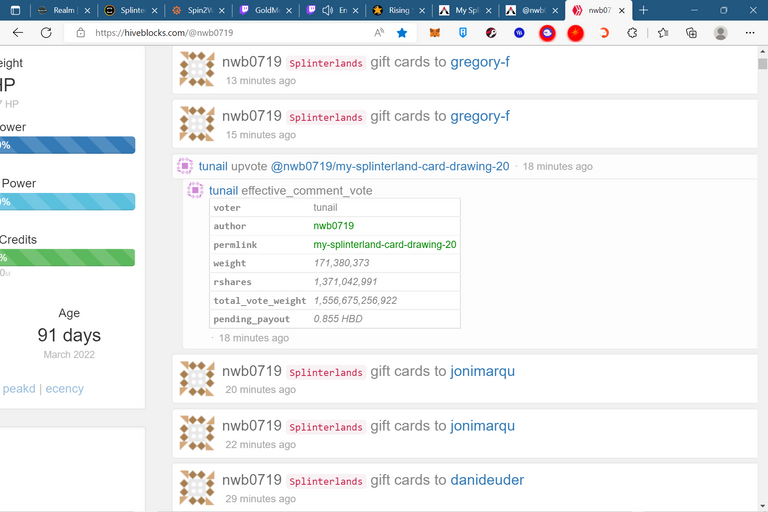 Now on to the drawing.
I have decided to start giving to the community by holding a card raffle every five days starting off,(Now down to every two days) then decreasing every two raffles, until it is every day. I have had to change it two every two days for a while do to family business.
It will consist of a first, second and third place, randomly selected. The hive that is earned will be used for future contests for more expensive cards. The more followers, upvotes and comments, the better the drawing gets. I have added where you can get extra entries into the drawing not required but very appreciated.
To be entered:
*Comment bellow and like.
*Add your in-game name in comment.
*Repost= extra entry(more than ten followers)
*Mining in the comment with !HBIT= extra entry
*Please follow=extra entry and it you take 1st, 2nd, or 3rd place you get an extra random card, not required but very appreciated.
*Check out TEERANDOM and GOLDMEMBER ARCADE on TWITCH.TV, follow and get an extra entry into every drawing.
THE CARDS
                                         First Place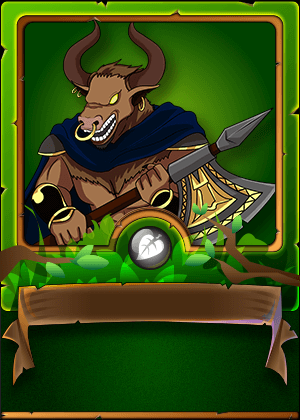 The Minotaurs are the only people in Anumün rugged enough to inhabit the Giant Grasslands of Primordia, where the Dinosaurs roam. They live in wandering tribes, sleeping in hide tents and hunting Rexxies for their meat, clothing and weapons. Minotaur spears are longer than they seem.
                                         Second Place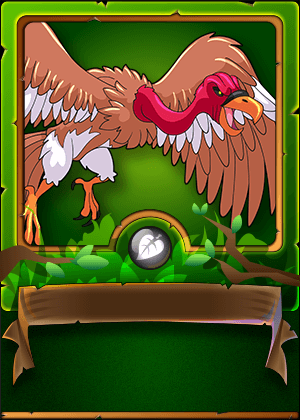 Will the screeching never cease? Not if you're living in the foothills of the Seed Mountains of Anumün. The place is so teeming with life that death is quite widespread as well. If it weren't for the diligent work of the Vultures, rotting carcasses would be everywhere. When a beast goes down for the last time, the Vultures know instantly, as if by some magical perception. They always approach the carrion with just the right number of Vultures. The screeching is simply the delighted noise they make while they're ripping into flesh. When summoned to battle, these hook-beaked buzzards will also go after the living.
                                          Third Place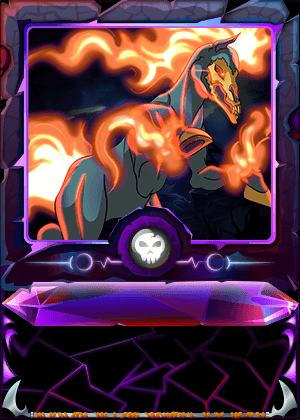 On the darkest nights in Mortis, the great Nightmare herd can be seen from a hundred miles away, lighting up the Death Splinter's hazy sky as they burn for evermore. Their story is one of anguish and endless suffering, but also of hope and salvation. A Death sorcerer named Foglip Kraven who has long since passed to the Dark Eternity is the one who first discovered that living animals can be enlisted to the Death Splinter. Before his passing nearly 500 years ago, Kraven was responsible for the saving of the herd, one of the only heroic acts in all Dark Eternal history.
The 200 year period known as the Peaceful Crusades was not always peaceful. In fact, many of the bloodiest battles ever fought in the Splinterlands were fought during this time, as the Lord of Darkness tried desperately to bring great numbers of the living into the dark. One such battle in 275 A.S. has been remembered as the Battle for Lyveria's soul. In this battle, the walls of Lyveria were almost brought to rubble, but the Dark Lord's forces were ultimately held back until they retreated. The weapons Lyveria employed were especially savage; they catapulted huge masses of fuel and tar, which exploded in flame wherever they landed. Tragically, a herd of wild horses was caught on the hillside in the all-devouring flames. They did not die immediately but stampeded off toward the mountains, screaming in pain and flaming rage.
The herd was intercepted by Foglip Kraven himself who swooped in on the back of his mighty battle drake. Moved by the suffering of the herd and not willing to let their souls perish without dark salvation, Foglip used the greatest of his dark magic power to enlist the soul of each and every horse in the herd. Then one by one, they fell dead to the ground. Moments later in faraway Mortis, a herd of flaming horses emerged kicking and neighing from the Tarpits of Creation. Since the birth of the Nightmares, their run across the Wastes of Mortis has never ceased.
GOOD LUCK
THE POINTS LIST
screamheart-111
candnpg-1card-11
jakkal-2card-
kheldar1982-111
instamental-1111111
curtis90-1card-
dub-c-1card-11
eijibar-1
drnoobpro-11
tinyputerboy-111
thaddeusprime-1card-11
shawnmichael-gt-11111111
elfino28-1111
casimirio-1111
taintedblood-11
eustacekid-1111
gregory-f-1card-1
maakue-1
waynechuasy-11111
danideuder-111
lorddiablo-1
arpuch-1card-111
mxm0unite-1
kimikimi-11
txracer-11
xheadhunterz-1111111
noonespecialz-11
ericburgoyne-11
sieghard1990-1
jonimarqu-11
lordshah-1
Please let me know if you do not want to be on this list below for my giveaway's.
@lorddiablo @monster.farmer @teerandom @mattlafourcade @walnutz
@blackfoot92 @aemaez @eirth @alexis666 @fire-born @yasky @Butops
@emitv @jakkal @drnoobpro @shawnmichael-gt @thegoliath @rtonline @eirik @sheikh27 @luizeba @tengolotodo @blitzzzz @dubble @relf87 @mr-house @seeweed @patomal666 @handtalk5 @mcrahman91 @dagz @kimikimi @hatdogsensei @highhaschdi @spicywing @kheldar1982 @tertius @danideuder @circlebubble @lordflu @magalli @cynano @casimirio @kyo-gaming @stekene @bananofarmer @dtam @dewabra @jmehta @makhinoo @amaillo-m @jfang003 @irisworld @pix21 @technocrypton @elfino28 @candnpg @squishna @ghostlybg @gregory-f @taintedblood @screamheart @trashyomen @nex711 @myeong @mairapanelo @thaddeusprime @orebutb3 @tinyputerboy @nysster @instamental @stamato @kimikimi @curtis90 @jingo-submo @lordanquek @ianballantine @vaporent @donpapy @ecto1337 @diochen @deathstarer7 @henruc @scfather @submo @mxm0unite @brando28 @pero82 @pandachef @tub3r0.gaming @highfist @mcrahman91 @tedus @koodies @assasinos3 @derfabs @gondek @lordshah @flummi97 @karmaa13 @lovefallen @tub3r02 @dub-c @jonimarqu @maurye23
---
---