LOLZ Bot NFTs for Sale on Hiveme.me

They're not bored apes. They're not crypto punks. They're LOLZ Bots because robots are AWESOME!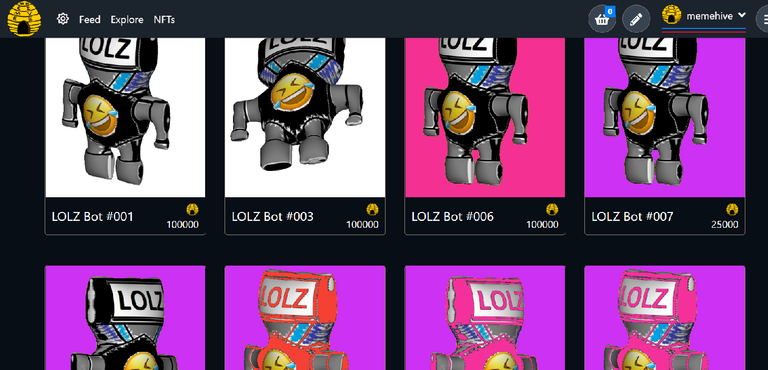 hiveme.me NFT Market
LOLZ Bots are NFTs made by @holovision for @memehive. Permission was granted by @lolztoken prior to minting and as a sort of licensing agreement for using the LOLZ logo 14 of the 128 NFTs were transferred to @lolztoken after minting before the other NFTs were put up for sale on https://www.hiveme.me/nfts/market.
The "very rare" LOLZ Bot NFTs are LOLZ Bot #001 - LOLZ Bot #006. @memehive has set LOLZ Bot #001, LOLZ Bot #003, and LOLZ Bot #006 for sale at 100,000 MEME each. The rest of the LOLZ Bot NFTs @memehive has are set for sale at 25,000 MEME each.
What will the profits from LOLZ Bot NFTs be used for?
100% of the profit from this NFT collection sale going to @memehive will be used to fund @memehive.
A few days ago the hiveme.me domain was renewed for another year. Domain renewal is a cheap enough expense for me to cover.
Now that the domain rent is paid the next thing to take care of is the server expense. Currently hiveme.me uses hive-engine rather than our own private server. The rule for using hive-engine to host a tribe site is:
For every account holder holding more than a dust amount of tokens for your tribe you need to stake 1 ENG/BEE (ENG for SE tribes and BEE for HE tribes) ... a cap at 5000 ENG/BEE. So, as long as your tribe has 5000 BEE/ENG staked we'll cover the costs of the server.
At the time of this posting @memehive has 4,556 BEE staked and that's roughly in parity with the current number of accounts with non-dust amount of MEME token. @memehive is keeping abreast of the increasing number of MEME holders by using the BEE staked to curate content on tribaldex.blog for BEE reward. Selling all of the LOLZ Bot NFTs will get @memehive to the 5000 BEE staked cap sooner with some BEE left over to start saving for other services to add to hiveme.me like DAO proposal and liquidity pools.
The story behind LOLZ Bot NFTs
LOLZ Bot NFT is basically memeing on generative NFT projects. There's plenty of information available to help anyone create thousands of NFTs with random properties and almost no effort. It can be debated whether or not that is "art" but I personally have to agree with those who believe that excessive amounts of generative NFTs are bad for an art market.
O.K. I'll be honest. What I really hate is how too 2D those images for the generated NFTs are. The lack of a third dimension perspective just makes a poorly rendered image worse.
I (@holovision) have started to create 3D art featuring Hive and its various tribes. So far I've posted NFTs on https://www.palnet.io/ and https://www.proofofbrain.io/. As an artist, NFTs are more than "just a .jpeg". It's a way for me as an artist to license limited editions of my work and have a mathematical way of verifying that the art being sold was made by me and isn't a forgery or counterfeit of my work.
You want lots of similar NFTs with just a few variations made with low amount of effort? Apparently that's what the market wants so I made 128 LOLZ Bot NFTs.
First, I needed an idea of what to make. @lolzbot seemed like the most logical choice. Without at least one artist's rendition of what @lolzbot looks like beyond the logo someone might imagine that what's waiting for the !LOL or !LOLZ command looks like Funnybot from South Park and that would be AWKWARD!
Meme Source
I needed to make a 3D model. Since this a meme project of maximum quantity with low amount of effort it is a simple 3D model. No matter how simple of a 3D model though the John Hughes Act of 1985 legally required me to play "Weird Science" by Oingo Boingo while making it.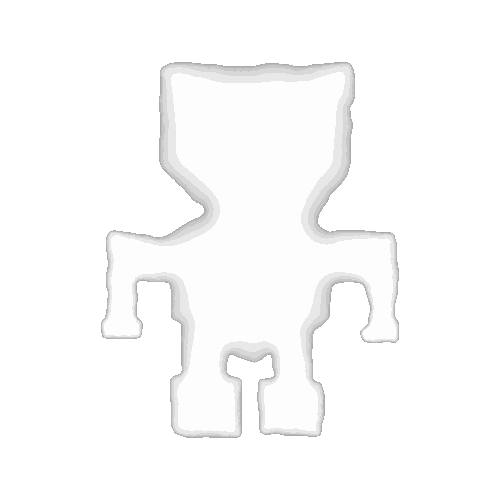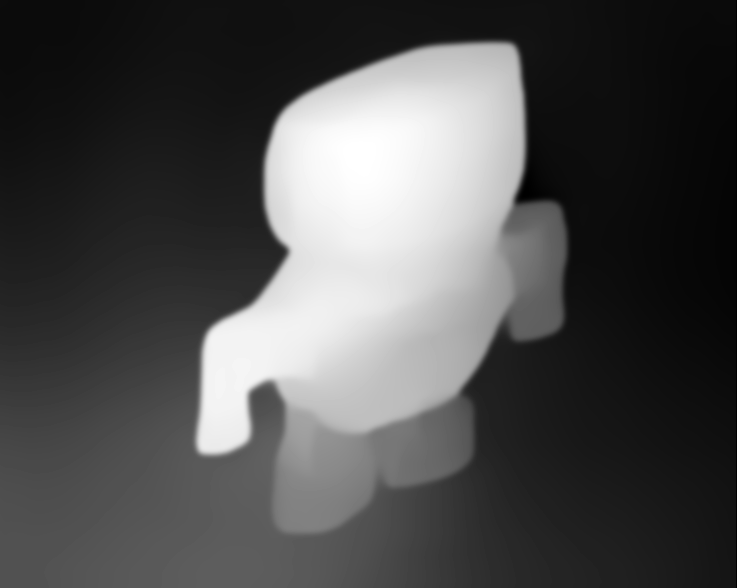 Depth Map
With that simple robot 3D model I could import it into an editing program for graphic design of the model. Remember, low effort graphic design. That's what the NFT market wants. I could also rotate the virtual robot model to get different views of it. I was originally going to do variations from four different angles but since this is a meme project about generative NFTs I reduced it to two different views, left and right. Two different views requires more superfluous variations to reach 128 NFTs than four. No point in throwing out 003 and 004. I'd have to replace them with left and right LOLZ Bot images and that's more effort. See? I pay attention to what's selling in the NFT markets.
With the white background and black chestplate all I had to do to create 124 more images for NFTs was manually change the white background to other colors and taking screencaps after replacing the chestplate color while moving around the color wheel.
It was around the time I had created 38 images for NFTs when I realized this meme project about low effort generative NFT projects was actually taking as much effort as stop motion animation.
So much for low effort. AWKWARD!
---
---