How NFTs and the LIST Token are Revolutionizing the Digital Goods Market on the Hivelist Ecosystem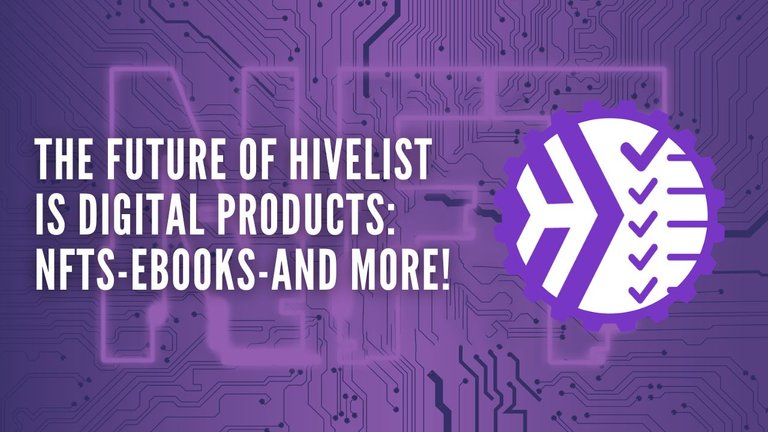 In today's digital age, more and more people are turning to online platforms to purchase goods and services. In the world of physical goods, it's still the large corporations that are winning out, even though most of them are losing due to the horrible global economic issues. When it comes to the Hivelist ecosystem, digital products like ebooks and online courses have been gaining popularity. This shift can be attributed to a number of factors, including the rising costs of print-on-demand and dropshipping products, as well as shipping expenses.
We still encourage anyone to sell physical items on the Hivelist Classifieds, which is the Hive version of Craigslist, or trying to be at least. We also still encourage vendors on the Hivelist Store to sell their own physical items in which they handle all the shipping and handling. As a company, we are shifting our entire focus to digital goods.
The Hivelist NFT Marketplace
On the Hivelist ecosystem, our NFT Marketplace can help artist and creators sell their work in a new and exciting way, on the blockchain! Our marketplace uses our native LIST Token to get whitelisted on the market as a creator, and then also as the currency of the marketplace.
NFTs are unique digital assets that are stored on a blockchain. This means that they cannot be replicated or replaced, and they can be used to authenticate ownership of digital goods like ebooks and online courses, as well as represent collectible items like virtual trading cards and digital artwork. This is one major focus for us going forward.
Now we know there are plenty of other NFT markets out there at this point, but most are dedicated to art, music, or whatever it maybe, well the Hivelist NFT marketplace is open to really any creation. Right now, you can only upload audio, images, or video, but I am working with the Hive-Engine developers about trying to incorporate documents like PDF. That would be great for ebooks and even getting into titles and real estate! We are working on some cool things that can be a game changer for our ecosystem!
Digital products on the Hivelist Store
The Hivelist ecosystem also has a full on multivendor e-commerce store that allows people to sign up as vendors and sell their own products. For the first couple of years, we worked tirelessly to source physical products that could be sold and let people use crypto, but we just continuously ran into supply and shipping cost issues, and the fact that people weren't buying the products.
The one thing that we do get sales for are ebooks and video courses, so we are going to be sourcing material as well as creating our own material for sale on the store, as well as selling master resell rights to the material as NFTs! We are working on some developments for this, so stay tuned for more updates.
The LIST Token
The LIST token is the native cryptocurrency of the Hivelist ecosystem, which can be used to purchase and sell NFTs on the Hivelist marketplace. By using the LIST token, users can enjoy lower transaction fees and faster, more secure transactions. You can earn LIST by simply using our blockchain based classifieds platform, as well as staking LIST earns more LIST!
We also have a swap pool where you can purchase LIST tokens with SWAP.HIVE so you can participate in the market!
If you provide liquidity to the swap pool and earn a healthy APR on your investment. This means that if you deposit equal parts, LIST and SWAP.HIVE tokens, you will be able to earn exchange fees, as well as rewards in LIST and other tokens like the Hivecommerce or COM token from the @hivehustlers community.
For digital products going forward, we will be adding in a buy it now with @hivepay-io button where people can purchase using Hive, HBD, and the LIST token! We will also be going back and adding buttons to past products in the future.
Trying to Wrap it Up
The Hivelist Store allows for anyone to create a listing of their digital goods and services, and users can browse and purchase these listings using using HBD or the Hive Backed Dollar. With the integration of NFTs, the Hivelist ecosystem provides a unique platform for creators and buyers to exchange digital goods in a secure and trustworthy way.
The shift to digital goods is an inevitable trend in today's digital age, and with it comes the need for a new way to authenticate and prove ownership. NFTs and the LIST token offer a solution to this challenge, making the Hivelist ecosystem a game-changer in the world of digital marketplaces. By providing a platform for creators to authenticate their work and buyers to have a sense of ownership, the Hivelist ecosystem allows for a more secure and trustworthy exchange of digital goods.
We are also making decisions on whether or not to continue our print on demand service. More info on that to come. We will keep any existing products, but we may switch and discontinue the service for new products.
Anyone with a vendor store on the Hivelist Store is welcome to still sell their own physical merchandise through their vendor store, but as a company, we are taking our focus off of physical products and going all into the digital world. This is because we believe that the future is in digital goods and services, and we want to be at the forefront of this
Do you have designs or products you want to put up for sale and earn crypto?

Come and take a look at becoming a vendor on our store! We pay in HBD for all of your sales and commission! We handle all payments and exchanges so you don't have to worry about all of that! Sell your own products or submit your designs to our print on demand service!
If you are interested in starting your own ecommerce business in the crypto world, then click here to learn more about becoming a Hivelist Store vendor!
Don't forget, we have Hivelist Store gift cards!!!

Need to get a special gift for someone, but don't know what to get them? Have you tried introducing someone to the crypto currency world, but want to make it an easy introduction, then try out one of our in store gift cards! You can purchase them with any number of our accepted cryptocurrencies!
https://hivelist.store/product-category/gift-cards/
Want to make some extra HBD? Become and Affiliate!

Come and sign up to be an affiliate and get paid monthly for any sales you refer to the store! Affiliate commissions are 5% of the profit from any sale! Get started as a Hivelist Store Affiliate Partner today!
Keep calm and Hive on!
https://hivelist.io - main info site
https://hivelist.org - blockchain classifieds/NFTs/DEFI Pool
https://hivelist.store - multi-vendor e-commerce retail store and professional services marketplace
Vote for @hivelist.witness on Tribaldex

---
---