Amazing Nature Contest: Thematic Challenge - #4/5/21 | SIMBIOSIS NO CONVENCIONAL | UNCONVENTIONAL SYMBIOSIS [Esp-Eng]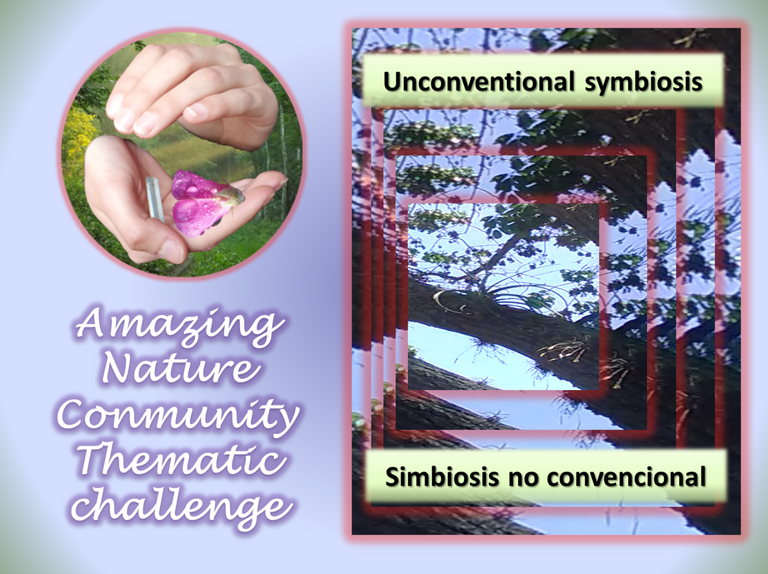 Saludos amigos amantes de Amazing Nature Community, gustosamente estoy por aquí para mostrarle mi investigación ante el desafío que @bucipuci nos invita para esta semana.
Greetings friends lovers of Amazing Nature Community, I am gladly here to show you my research before the challenge that @bucipuci invites us for this week.
SIMBIOSIS NO CONVENCIONAL | UNCONVENTIONAL SYMBIOSIS

Realmente fue sorprendente y desafiante salir en búsqueda de la propuesta, objetivamente no creí posible encontrar cerca de mi casa la hibridación en arbusto o plantas pues tenía la idea que eso solo lo pudría encontrar en viveros o espacio donde la mano humano interviene haciendo injertos de plantas. El recorrido lo hice en un parque cercano a mi casa y de este modo me lleve una gran sorpresa al encontrarme con dos hermoso ejemplares.
It was really surprising and challenging to go out in search of the proposal, objectively I did not believe possible to find near my house the hybridization in bush or plants because I had the idea that this could only be found in nurseries or space where the human hand intervenes making grafts of plants. I did the tour in a park near my house and thus I was very surprised to find two beautiful specimens.

Tengo claro que cada árbol es único e irrepetible como cada ser humano, sin embargo para el momento a todos los veía igual, (risa). Luego de mirar hacia arriba y respirar me vi debajo de dos hermosos follaje distinto, así como buscando de integrarse desde lo alto y fue magnífico el mensaje de discernimiento que sentí para concentrarme en mi búsqueda.
It is clear to me that each tree is unique and unrepeatable as each human being, however for the moment I saw them all the same, (laughter). After looking up and breathing I saw myself under two different beautiful foliage, as well as looking to integrate from above and it was magnificent the message of discernment that I felt to concentrate on my search.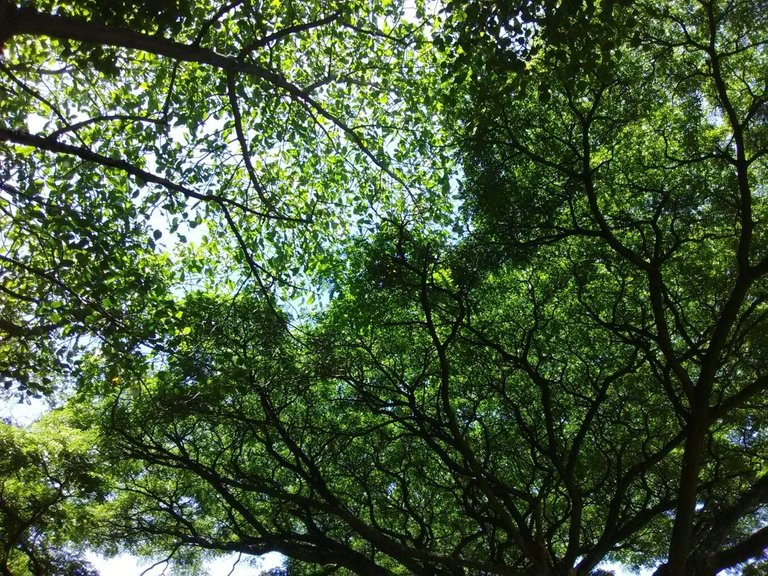 Seguí en mi caminata y me encontré con un árbol muy largo de trono oscuro y estriado según la referencia es un Nogal negro, entre lo alto de sus ramas divise una especie de plata que me pareció muy extraño estuviera allí la cual tiene un aspecto de araña, es posible sea una de las tanta especies de la planta de cinta (Chlorophytum comosum), y que por cierto no se parecía en nada al follaje que cubre al gran árbol, por eso la escogí como una simbiosis no convencional.
I continued on my walk and I found a very long tree with a dark throne and striated according to the reference is a black walnut, among the top of its branches I spotted a kind of silver that seemed to me very strange to be there which has a spidery appearance, it is possible that it is one of the many species of the ribbon plant (Chlorophytum comosum), and certainly did not look anything like the foliage that covers the big tree, so I chose it as an unconventional symbiosis.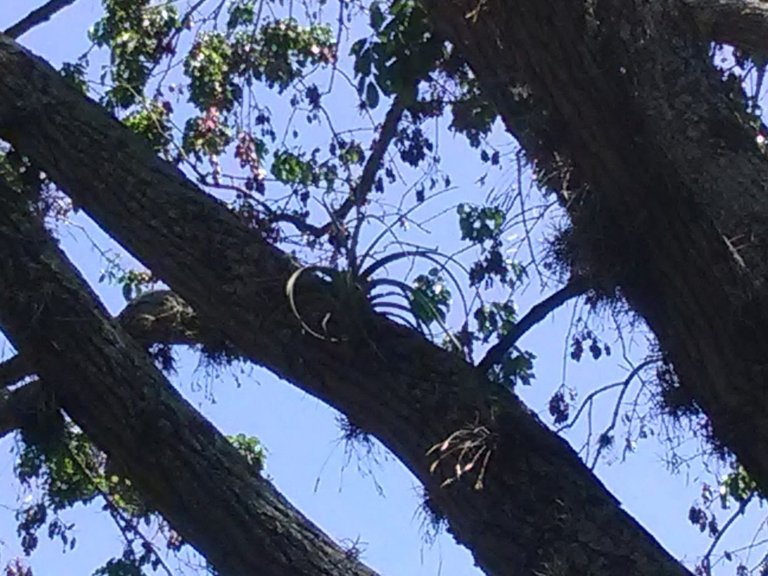 Aquí presento mi segunda investigación muy complacida y asombrada en mirar esta doble integración, vale destacar que a ninguna de las dos plantas le vi similitud a lo que observé en el follaje de este árbol gris.
Here I present my second research very pleased and amazed to see this double integration, it is worth noting that neither of the two plants I saw similarity to what I observed in the foliage of this gray tree.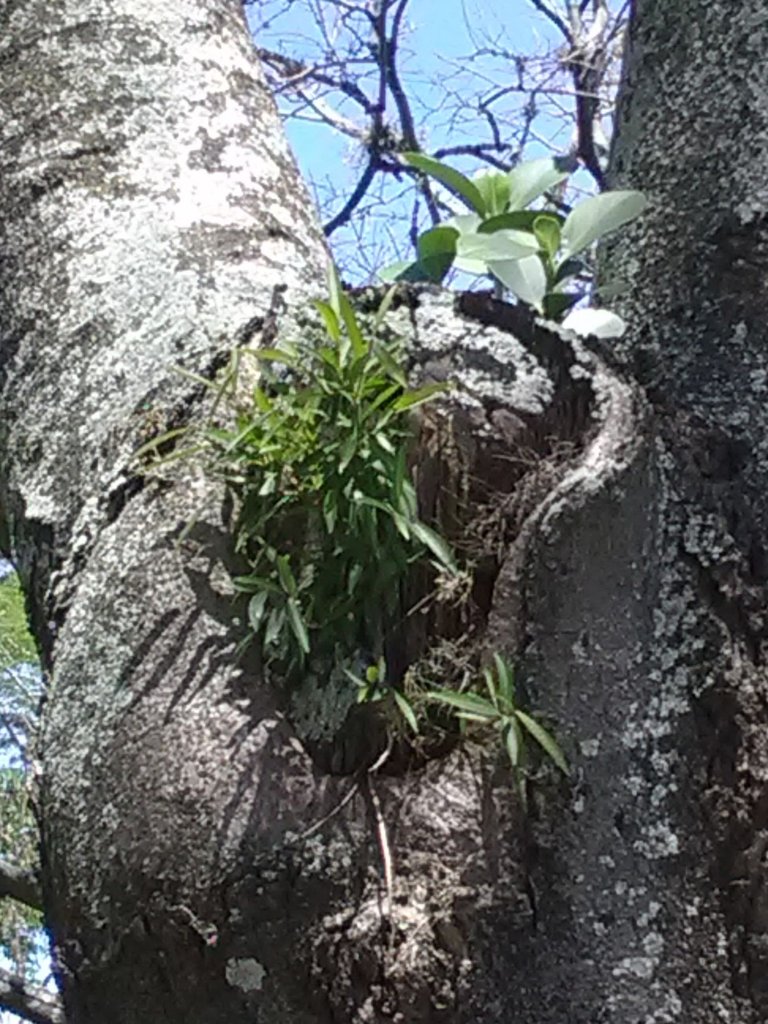 A ciencia cierta no pude determinar qué plantas en "simbiosis" son todos los ejemplares que encontré sin embargo me queda la satisfacción y aprendizaje de haber hecho el esfuerzo y recorrido, dándome el permiso de caminar y disfrutar de otras cosas que se encuentran en nuestra asombrosa naturaleza.
To be sure I could not determine which plants in "symbiosis" are all the specimens I found, however I am left with the satisfaction and learning of having made the effort and journey, giving me the permission to walk and enjoy other things found in our amazing nature.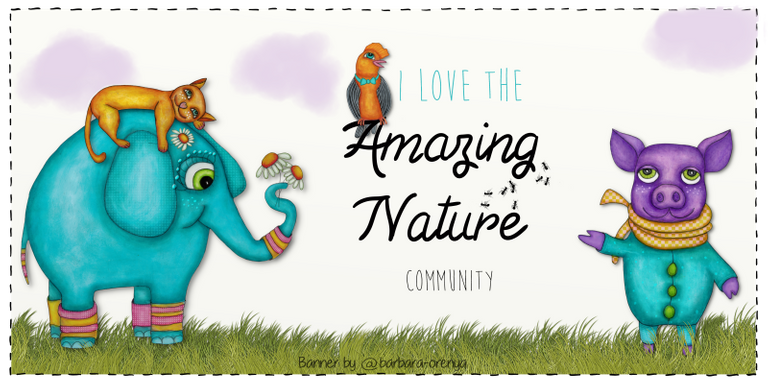 Banner de @ barbara-orenya
Saludo fraterno hasta un próximo encuentro en
Fraternal greetings until a future meeting in #AMAZINGNATURE

Fotos pertenecientes a mi álbum personal separador de #amazingnature.
---
---