Dwarflordnoj's Giveaway #50 Results and First Giveaway entry
If you do not have a HIVE account then please sign up here it is free.
OMG this was suppose to be on @cryptogamerz posts, guess I am an idiot again and do not know how to use this front end correctly. I will hopefully post this correctly next time.
It has been a great ride on the @dwarflordnoj train but now we come to the next chapter in the giveaway run. The change to @cryptogamerz account is to facilitate the giving away of the cards in this account to everyone who participates but I hope to make it self sustaining with your help. So the more you, my #Risingstargame friends, up vote these posts the more this account will generate to then giveaway to the participants in this giveaway series. the account is set to get 50/50 HP/HBD as a reward for curation on these posts the HP will be used to generate more voting power which will be shared among the up votes manually made by this account on the main prize entries in the giveaways so that those who participate will already be rewarded with an up vote from this account for your entry into the main giveaway and that makes all of us winners.
The RULES are simple. Everyone who posts a reply with the key word(s) in it will automatically be entered into the main prize giveaway as it is announced in these posts. Everyone who (minus bots) posts a reply to this post will be entered into the SECRET GIVEAWAY. Those winners and what they win will be posted in the next giveaway entries post where everyone will be able to enter the next giveaway. There may in the future be special giveaways also for those who follow this account and those who have a reputation above a certain level on the HIVE blockchain.
I have no easy way to not ping those who participate in the main giveaway. So the easy fix is do not enter if you do not want to be pinged.
First let me show everyone who is the #OneUP winner of the 500K #Starbits.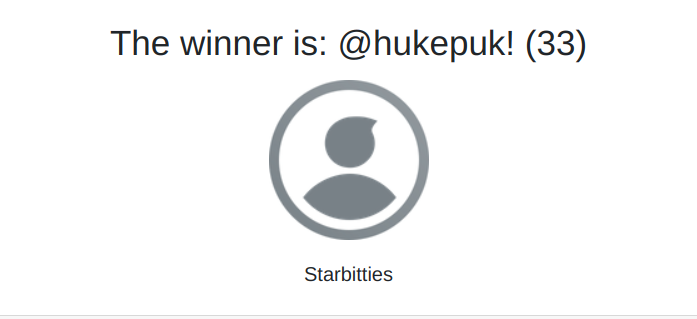 Next I would like to put out a big #OneUp for all the contestants in this giveaway.
CONTESTANTS
Other participants:
Other participants: @yhix8ycqc, @loxavius, @mein-senf-dazu, @epearson, @boogiewoogie777, @belhaven14, @lundall, @eddwood, @lukasbachofner, @theacks, @treefrognada, @lightbruce17, @scoutroc, @kaokaokao, @jonimarqu, @dilox, @yortn31, @iulisan, @cursephantom, @frax97, @rachaeldwatson, @speedtuning, @lumkela, @alexvan, @checkyzk, @noroi, @macromoty, @imfarhad, @bechibenner, @poplar-22, @c3r34lk1ll3r, @vaynard86, @middle-earthling, @thedoc07, @davideownzall, @dailyspam, @awah, @galileogalilei92, @elduderino420a, @bitandi, @chicago.cubs, @hawkslv, @yanisdemon, @frazfrea, @pero82, @jhuleader, @linoleum, @healjoal, @hatke, @alexisgr1993, @danideuder, @henruc, @assassyn, @freed99, @supriya.gupta, @subidu, @nane-qts, @flquin, @stekene, @wanderingmoon, @pirulito.zoado, @blitzzzz, @tunail, @edskymiguel, @codingdefined, @fernandutis, @lozio71, @willendorfia, @cazando, @methus, @borondondon, @jeffqt, @brizahd, @indiebandguru, @szmobacsi, @joseal2020, @s3rg4, @circlebubble, @dewabrata, @stonemountain69, @siddhartaz, @travelingcrafter, @nesticodavid, @blessedkid-121, @bteim, @coquicoin, @ladymisa, @jeoxhea, @jesmel26nala, @candnpg, @tengolotodo, @rtonline, @alicia2022, @ynwa.andree, @valdiva, @dayron101184, @ianballantine,
@hukepuk your account is now not eligable for the rest of the main prize drawings but Congratulations your halfway to the million #Starbits club.
Next, the 5 winners of the 100K #Starbit prizes are:

@vaynard86
,
@pirulito.zoado
,
@chicago.cubs
,
@alexvan
,
@methus
, you have all been added to the ineligable list for the next prize in this giveaway. Oh did I forget to mention the next prize is 10K starbits for 15 lucky people. Hmmm must have slipped my mind. Oh well here are those 15 lucky winners now.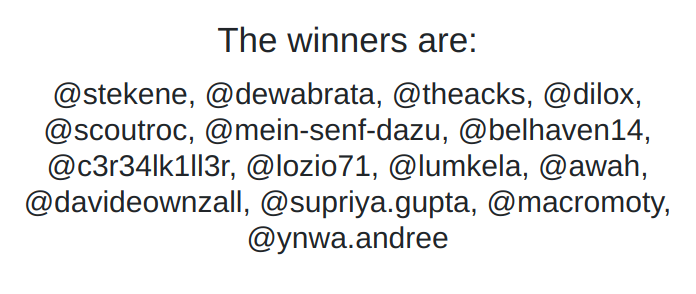 Next I will announce the winners of the SECRET GIVEAWAY that everyone including previous winners of this giveaway post are now eligible for. And they are:

And they each won: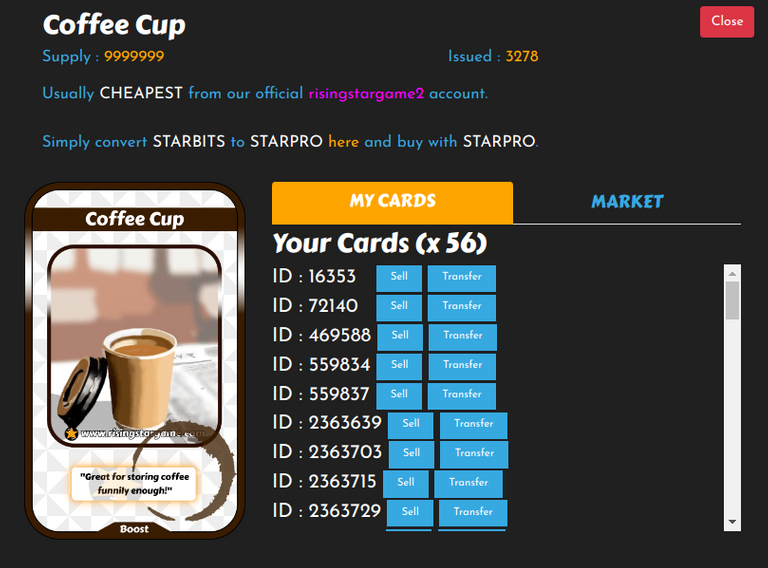 It has been fun giving away stuff for over 1 year now. I am using this account to continue the giveaways for you my #RisingStar friends and family. I hope to continue this series of weekly giveaways for as long as I have life in this body.
Now onto what everyone wants to hear, what is going to be given away in cryptogamerz giveaway series.
And the clue is: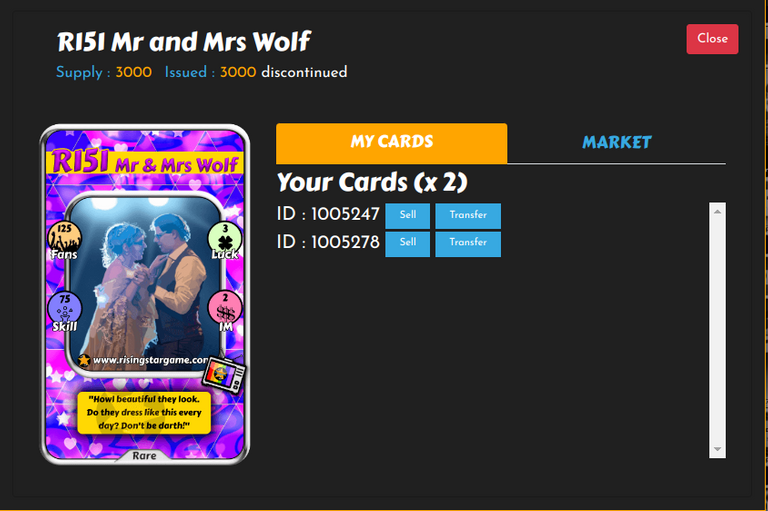 Yup that is the prize so to enter this please post "Wolf" in your reply. I had a couple of entries that forgot the last secret word and I forgot to post a drawing time in my last giveaway. So please everyone "Wolf" for your entry. If your comment did not receive an up vote from me then your entry is not accepted so please check back and fix it to properly be entered in this give away.
The Winner will be chosen at random on March 11th, 2023 and announced by March 12th, 2023. Until then Enjoy and rock on you #RisingStar's.
GAMES
Come play some
Rising Star Game
(Must have a HIVE account) with me or just
Listen to my Band here
.
Hey! I've been playing some awesome games and getting crypto from it. Come play and earn with me on Womplay — I'm sure you'll love it! Also you can get a FREE wax wallet from wombat and then ask you can get my links to all the fun wax games that I play and EARN with.
Atlas: Earth
Buy virtual real estate in ATLAS: EARTH and earn real CASH! Get started for free using this link.
FREEBIES
I earn BTC every hour for free and you can to just follow the link to
Free Bitcoin
.
EXCHANGES
---
---