IYC Community Contest No. 5 - BOOKS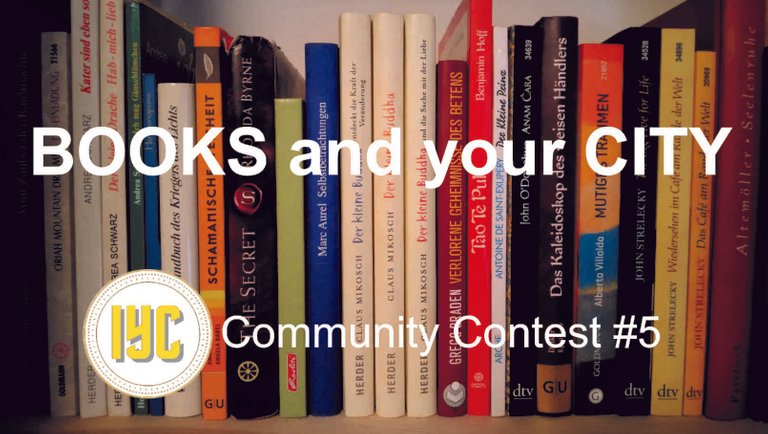 New month - New Introduce Your City Contest!
So that you have more time to deal with the contest topics, from now on we will have a monthly contest theme!
All entries that were submitted according to the rules will be judged together and the winners will be determined at the beginning of June. I hope you like this idea and above all I hope that we get more good content in our beautiful community.
And here is your TOPIC for MAY 2022:
BOOKS BOOKS BOOKS - but not which ones you read, but where you can find them in your hometown!

Libraries
Bookstores new and old
Second Hand Books
where to put old books?
are there places where people go to read in peace?
or whatever comes to your mind with the topic "books in my city"
Be creative! And please read the rules for valid participation, I'll put them at the end of the post this time because time and time again they don't get read....

🏆🏆🏆 PRIZES 🏆🏆🏆
1. winner - 3 HIVE and 300 Ecency Points
2. winner - 2 HIVE and 200 Ecency Points
3. winner - 1 HIVE and 100 Ecency Points
If anyone wants to sponsor any other prizes, please just let me know, they could be announced in the tie up posts. You can find me in discord too.

Who will judge?
I would like to ask the winners of the previous contest if they would be our judges for this contest:
I would be very happy, to have you as my jurors. The only disadvantage would be that you could only submit an own entry "out of competition" this time. Please let me know if you would like to do that.

General Posting Rules for IYC Community: Post about the place you live, or lived for a longer time. No travelposts, please! The idea @freedomprepper had while creating this community was:
To see the world you live through YOUR eyes and words.
Rules for a valid Entry
Post your article IN the Introduce Your City Community
Mention IYC Contest and the Country you live in the TITLE of your post!!! (Example: "IYC Contest 5 ..... your text ..... Country" )
Write somewhere in your post, that this is your Entry to the IYC Contest
Important: Post the link to your posting and one photo in the comment section of this post.
Your posts should be in English or bilingual with English as one of the languages
If you have more than one idea for a post to the monthly topic, this is okay, but in this case let us know at the end of the month, wich post is your entry post! Because only one contest entry per person is possible.
All pictures and texts have to be your own
NEW: mention at least one hive friend in your post and invite him to join the Community and Contest
Not obligatory but, we would be happy, if you reblog this article to get the word out.

photos by @beeber
And now? After all these rules and requirements ;-) Have fun and go to chase the monthly topic in your city! Show us where you live.
Read the RULES?!
Ok, so you have time form NOW on until Sunday, May 29 2022 to submit your entry.
---
---