Hearty Laughs! - ASEAN Hive Challenge "What Makes You Laugh?"

---
"Laughter is THE BEST medicine."
Yeah yeah we all heard that, so what?
SO WHAT ???
Dude, when you laugh, every positive fiber in your being just shoots up to the sky! You feel like your in cloud nine or something and you even wished you don't want to go back to your miserable sad life (LOL) and just enjoy that moment.
I super love to laugh.
I am quite the joker myself. Well... on the cornier side though. But people still laugh at my corny ass jokes! HAHA. What makes laughing so special to me is that, it pushes stress and negativity away from my mind.
Even if it's just for a while...
Knowing that I'm such a depressed and anxious beech, laughter pretty much saves me from strangling myself. HAHA. (sorry).
AND HELL YEAH IT IS THE BEST MEDICINE! And it's damn free too!
There are a lot of things that makes me laugh. Oftentimes, I laugh hard on memes I see on my Facebook feed. I even save ones that gave me a heart attack because of how funny it is! I swear, my gallery comprises like 90% of saved memes from different social media platforms. HAHA the other 10 are my cat. HAHA


But the best one is...
Having a hearty laugh with your friends and loved ones!
Well for me, just friends. HAHA (complicated life at home shit)


So what is this "hearty laugh" and how different it is from a normal laugh?
Well, if I were to explain it, a hearty laugh for me is one that I get so hard breathing and am in the verge of hyperventilation. You feel like your brain and eyes are about to pop off and your voice box is about to shit itself out. And your guts about to fall off the damn floor too.
All of this, as we all know, is excessive laughing.
BUT THAT'S THE POINT!
That's the awesomeness of a hearty laugh!
A laugh you just can't stop yourself from laughing.
A laugh that hurts your body so much that you don't even give a shit if it hurts anymore.
And a laugh that makes you want to preserve that moment and that specific timeframe in your memory --- forever.
And this video represents all that.
I usually get hearty laughs from spending time with my friends most of the time. Yeah memes do make me laugh but I'd rather pick the kind of laugh, the hearty one, over every meme any day and get to burst everything out with my friends.
Laughing has its own scientific and medical explanation why it's better to laugh and all. (But I won't tell you guys all of that cause it'd be too much of a hassle. Look it up yourselves. LOL)


So in this video, my best friend (the girl with the white shirt), was taking a picture of herself on a hanging bridge. (Mind you, if you do get to fall from it, ya dead as fck.) We were surrounded by hills and forests that having fun there should also mean you gotta be careful as well.
So moving forward, me, the blue shirt with the DM's on, went to her side. She panicked so much when I tried to put my foot slowly on the bridge.
Why?
The bridge was small and it felt unsafe since
the bridge was made of old wood which we think that it has been weakened or something already.
and lastly, we both could fall and die. HAHA


But because I want to have some fun and tease her so much, I stayed. HAHAHA So she shouted and I shouted.
She laughed and I laughed.
Our friends also laughed from my stupid idea.
And yeah, we had a great time.
"I" had a great time. HAHAHA
A great time teasing my best friend. HAHAHAHAHA 🤣


So yeah, that's pretty much it.
Laughing is good. I highly recommend every single one of you to do it.
Life's just TOO short to pour all our energy on frowning.
Yeah we need to cry and we can't contain the anger, pain and sadness but sometimes, laughing is not a bad thing to do or even feel either!
It even gives you a sense of hope, comfort, a bit of love, a good encouragement, a spark of strength, a ton of joy and a whole lot more positive stuff you can think of.
So don't be afraid to laugh.
If life breaks you down, laugh it out!
Live life like you're supposed to live it out:
HAPPY :)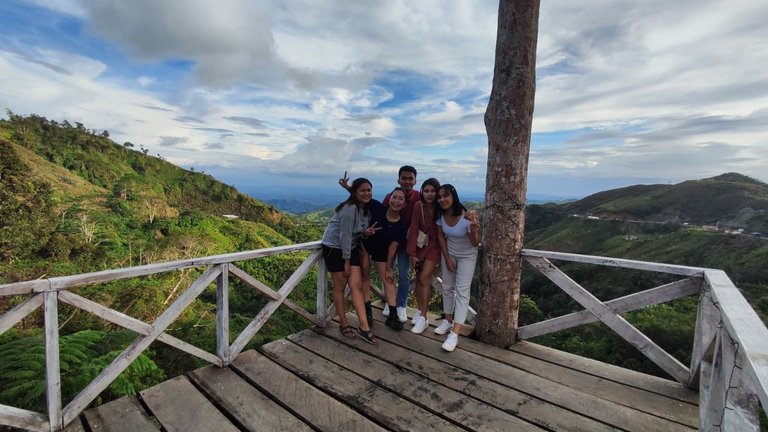 ---
▶️ 3Speak
---
---