Help Fund my Website & Get Supporter Perks - [Digital Funding Token - 000]
---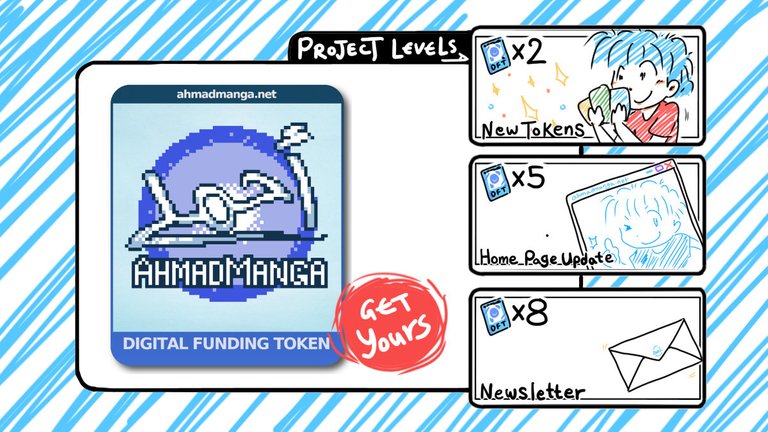 ---
Welcome~
I'm @ahmadmanga, and artist and a storyteller from Libya. On this platform, I mainly post fictional stories. If you're new go to this introduction to myself and my works: "Where to Start?" In this post, I'll introduce the first DFT.
Digital Funding Tokens are collectible cards minted using the NFT technology, and sold on Hive Blockchain.
My Digital Funding Tokens (DFTs) are linked to the projects I work on (whether in fiction, art or even gaming.) Each sale of these cards contributes to the linked piece of Work.
As more cards get sold, and I acquire the funds, I start working on next part of the associated projects. See Project Levels below for more details. Owning one of these cards will give you Supporter Perks as detailed below as well.
If you're familiar withPatreon or Kickstarter, this project is a mixture of both but without the "time" aspect. The goal to get the support of my readers (mainly on HIVE) while giving them a tangible evidence for their support.
---

---
The First Card: Website Improvement
The first Digital Funding Token of my creation "AhmadManga's Logo" (Serial Number: 000) is associated with my own Website. While I mainly write my articles on HIVE, my website ahmadmanga.net will become the place where you can find more stories in an organized and managed way.
The website is currently at the beginning stages, and it's being developed slowly by me as I don't give it the priority over my fictional stories. With your support, I can work on it faster and higher quality.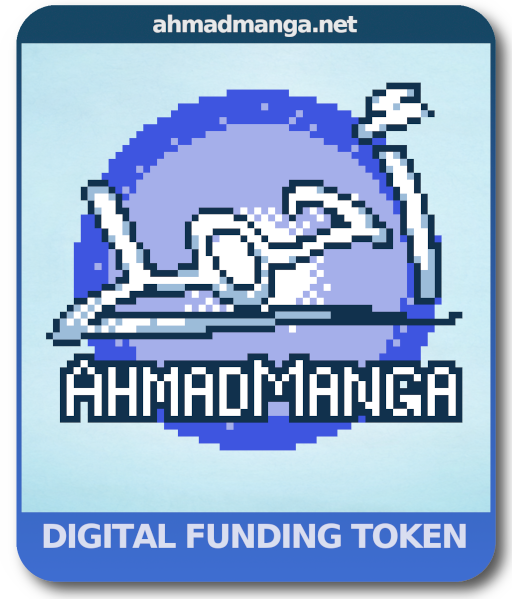 Current Project Level: LV 0
Cards Ownership Status [ 1 / 25 ]
(1 Card to reach Next Level)
There are 25 Editions of the DFT-000. The Project Level is determined by the number of Editions that are sold or given away by the account @ahmadmanganet. When a new Project Level is reached, I give out new perks and reveal the next Perk on the list.
---
---
---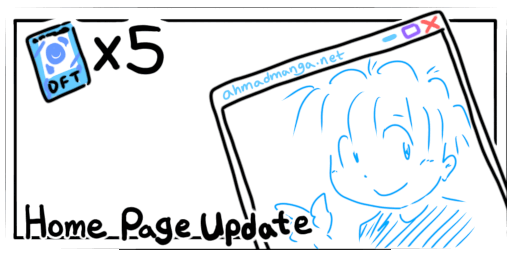 Project LV 2
Homepage Update
I'll Add new visuals to my homepage of
ahmadmanga.net
Any feedback you provide will be considered duting this level of project.
---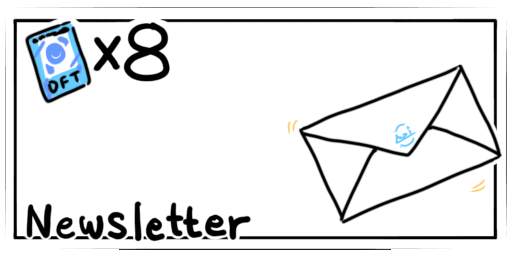 Project LV 3
Email Newsletter
I'll start writing a monthly or bi-monthly Email Newsletter for fans who are interested in summaries of what I've worked on since the last newsletter. (Similar but more detailed than my
Monthly Updates
posts series.)
---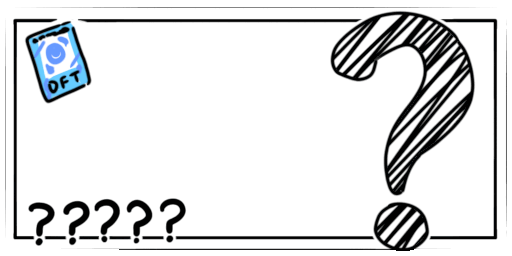 Project LV 4
? ? ? ? ? ? ? ?
TO BE UNLOCKED! As more cards get sold, and as I get more feedback. I'll reveal the next Project Level.
---

---
Pricing
Regular Price: 20 HIVE
Edition 24: 10 HIVE (First Come, First Serve.)
Edition 25: Auction starts at 5 HIVE: Ends 2 Days From Now.
Some editions can be cheaper & some editions can be offered on Auctions. Please check the Prices on NFTShowroom. Also refer to the "How to Buy" section below.
---

---
Supporter Perks
Other than the Project Levels explained above, supporters will have these perks. These shouldn't be viewed as an investment but a sign for appreciation for you guys.
Beneficiary Rewards

A percentage of the rewards of some of my posts on the main account @ahmadmanga will be given to people who support by owning one of these cards.

Becoming a Sponsor

Anyone who buys 5+ of these will be listed as a sponsor in some pages of my website. A link to their chosen web page can be posted too, with a few restrictions as to not go against my website's theme.

Handwritten Username

All owners of the Digital Funding Token will have their name in a Handwritten image on this page below. Each username will have a different design.
---

---
Editions & Owners
This is a list of all Editions of DFT-000 AhmdManga's Logo and their current owners, (as of this post's latest update.)
| No. | Owner | No. | Owner |
| --- | --- | --- | --- |
| 25 | | 24 | |
| 23 | | 22 | |
| 21 | | 20 | |
| 19 | | 18 | |
| 17 | | 16 | |
| 15 | | 14 | |
| 13 | | 12 | |
| 11 | | 10 | |
| 9 | | 8 | |
| 7 | | 6 | |
| 5 | | 4 | |
| 3 | | 2 | |
a) Edition No.1 is owned by @ahmadmanganet and won't be for sale.
b) Editions 2-4 are Reserved for Events/Prizes. (#2 has already been given out.)
---

---
How to Buy
To buy one of these DFTs and get your name registered above, you'll need to have an account on HIVE Blockchain.
First Method: NFTShowRoom
Go to NFTShowroom
Login using your Hive Keychain account.
Second Method: Directly From Me
Message me on Twitter, Discord or Hive.pm.
Comment below this post about your message so I can check it, I don't reply to random messages.
I'll tell you to send me HIVE or the equivalent HBD amount you should send to my account.
After confirming the transaction, I'll send your wanted DFT Edition to your Hive account.
---

---
Thanks For Checking This Out
---
Read My Stories:
---
---
Tagging Friends & NFT Collectors: @ackza @samsmith1971 @intishar @chrisrice @ @stuartcturnbull @reenave @unklebonehead @mehmetfix @synergized @beeber @manniman @cescajove @juliakponsford @melinda010100 @richardfyates @crimsonclad
---
---