AFRI-TUNES WEEK 67 (16 - 22 June 2023): Celebrating African Music on Hive
---
WELCOME TO AFRI-TUNES COMMUNITY
A community open to all musicians all over the world, to share and enjoy African music.
---
Do well to subscribe to our community to share and enjoy your quality African Tunes.

Click here to be re-directed to Afri-tunes Community
---
AFRI-TUNES WEEK 6️⃣6️⃣
---

Oya!!!
Let's Go!!!
dum-du-du-dum-dum-du-du!!!

Afri-tunes Week 67 is here ooo!!!
---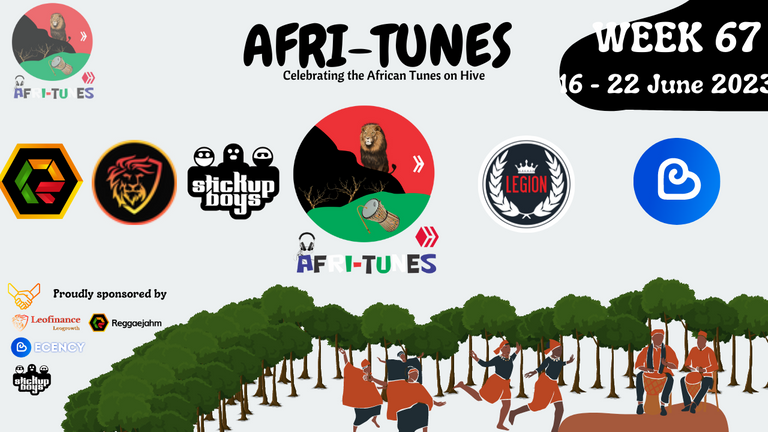 ---
We invite all Musicians: Vocalists, Instrumentalists, Song writers, Music composers and Orchestra musicians, to join us in celebrating the African Tunes on Hive by expressing their tunes through any of the following styles unique to Africans:
Afro-beat
Afro-Jazz
Highlife
Makossa
Soukous
Sebene
Fuji
Tungba
Juju
Ogené
Apala
Palm Wine Groove
and many others!!! 🔥
---
However those who find it challenging to select a song for this week can choose any of the suggested songs:
| Genre | Song Title | Artist name |
| --- | --- | --- |
| Gospel | At the Center of it all | Eben |
| Secular | Believe Me | Johnny Drille |
Original instrumental and Acapella is recommended, however if you intend to use external instrumental you can extract the instrumental from the song via moises.ai/. If you need further guidance comment on this post and we will guide you adequately. Remember to cite Moises.ai in your post as the tool for extraction.
---
Always remember to spread the love, the calmness, the smiles, the culture, the songs and the dance associated with African tunes.
❤
---

🏆
AFRI-TUNES WEEK 67 - CONTEST PRIZE
---
☆ BEST ENTRIES
1st - 60% liquid post reward
2nd - 10% liquid post reward
---
NB:
Every Subscribed member of Afri-tunes Community is eligible to run the race for the Engagement reward.
May the Best Engager Win!!!
---
☆ LEOTHREADS ENGAGEMENT
Afri-tunes Leo Curation Trail will curate threads and comments with #afritunes tag. Hence, you are encouraged to share your Afri-tunes posts, thoughts about African music, music you are listening to, and anything centered on the niche.
NB:
---
If you want to sponsor the contest prizes with Hive, Leo or Ecency points, you can send the tokens to @afri-tunes or @afritunes, or you can reach out to us via Afri-tunes Discord Server!!!
---

---
GUIDELINES FOR POSTING ✅️
---
For valid entry
☆ Subscribe to Afri-tunes Community
☆ Post in Afri-tunes Community,
☆ Upload video via 3speak or Youtube video via Ecency
☆ Use the unique tags of the event
● #afritunes
● #afrwk67
● #music
● #ecency (optional)
● #jahm (optional)
● #Contests (optional)
☆ Include "AFRITUNES" in your title.
☆ Say your username, Week title and the title of the song you wish to present before you begin.
☆ Let your Word Count be 250+
Include your reason or inspiration for choosing or sing the song,
Adding lyrics is optional, but if you do, ensure you cite adequately.
Include all of the lyrics if the music is original.
We recommend that you don't use the #Leo or #leofinace tag in your music post
☆ PROPERLY cite all external materials (images and text) - ENSURE TO PUT THE LINK TO THE SOURCE
Cite this way:

[Lyrics or text Source](then put the web link here)


You can also join the Afri-tunes Discord Server and other music servers to promote your song.
Afri-tunes Weekly Event will run from 00:00 on FRIDAYS to 23:59 (11:59pm) on THURSDAYS, using GMT +1 as our time standard (Nigerian Time).
---

---
IMPORTANT UPDATE AND ANNOUNCEMENT 📢
---
We appreciate everyone who continuously participate in our Afri-tunes weekly contest to share their African Music and tunes with the Community. We are happy that the community is growing day by day, week by week, month by month and year by year.
In order to maintain quality content while sharing our lovely African musical tunes, we wish to remind everyone about the following:
The minimum word count remains 250: however, if you use dual languages then it'll be 500.
Let your writeup contain more of your inspiration behind the song, the choice of the song, what the song means to you or any topic/write-up you wish to share with us.
---
Important ⚠️
We wish to revisit the use of adding lyrics in posts so that it doesn't take 50 - 80% of the post content. On this note, we wish to restate the following:
Adding lyrics is Optional
If you are the original composer of the song, you can add the whole lyrics
If it is a song cover and you copied the lyrics from the Internet, only include the 1st VERSE AND CHORUS in your post. Then cite properly by providing the link to the web page you got the lyrics from.
---

---
#TTT FOR AFRICAN MUSIC
---
The Three Tunes Tuesday is an initiative founded by @ablaze. Participants are encouraged to choose three songs from the same artist or from a particular genre to share; you can write about how meaningful the songs are to you or what you love about them. Also, ensure to tag ablaze, use the #ttt or #threestunestuesday tag or read his post for more information.
The Afri-tunes Community is a home for African Music on Hive, and we welcome participants to feel free to post their #ttt compilations ON AFRICAN SONGS in the Afri-tunes Community every Tuesdays.
---

---
SUPPORT FOR ECENCY POINTS
---
Your support and sponsorship of ecency points will aid us with gifting and boosting quality posts as we strive to curate quality posts and reward engagement in the community.
You can send your Ecency Points as support to @afritunes @afri-tunes or @ksam.
---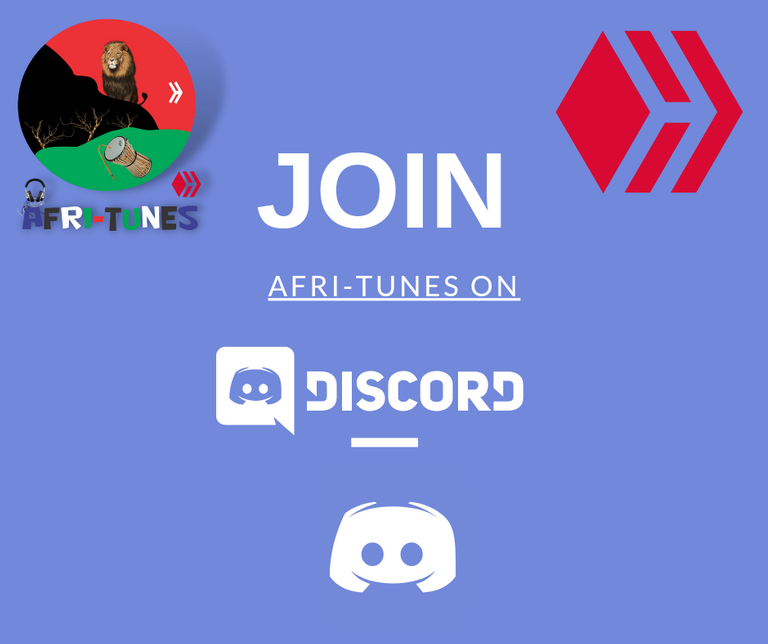 Click the banner above to join Afri-tunes Discord Channel
---
AFRI-TUNES COMMUNITY HUB ON DISCORD
---
Afri-tunes Community is on discord. Do well to join the Afri-tunes Community HUB discord server by clicking the image above.
Join Afri-tunes Community HUB Server on Discord!!!
Let's get to know ourselves better and make our journey on Hive an awesome experience. 👌
---

---
💫 THANK YOU TO OUR AMAZING SPONSORS 💥
---
Thanks to the kind assistance of our lovely and fantastic sponsors, the prize pool for Afri-tunes Weekly Event is made possible.
---

Ecency is an amazing frontend on Hive that enhances content creation experience. Posting, commenting and engaging with Ecency's web or mobile version earns you Ecency points.
With the Ecency Points you can boost and promote your/other's post, as well as gift the points to others.
Melinda010100 (ecency) has sponsored Ecency points for Afri-tunes Weekly Contests.


Leofinance Community is a strong hub for crypto and finance related content on Hive Ecosystem. Leofinance founded Leothreads as a microblogging platform where everyone can share their short writeups, pictures and videos. Musicians can promote their musical posts and share their musical videos to get more engagement and earn $Leo tokens.
leogrowth (leofinance) has sponsored Leo tokens for this event and for subsequent Afri-tunes Weekly Contests.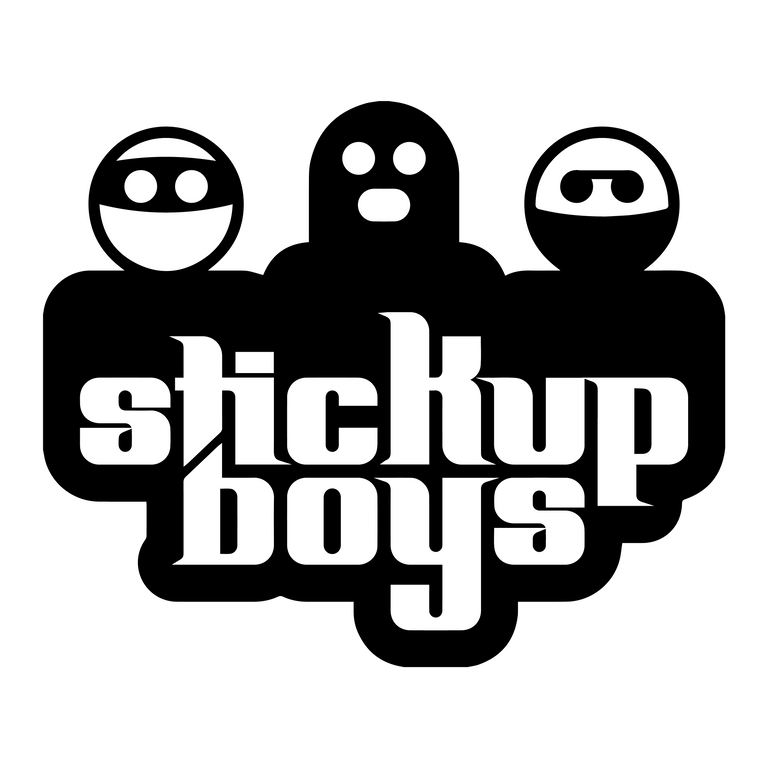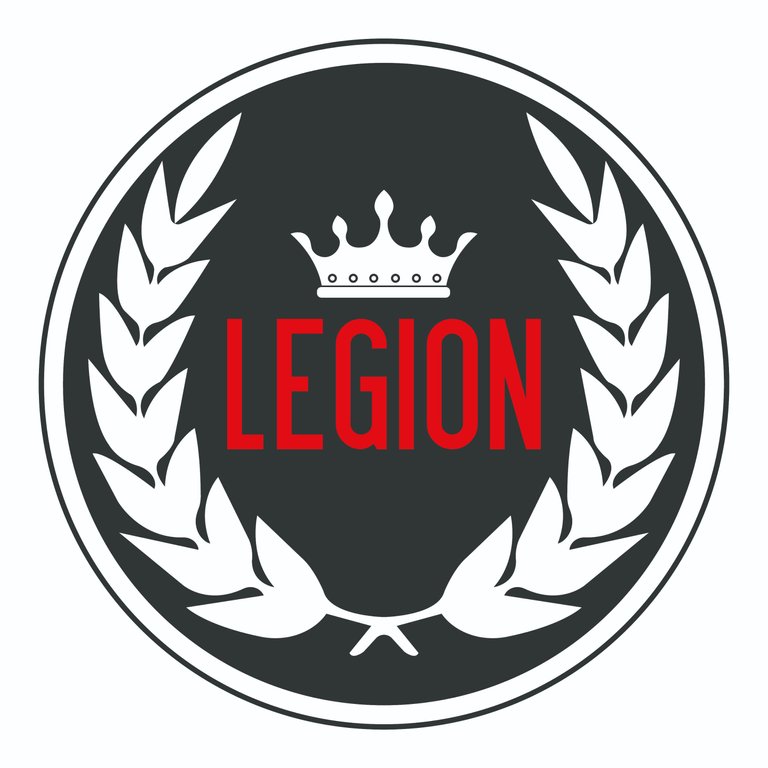 The Stick Up Boys (stickupboys) are a collective of musicians, writers, producers, and multi-instrumentalists from Brighton, in the UK. They are well recognized on Hive for their love of music and arts. They also promote other musical projects and communities on Hive, and they strive to create more use cases for the Legion token in collaboration with the BRO project.
The Legion token is a non inflationary utility token for the BRO economy and it offers monthly Hive dividends to all its holders. Stick Up Boys has sponsored 5 Legion tokens for this event and for subsequent Afri-tunes Weekly Contests.
Read all about Stick Up Boys https://linktr.ee/StickUpBoys
---


ReggaeJAHM is a place for lovers of Reggae, Hip Hop, Caribbean Culture & IRIE vibes. It has its own unique frontend https://www.reggaejahm.com/, and you can earn the $Jahm token when you use #jahm hashtag in your post.
The ReggaeJAHM Community has been a great support for Afri-tunes Project right from Afri-tunes' inception. Special thanks to dmilliz and reggaejahm.
---


Special thanks to Aliento, Eddiespino and Theycallmedan for their wonderful support.
---

We also appreciate OCD Music Curators, Curie Curators, Stickupcurators, Jahm curators and other Curation projects supporting our community. Thank you!
---
We hope to receive more collaboration, support and sponsorship in order to facilitate the growth of this project.
---
Click the link below to join the Afri-tunes Curation Trail so that, with your help, our Curation Trail can become stronger and better able to sustain and support high-quality posts.
Here is a guide if you don't know how to join a Curation Trail
---
You can also delegate HP to @afri-tunes (Afri-tunes official account) to help us curate high-quality African music for Hive.
---
Let's Spread the love, the calmness, the smiles, the culture, the songs and the dance associated with African tunes.

---
If you love this project do well to comment, reblog, upvote, tag one or two friends and support us in any way!!!
---
---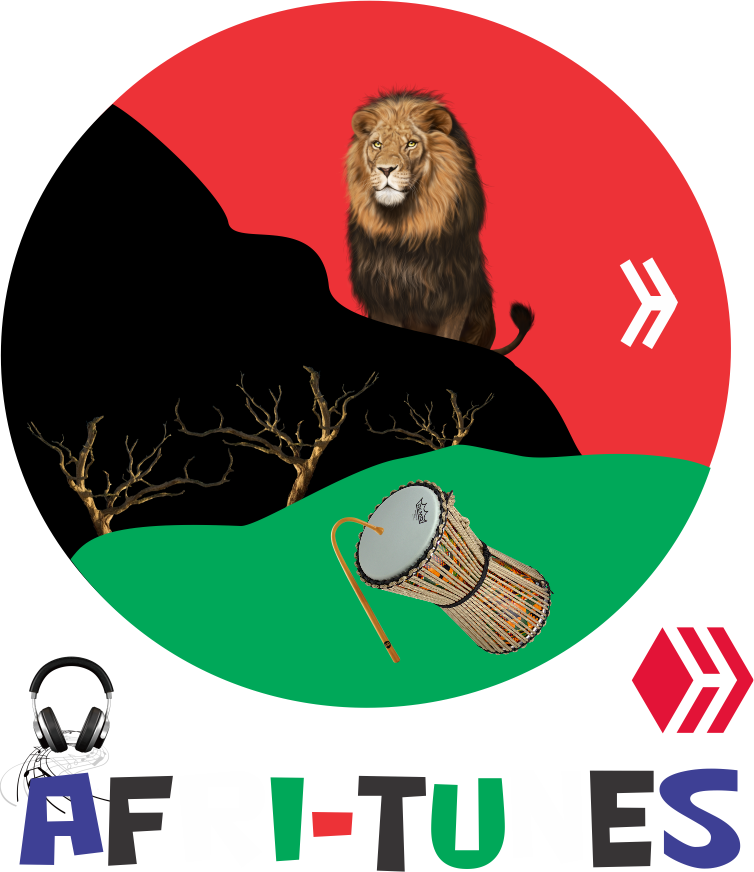 ---
Remember to share the link of your entry in the comment section below. You can also share your thoughts, contributions and suggestions.
👇👇
---
---