The Night Run | Have You Heard About the "LET'S MAKE A COLLAGE" (LMAC) Community?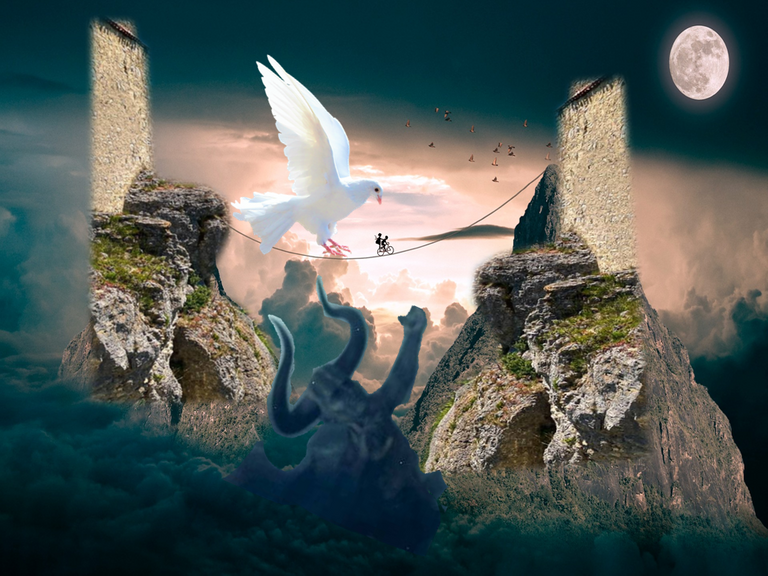 Hello everyone and welcome back. Today is a good day to be alive, and we must all celebrate it.

THIS POST IS NOT A CONTEST ENTRY. SUPPORT ONLY FOR THE LMAC COMMUNITY

I wanted to share with you a growing Community that I love being a part of this past year. You may not know it, but I like to enter challenges and contests. One such contest I learned about was held by @shaka in the "Let's Make a Collage (LMAC)" Community. A close friend at @theterminal, @brittandjosie, first introduced me to this wonderful Community.
I discovered that LMAC is about collages. But more than that, it's about allowing you to explore your creative side. Then you get the chance to engage with other creative artists.
Also, the LMAC School provides useful information and also tips on how to make your collages visually appealing.
The weekly contest has grown tremendously this past year and is extremely popular. In the Round #88 post, Let's Make a Collage - A Contest for All Creatives on Hive - Round 88 - ✨171 HIVE in the Prize Pool! @shaka advised that:
"the LMAC Community has 1032 LMACians! and an amazing 64 original collages were submitted to the last challenge in which a prize pool of 153 HIVE was distributed among all winners!"
Check out the latest post for complete details. The themes and images show just how creative members of Hive are and want to showcase their talents.

Here's how the LMAC Contest works:
This is a weekly event.

All contest entries must be published in the LMAC Community.

Entries need to set the LMAC community account as 20% beneficiary to be eligible for the dynamic component of the prize pool.

Your contest entry must utilize a single photo provided by the contest owner as the basis for you to create your own photo collage by adding to the photo provided.

In designing your collage, you may add all images that re your property. In addition, you may utilize images from sites that are free to use without copyright and non-commercial restrictions.

Once you complete your collage, you must place a link to your entry post in the comment section of @shaka's official contest post for that week. This is done so the team can easily locate your entry. You can also place the link to your entry post in the #community-posts channel of the LMAC Discord.

The deadline to submit your entries are Mondays end of day (midnight UTC).

Finalists are then selected by the LMAC team.

LMAC members, together with all Hive members are invited to vote in the Dpoll for three of their favorite collages.

On Tuesdays, the winners are declared from the dpoll vote and announced in a separate post with prizes in the prize pool awarded.

NOTE: The LMAC Round 88 Contest is currently underway and ends on Monday, July 12th. If you don't have enough time to complete a collage for the current round, don't worry. You can always enter the next week.

Some weeks when I participate, the contest and my background image inspires a poem or micro-fiction story. Here's my story for the collage image I created:

"THE NIGHT RUN"
I didn't always ride head first into danger, blinded by my urge for excitement; for accomplishing feats no one else my age could; and for convincing my best friend to take chances. So, I don't know how I came to be this person.
The unknown was just there lurking, whispering those words I longed to hear -- "keep going". The urge to do so tingled throughout as though walking the fine line between sanity and vanity.
What am I saying. I'm only 13, I thought laughing hard while shaking my head.
Kyle knows that feeling too. He doesn't have to say anything. Why else would he agree to take those midnight rides?
Practice makes perfect. If the saying I'd always heard is true, then we'd need plenty.
I can hear mom's voice, "Josh, get your head out of the clouds. Not only is it dangerous, but there are all sorts of nightmarish things out there just waiting for unsuspecting children. They'll snatch you up in a second. We won't be able to ever find you."
Mocking her, I usually respond, "Why are clouds dangerous? Where will those nightmarish things come from? But more serious, where will they take me once they snatch me up?"
"Mind your manners, young man. You haven't lived long enough to experience the night terrors."
"Well, mom, if they're too scared of me to let me gaze upon them in 13 years, then I think I'm safe enough. I'm going to Kyle's. See you later."
"Be careful, son."
With that, I grab my backpack and head toward the garage. Air pressure. Check. Nightlight. Check. Call Kyle. Check. All's good. Time to make the run while the moon is still bright.
I spotted Kyle at the end of the road. Sandwiches in hand, we set out towards Double Rock Canyon. Thirty minutes later, we stood at the end of the park. The bridge looked entirely different at night.
Guiding our bike up the trail, we landed on the bluff. We can do this, I kept telling myself. But nothing was alright. A dark cloud rose quickly up the rocks. Kyle looked down and yelled, "Josh, faster, the clouds are gonna get us."
I looked down just as the horned figure reached up to grab the thin wooden bridge. Sweat began to pour from my brow. My feet fell limp as I couldn't paddle quickly enough. Thought of jumping from the bike took shape. We could ditch the bike. If we ran fast enough, we'd make it to the other side.
Before we could get off the bike, the figure from the cloud took shape. We didn't look back as the bridge swung from side to side. We couldn't go back. Clinging to the edge of the wooden frame, we held on as best we could. My heard pounded to the beat of my mother's voice issuing those dire warnings.
I closed my eyes and asked for her forgiveness. My body felt light as if being lifted above the dark clouds.
That night I didn't realize I'd need all her prayers.

How I created my collage:
I started with the photo provided by @shaka.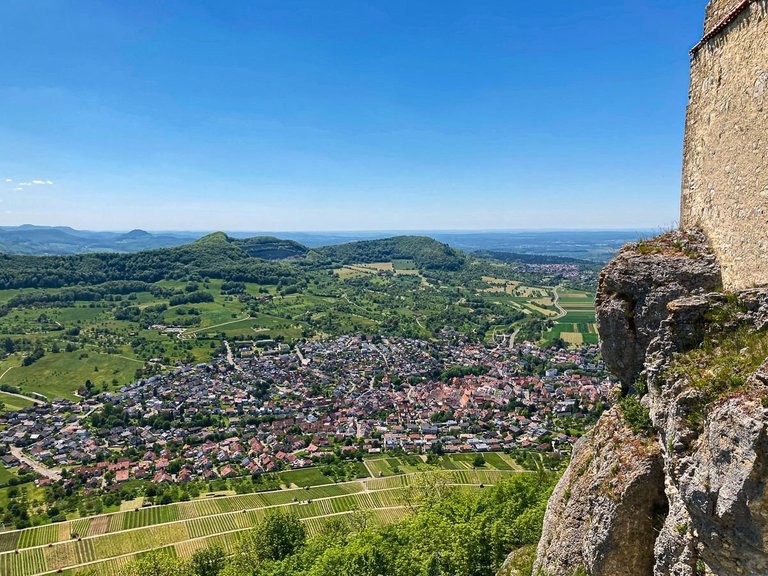 Image used with permission of contest owner for previous contest Round

Next, I chose a background image I felt would lend itself to the haunting scene at night that the two boys would encounter. The fact that the large rocks has slits in them was perfect for the contest photo. The color would blend nicely with the slab in the contest image.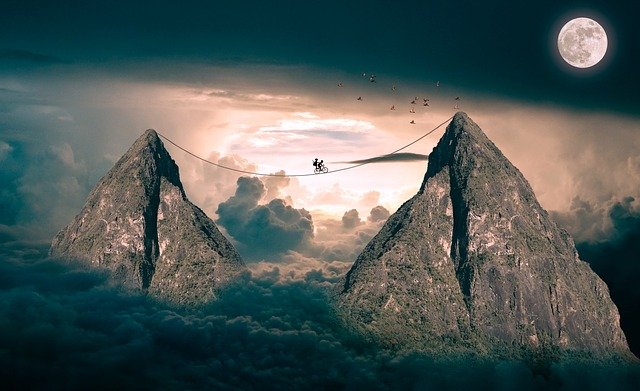 Image by Twighlightzone at Pixabay
Then, I wanted to take a break from Canva and utilize another program. I uploaded both the contest photo and my background image in Microsoft PowerPoint 2007. I've used the Microsoft suite of programs for over twenty years in my career and for personal needs making slide presentations.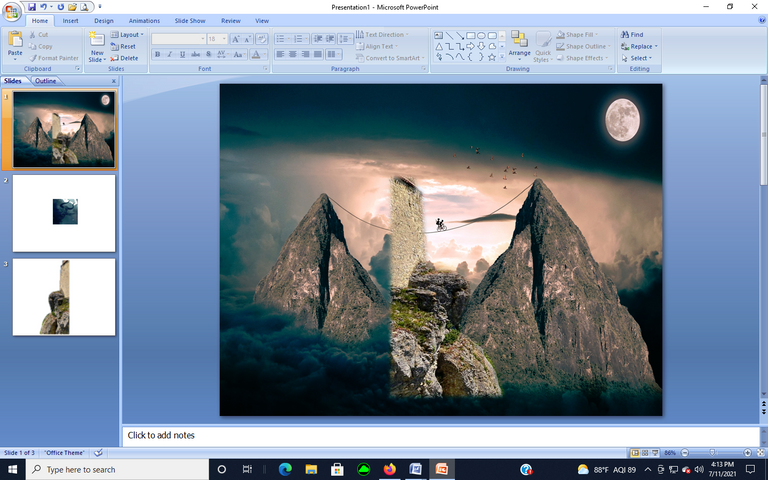 I've manipulated images in the program when working on hierarchy charts for family history projects. Powerpoint has a background removal feature also. However, it's a bit more detailed with a few processes you have undertake than with other programs.
After removing the background of the contest photo, I duplicated it so that the concrete slabs would fit into the slits in the rocks. Perfect fit. Looks like it had always been there.
Now my theme looks precisely what I intended for a boy and his friend bicycling from one rock to the other on a thin bridge.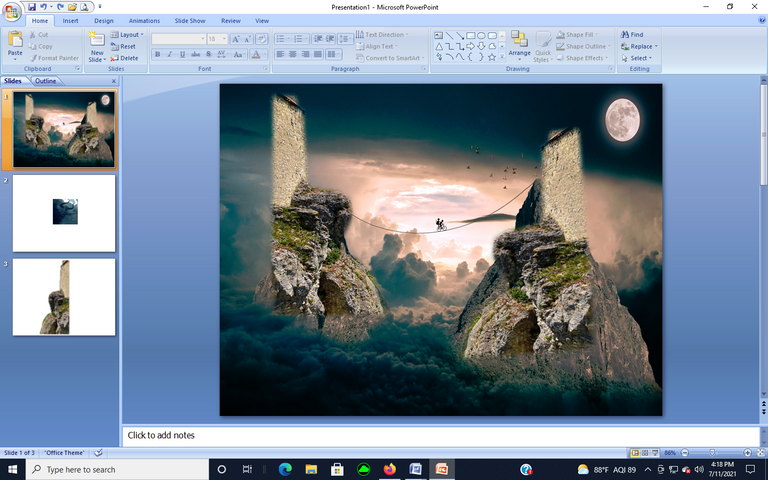 Finally, with this in mind, I chose two images I thought would help create the visual scene I imagined for my story. Imagine a dark creature reaching up at you from out of the depths.
But he didn't adhere to his mother's warnings about dark creatures in the night. Luckily, my faithful and trust Dove is always there to guide and protect the unsuspecting.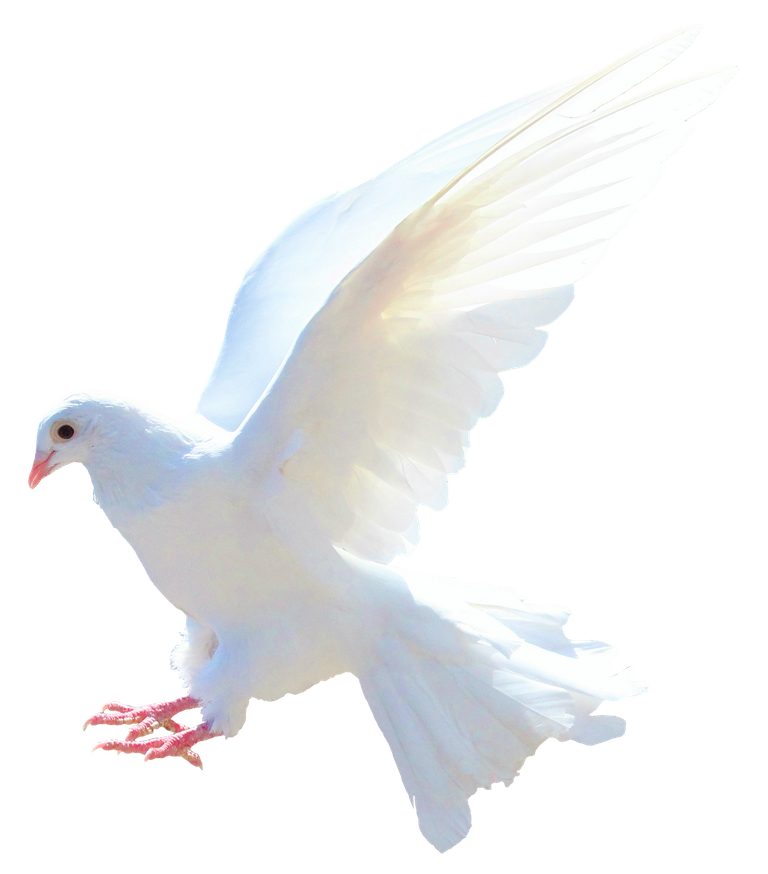 Image of Dove by UpMeHolidays from PurePNG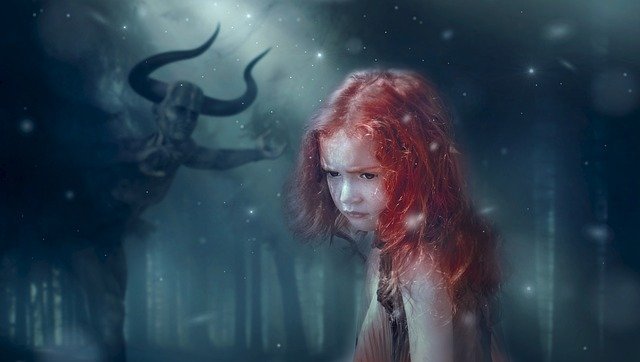 Image of a dark spirit by KELLIPICS at Pixabay

After adding the additional images, I was satisfied with the final result.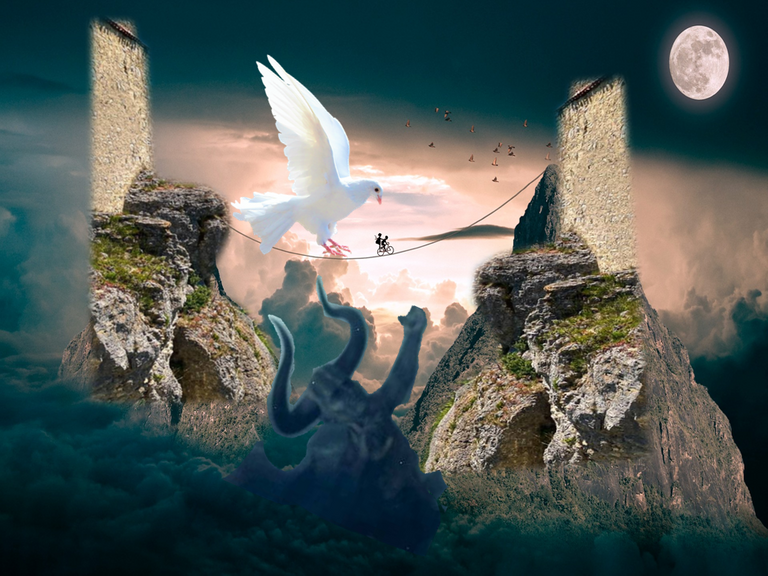 Image created in Canva by @justclickindiva utilizing one of its free backgrounds
I hope you like my collage. If you'd like to join in the LMAC Weekly Contest, just take a look at the general rules below. Next, visit @shaka's official contest post. Finally, visit the LMAC Discord to keep abreast of all the latest announcements concerning the contest.
If you'd like to learn how to create fabulous slide presentation in PowerPoint, just let me know.

CONTEST RULES
| What is Let's Make a Collage? | It is a weekly photography and collage contest. |
| --- | --- |
| Who created the contest? | @shaka is the contest owner. |
| What type of contest is it? | This Contest utilizes a single photo provided by the contest owner as the basis for you to create your own photo collage by adding to the photo provided. |
| What are the rules? | 1. Use as your starting point for your collage the photography provided by the contest owner. It is located on the contest owner's post for free use without any copyright protection. |
| | 2. Entries need to be posted to the LMAC community and should contain a reference to the official contest post by @shaka. |
| | 3. By submitting your contribution you agree that your artwork remains public domain and that it can be copied, modified and distributed, even for commercial purposes, without requiring further permission. |
| | 4. Any graphical element that is added to the photography either needs to be your own original work (e.g. own artwork or photography) OR needs to derive from the public domain (having no copyright protection). |
| | 5. IMPORTANT: Indicate the source of all materials used in your accompanying post. Otherwise your entry can NOT be put up for the final vote. For a list of acceptable sites, please refer to the current version of the LMAC School post here. |
| | 6. All sort of editing, modification and/or manipulation is allowed as long as no copyright is affected. |
| | 7. Entries need to set the LMAC community account as 20% beneficiary to be eligible for the dynamic component of the prize pool.; |
| What do you win? | Prizes listed on the contest owner's post. |

@flaxz - @iamalivechallenge (Created a post for the LMAC Contest for my blog today.)

Thanks,
@justclickindiva
Happy rest of the week everyone with whatever your endeavors.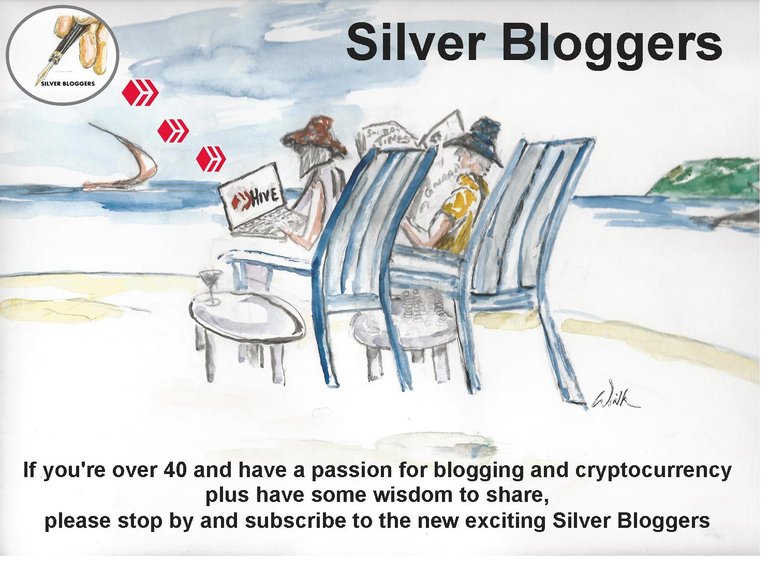 SOURCES:
a) JustClickindiva's Footer created in Canva utilizing its free background and images used with permission from discord admins.
b) Unless otherwise noted, all photos taken by me with my (i) Samsung Galaxy 10" Tablet, (ii) Samsung Phone, & (iii) FUJI FinePix S3380 - 14 Mega Pixels Digital Camera
c) Purple Butterfly part of purchased set of Spiritual Clip Art for my Personal Use
d) All Community logos, banners, page dividers used with permission of Discord Channel admins.
e) Ladies of Hive banner used with permission of and in accordance with the admin's guidelines.
f) Thumbnail image created by me in Microsoft Power Point.

Your Personal Terminal Discord Invite


---
---