The Evolution of Hivelist Continues - Hive Bridge Sites and Multivendor Store COMING SOON!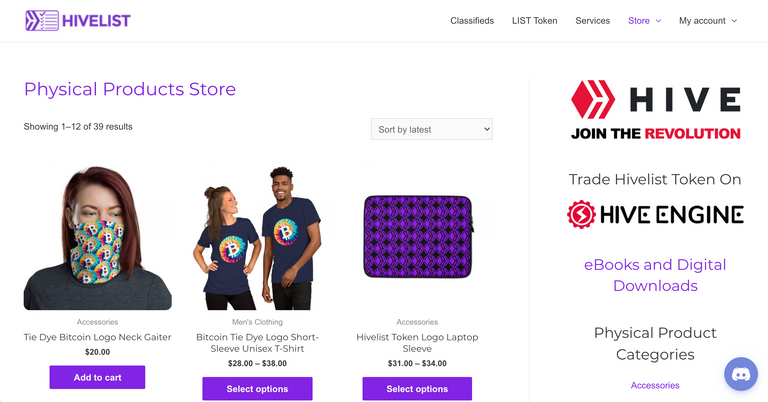 Hello everyone! Hope you all are having a very productive week so far! For us, it's been busy! We just finished our second Hive Bridge site project, which is a new service that is going to be listed on the Hivelist Services page soon, and getting ready to start the 3rd site! The first was for the @hivehustlers community and can be found at https://hivehustlers.com, and the other is for the #Weedcash Network and it can be found at https://weedcash.org. So real quick let's talk about what a Hive Bridge site is and then we will get to the Hivelist Store stuff!
What is a Hive Bridge Site?
A Hive Bridge site is something that we have kind of come up with as a way to help 'bridge' the gap between the traditional social media world and our amazing blockchain space. We all know it can be difficult to explain Hive to someone that is outside of crypto, heck it's hard enough to explain to people in crypto sometimes. The onboarding process has been getting revamped thanks to hiveonboard.com and the efforts of the LeoFinance group and their new Hive lite accounts. But we wanted to take it a step futher...
We also notice that ALLOT of the communication is done through other means like Discord and Telegram, mostly Discord though... Well this causes an issue and actually tends to pigeonhole the communities to those platforms. As great as these tools are, we wondered if things could be done differently. So we went to work trying to figure out the best way to accomplish this. Well we have started building these sites using Wordpress.
We have created sites with their own built in social feeds that are similar to the traditional sites, and even allows you a one click sign on with several existing social media sites. This allows people to get into the community and the ability to get educated about the blockchain without necessarily jumping directly into Hive. It also allows the existing community to come together and do their off chain posting in pretty much the same place they can do their on chain posting! Being build using Wordpress, tribes can expand their sites to include their own store, advertising, and more!
Hopefully these sites will be a way that the different tribes and communities can talk on and off chain all in one area and will help drive new users to the platform!
Again, the first 2 sites are up and running! Hivehustlers.com is about to undergo a couple of changes because we also just launched the nitrous front end at https://hivehustlers.io, so we will be integrating it into the bridge site!
https://hivehustlers.com
https://weedcash.org
Next to come is the Natural Medicine community! Their bridge site will start undergoing development in the next week!
HIVELIST MULTIVENDOR STORE COMING SOON!
First a bit of history... When Hivelist was first created, it started as a classifieds platform only, but then, once @roomservice forked the old Woocommerce Steem plugin over to Hive, we started an online store really to show how it could be done. But we found that instead of people wanting to build their own stores, they would rather have a platform similar to eBay or Etsy instead of having to manage their own websites.
Well, for a long time, the originator of @hivehustlers was also planning to launch @hivebay, which we were advising a bit on. But when things took a turn, and @thelogicaldude acquired the Hustler community, we also acquired the Hivebay account and domain... So the plan has been to build out Hivebay.io as the multivendor marketplace...
Well, then comes a very unexpected phone call from an old friend asking about getting into crypto, and then the conversation went to talking about the new projects. The old friend happens to be a corporate attorney, so some free advise was given and listened to... It was HIGHLY advised to NOT use the Hivebay name with building a multivendor marketplace due to the possibility of getting sued by eBay... Well the beauty of the Hivelist name is the based on an open source project, Craigslist, so there is no issue with that at all because it can be forked as many times as someone wants.
So with all this being said, and the desire to stay out of lawyer's crosshairs, we are completely ditching the Hivebay idea and going to completely rebuild the Hivelist Store to be the multivendor store that you have all been wanting! This helps with not having to build a completely different brand as well so more time will be able to be spent on actual development so we get get this done as fast as possible!
SOME EARLY DETAILS...
The products that are currently on the store are all going to remain and will be split into a couple of different vendors. One, Hivelist will have a vendor account, as will @thelogicaldude, and then there will be a HiveSwag vendor account for all of the Hive logo stuff, because we took over HiveSwag as well... It will still look the same, but when you click on a product, you will see the vendor information similar to eBay.
Each vendor will have to apply for a store. Digital material like ebooks and other media can be uploaded to our servers and attached to your product. Physical products need to all be handled by the vendor as far as production, shipping, returns, etc...We will not be handling any customer service issues on your behalf, that is all on you and we will require contact information for all vendors so we can easily contact for issues.
Payments will work similar to how Amazon runs their payments. All payments will route to a hivelist-payments account that will be created to be held in escrow. The vendor will then be able to request a payment from Hivelist and will be sent out within 24 hours of the request. We are considering a way to possibly add in purchase moderation, meaning that we will hold the payment in escrow until a tracking number is provided by the vendor for physical products. This will help with customer safety and vendor reliability.
That being said, we want HONEST vendors... If you are reported as a vendor for not providing a purchased product, or there is a dispute, we will investigate and if there is wrong doing found, we will remove your store from the platform. The crypto space is full of scams, and we will NOT play apart in any scam.
Payments will run through the @hivepay-io payments system and there will be a limited number of tokens that will be accepted as payments due to the need of exchanging tokens to pay vendors.
FEES FOR STARTING YOUR OWN HIVELIST STORE
To start a Hivelist Store, the initial setup fee will only be $10 payable in Hive, HBD, LIST, or COM (yep, here is some use case for the Hivecommerce token!). Any LIST tokens used for setup fee will be burned and taken out of supply in accordance with the LIST white paper and any COM tokens will be staked by the @hivelist account.
Vendors will also be required to stake at least 5,000 LIST tokens to cover hosting and maintenance for the site. Staking LIST tokens also gets you different benefits, like coupon codes for the store and other sites, as well as the ability to 'mine' COM tokens. We will also charge a 1.5% fee on the sale for admin costs. HivePay charges just under 1% for payment processing, you will be paying WAY less than ebay or any other marketplace platform.
On the note of coupon codes, vendors will have to price in up to 20% discounts into your products. The LIST Staking Club has coupon codes that range from 5% to 20% off of the purchase.
LIST and COM tokens will also be accepted for featured product or featured vendor advertising spots. LIST tokens will be burned and COM tokens will be staked by the @Hivelist account.
Vendors will be paid out in HBD only! We will be converting all sales into HBD for this purpose. It is much easier for accounting purposes to do it this way.
There may be some changes as we go along with the build, but this is essentially what will be happening!
WRAPPING IT UP
So as you can see, we have some big things in the works here and are WAY ahead of the original HiveHustlers 2.0 Roadmap! We are really excited for the future of this project and the future of doing commerce on Hive! Thing will continue to evolve and change overtime to adjust for the needs of the community, and this is one change that has been needed for a while... Real world use case! This is going to be a massive undertaking, so we ask that you please be patient! Hoping to have it up and running by the end of March, but hopefully sooner!
Hope everyone has an amazing rest of your week!
If you like what I am doing, please consider staking WORKERBEE and giving a vote to your favorite dude on https://tribaldex.com/witnesses

---
---