How To Start Your Hivelist Store- Part 1: Sign Up As A Vendor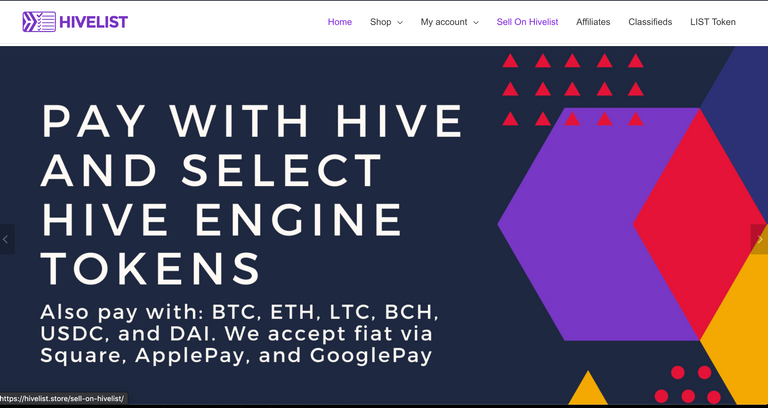 Hello everyone. This post is a step by step tutorial on how to register as a vendor for the https://hivelist.store to be able to start your own ebusiness using our platform to support you on your journey!
You can sell all kind of items from physical products, digital downloads like ebooks and music, or external products, like links to affiliate products or external markets like NFT markets, example: You are an artist and have NFT's on different markets like @nftshowroom, @lensy, or even on other blockchains like WAX or ETH, you can list each piece as a product in your Hivelist store and just set the product up to link out to the appropriate market. Some NFT markets require you or really encourage you to use their markets, mainly because of the way the original artist is paid.
Saying this really just to give you an idea of the things that can be listed on your Hivelist store! So lets get into the step by step on how the registration process will go.
Step 1: Click the Sell on Hivelist button in the menu
Once you are on the correct page, you will want to read through the information that talks about how the store operates, how we take payments, how we pay vendors, etc.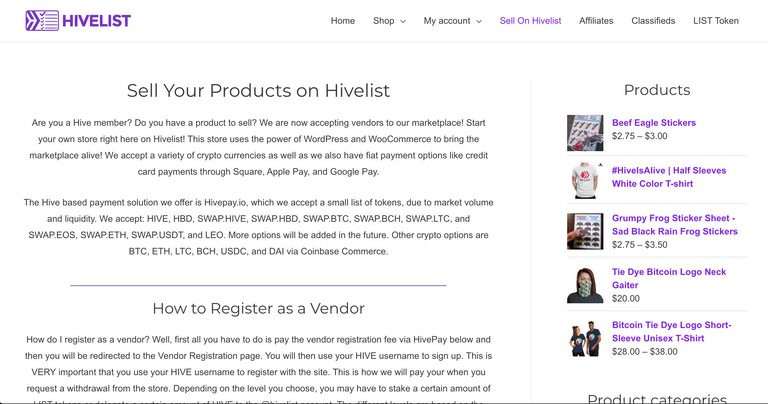 Step 2: Choose vendor level and pay registration
There is a 3 tiered store. The registration fees and LIST token staking requirements or Hive Power delegation requirements differ per level.
The basic store doesn't require any stake or delegation, but the registration fee is higher to compensate. It is highly encouraged to go with one of the higher levels, you get more product access per level.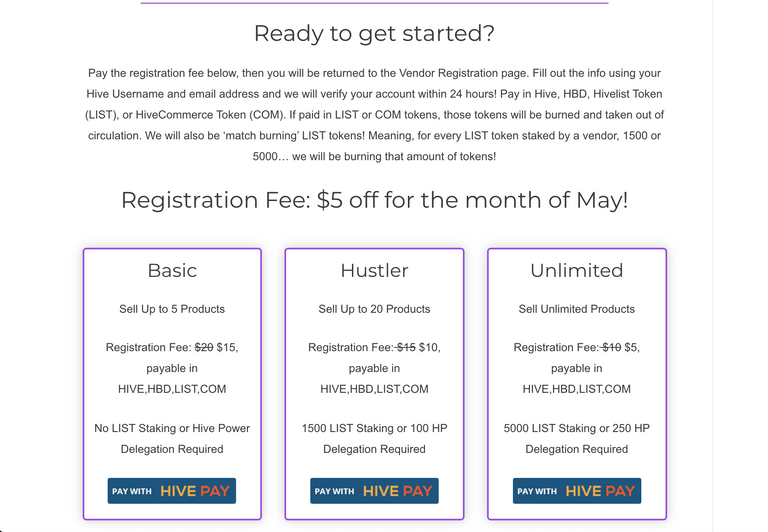 Staking LIST ups your product count and lowers your registration fee. Hive power delegation to the @hivelist account also works. One benefit of using Hive Power to at least start is one: when delegating to @hivelist, you will earn LIST tokens that are staked to your account daily. Once you earn enough LIST staked in your Hive Engine wallet to cover your store, you can remove the delegation if you wish. The Hive Power delegation will also be used for curation in the community as well and will only help us grow over time.
You can also purchase LIST from the market on Tribaldex.com and stake it in your wallet:
https://tribaldex.com/trade/LIST
Also as stated, registration fees are accepted in Hive, HBD, LIST, or COM tokens (Hivecommerce Token). If the fees are paid in LIST or COM, those tokens are burned and taken out of supply. Fees paid in HIVE and HBD go toward overhead and marketing along with the swap.Hive accumulated from any market sales of LIST tokens.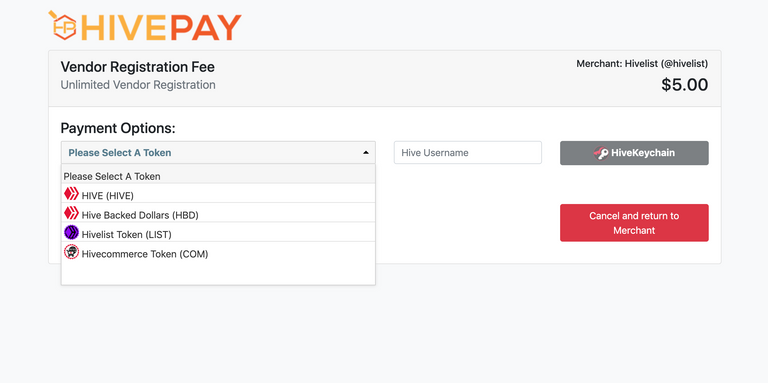 When you select your option, you will be sent to the Hivepay.io (@hivepay-io) payment platform to make your payment. Here you will choose your payment token of choice and enter your Hive Username. Then you will use HiveKeychain to sign the payment. If you are on a mobile device, I highly recommend using the Hive Wallet app or the new Hive Keychain app available on both iOS and Android. Both apps have browsers so you will be able to go to hivelist.store directly from either app. I have tested it and it works great.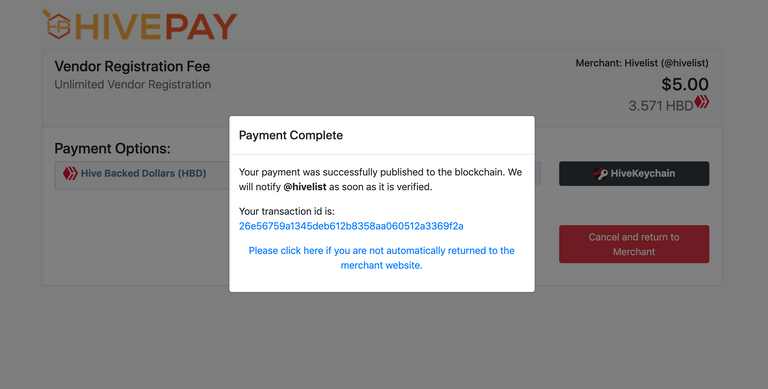 Once your payment is processed, you will get a transaction id. Just wait a minute and you will be redirected to the Vendor-Registration page.
Step 3: Fill out the vendor registration and wait for approval!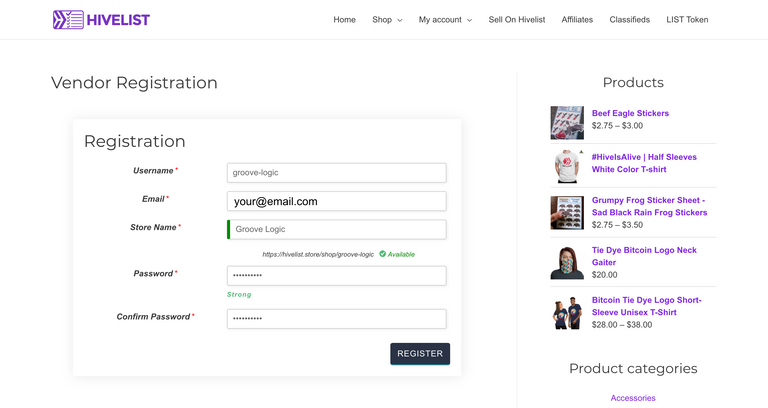 Here is where you will fill out your vendor information to register.
YOU MUST USE YOUR HIVE USERNAME! We use this for verification and payment. Your store name can be whatever you want it to be though.
Once you hit register, you will be taken to a thank you page that confirms we have received your application and it is under review.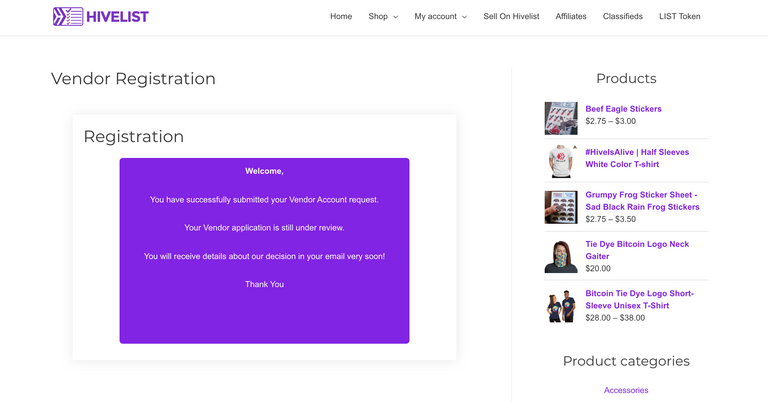 Please allow us 24-48 hours to verify your application. We usually check the applications once a day. What we verify is that your Hive username is correct, the payment will be verified, (just incase you found a way around the paywall...haha) and that you have the proper LIST stake or Hive Power delegation. We also take your Hive Reputation numbers into account as well. We require a rep level of at least 35 to apply. If you are a new member, it doesn't take long to get to this level. Just a couple of good quality posts should do the trick there.
Once approved, you will see a page like this: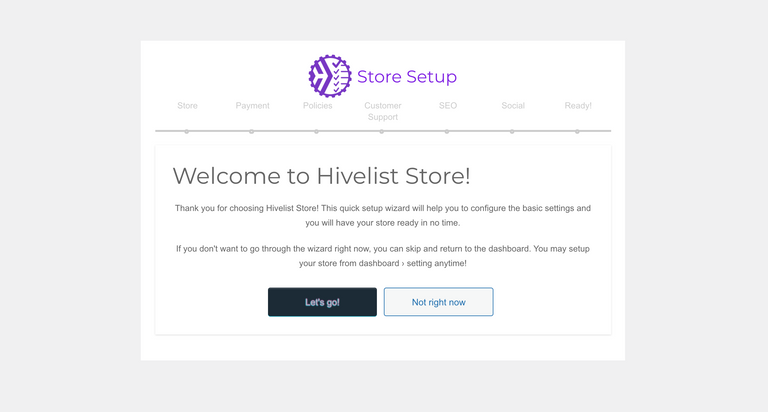 This is where we are going to end this post and going to move to the next which is Setting Up Your Store!
Link to the next post:
https://peakd.com/hivelist/@thelogicaldude/how-to-start-your-hivelist-store-part-2-store-setup

---
---