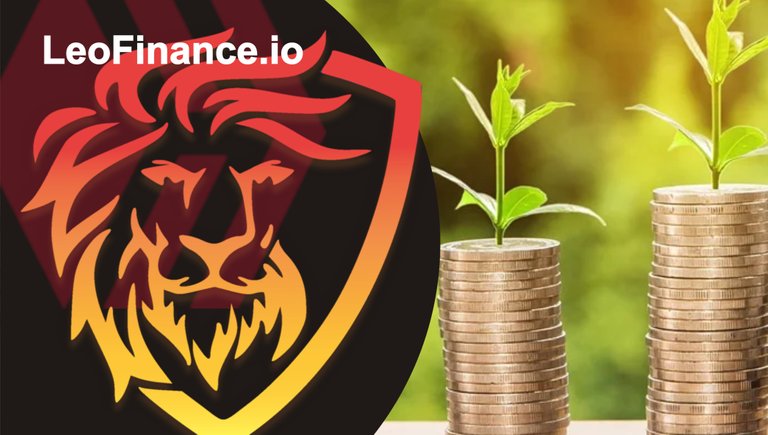 The reality of the new world of finance with cryptocurrency is unfolding before out eyes. Though the capitalist are fighting it hard so that the poor remains poorer and the rich richer, the significant masses are coming to wake of the value of the blockchain technology and cryptocurrency in this new decade.
We were all witnesses as BTC did a ride across the $40k value in the last few days and how it triggered some bullish moves with alt coins. My LEO balance had counted up to 5-digit dollar value. A very cheap token like SPORTS had also crossed the $2k mark. This shows how powerful decentralization can be in helping to preserve and spread wealth.
Looking back at 8 months ago during the Steem-Hive Split which I was sitting on a little about 2,000 HIVE and 2000 STEEM which were not worth up to $500 put together. However, with social activities on the @LeoFinance community during a time when the world faced it's biggest economic crisis, I was building my wealth with LEO token. Little did I know that the less than 1 cent LEO then would value over half a dollar few months later.
At this point, one can just leap into the future, say Six to 12 months from now to see how many people that were worth quite less than $1k would be counting in tens of Thousands of dollars by creating and curation contents. This would be when we see our dear LEO rank into the $1 -$5 crypto.
Six months ago, I wrote a post titled "Can You Really Earn a Living on Hive? YES, You Can" where I highlighted how significant my Hive earnings have been to me especially with the situation of my country regarding employment. In 2020, I have achieved funded several projects from my Hive earnings with climaxed at the burial of my late Dad (Burials are expensive in my part of Nigeria). We had beautifully hosted and God's glory, I didn't owe. I had practically powered down 8,000 LEO as at the first week of December and that was enough to foot the bills I had to effortlessly.
Now, we've seen that the tables have flipped and we now count HIVE as a fraction of LEO. Then, things get merrier for all those who had belied in LEO and had accumulated tokens like I did. I made a quick query on google on "how to earn a living with Crypto".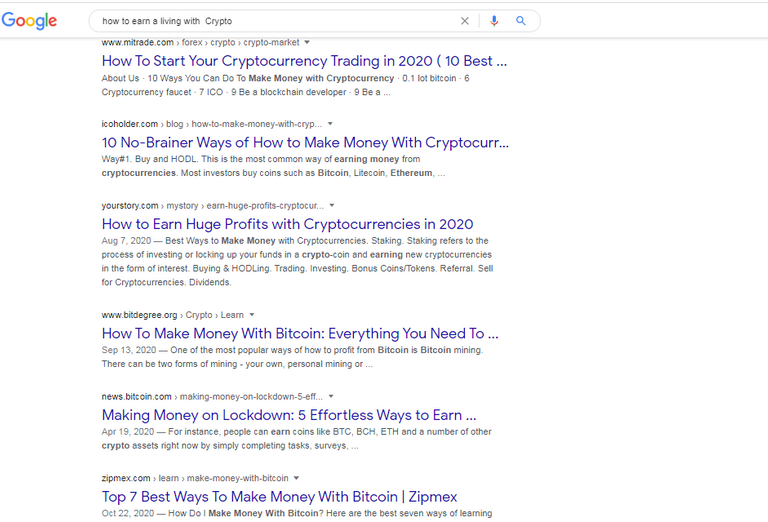 New Google Search Result: "how to earn a living with Crypto"
The output of the search produces the same articles as @khaleelkazi had Six months ago but on different positions. It seems the world of internet is yet to know that LEO token has made it 10 times of its value from Six months ago and perhaps they need to hear.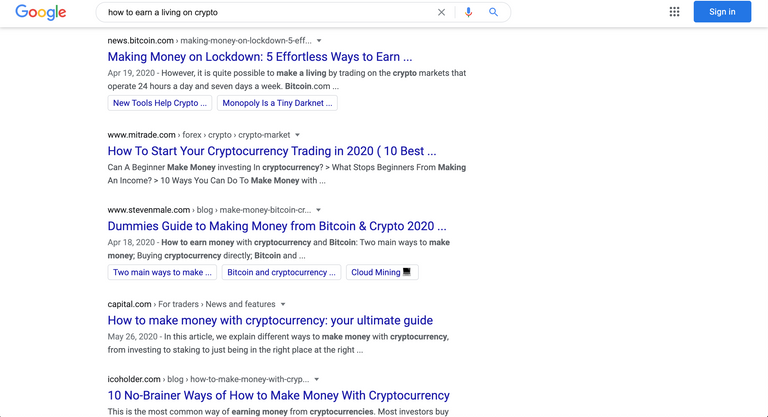 Old Google Search Result: "how to earn a living with Crypto" source
I look forward to some time in the near future when such searches as this would pop up contents about leofinance like this I am writing. perhaps,. LEO would be $5 or $50 in value and we would have surpassed $10 Billion Market capitalization. One cannot thinks smaller with the "big things" lined up for launch through the leoFinance ecosystem.
Lightning DB
Sidechain Testnet
Project ___
Airdrop #1 (project ___)
Airdrop #2 (governance token)
With the current spate of Web 2 social media censoring, we see LeoFinance micro-blogging project take over Twitter and Facebook. This is possibly going to happen as many people are not freaky with writing a 500 worded post like I do. They would have preferred it short and interesting and that's what Lightning DB seeks to achieve.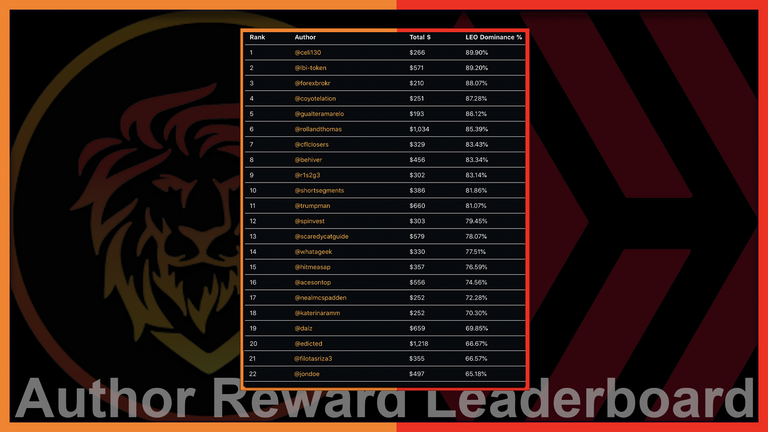 Yesterday, I nearly cried on reading the below quote from December "LEO" Author Reward Leaderboard which mentioned a whooping $11,467 as reward for only 30 LEO authors in just one month. It thus means that for the entire users who earned LEO, we could have had over $30,000.
This Month, the top 30 authors earned $11,467 USD in LEO token rewards and $5,240 USD in HIVE rewards.
That amount is enough to run a cottage industry in my nation that can employ over 50 workers with at least $200 monthly pay cheque. Here are only 30 people earning that amount for just catching fun on a socialmedia.
Is LEO underrated?
At this juncture we can say that this baby Bitcoin called LEO is so underrated and the future is big. i wish many would come to embrace this fintech driver. However, we still have a huge work to do in marketing the community and the token at individual level to bring our family and friends to share in this wealth system.
I can make old to say that as at today and beyond, Once can Really Earn a Living on LeoFinance.
We are still in the beginning of things. Think of it when when more products are unveiled together with multiple blockchain linkages such as with the growing Thorchain. It's time that individuals begin to create project that can leverage the leoFinance sub-chain as well as LEO token itself as we prime our way to prosperity and sustainable wealth. Yesterday, I had mentioned in this post that I hope to retire at 40 and give my time to charity and value giving activities to humanity.
It can only get better!

LeoFinance is a blockchain-based social media platform for Crypto & Finance content creators. Our tokenized app allows users and creators to engage and share content on the blockchain while earning cryptocurrency rewards.
Support LeoInfra's Onboarding Efforts by Delegating HP to @leo.voter (Currently at 2.4M HP). We Use this to Claim Accounts and Delegate RCs to Newly Onboarded Users
Posted Using LeoFinance Beta