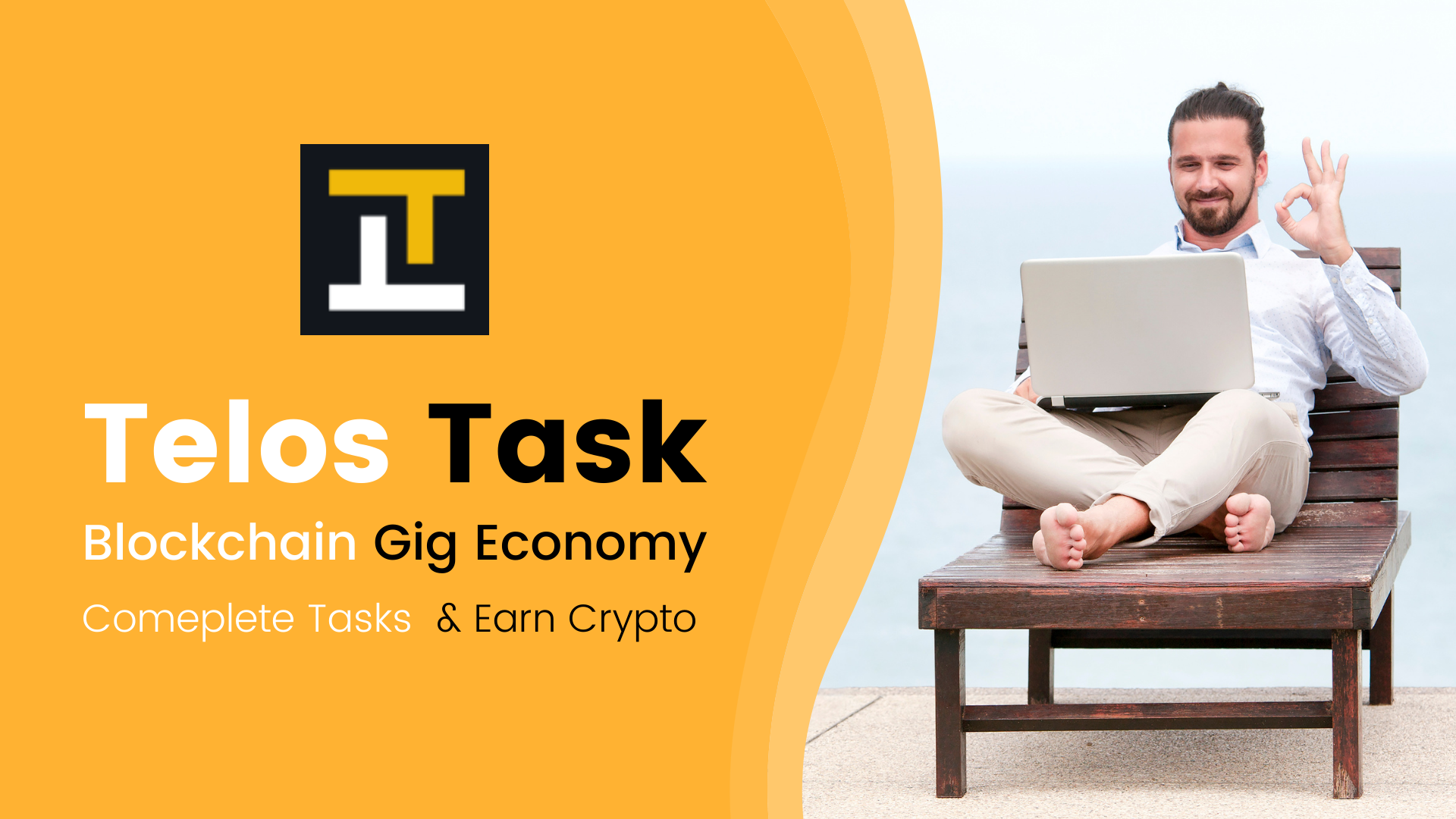 Telos Network
Telos is a web 3.0, blockchain platform for building fast, scalable distributed applications with feeless transactions. The idea & philosophy is quite similar to Hive since both of them are DPoS (Delegated Proof of Stake) Blockchains.
Do you remember them joining Hive/Leo Finance and making their first post a few days ago? After the warm welcome by our community, they have started making a series of posts to explain more about the blockchain, token, and the development going on in their ecosystem.
Their intentions are pretty clear from the above statement they made under the first post. It's great to see the fastest blockchain (Telos) in the world using the most active social media blockchain (Hive) to publish their content. I have recently followed them on Twitter to get the latest updates & more info about the ongoing projects on the network and found something I have been looking for quite some time now.
Telos Task - Gig Economy Meets Blockchain
Telos Task is a peer-to-peer freelance marketplace that rewards users & freelancers in Crypto, for doing Micro & Marco Tasks. Anyone can join the platform and perform a variety of tasks available for both skilled and unskilled users. For example, Micro tasks do not require any particular skill and they will be fairly easy & quick to do. Whereas macro tasks require specialized skills only and hence higher rewards. This means there is an opportunity for every user.
Do Less, Earn More
You can simply go to https://telostask.app/, create an account start doing tasks to earn $TASK tokens. Once you sign up and log in, you will be able to see a list of Micro & Macro Tasks which can be done by all registered users. Just choose any one of them and follow the instructions.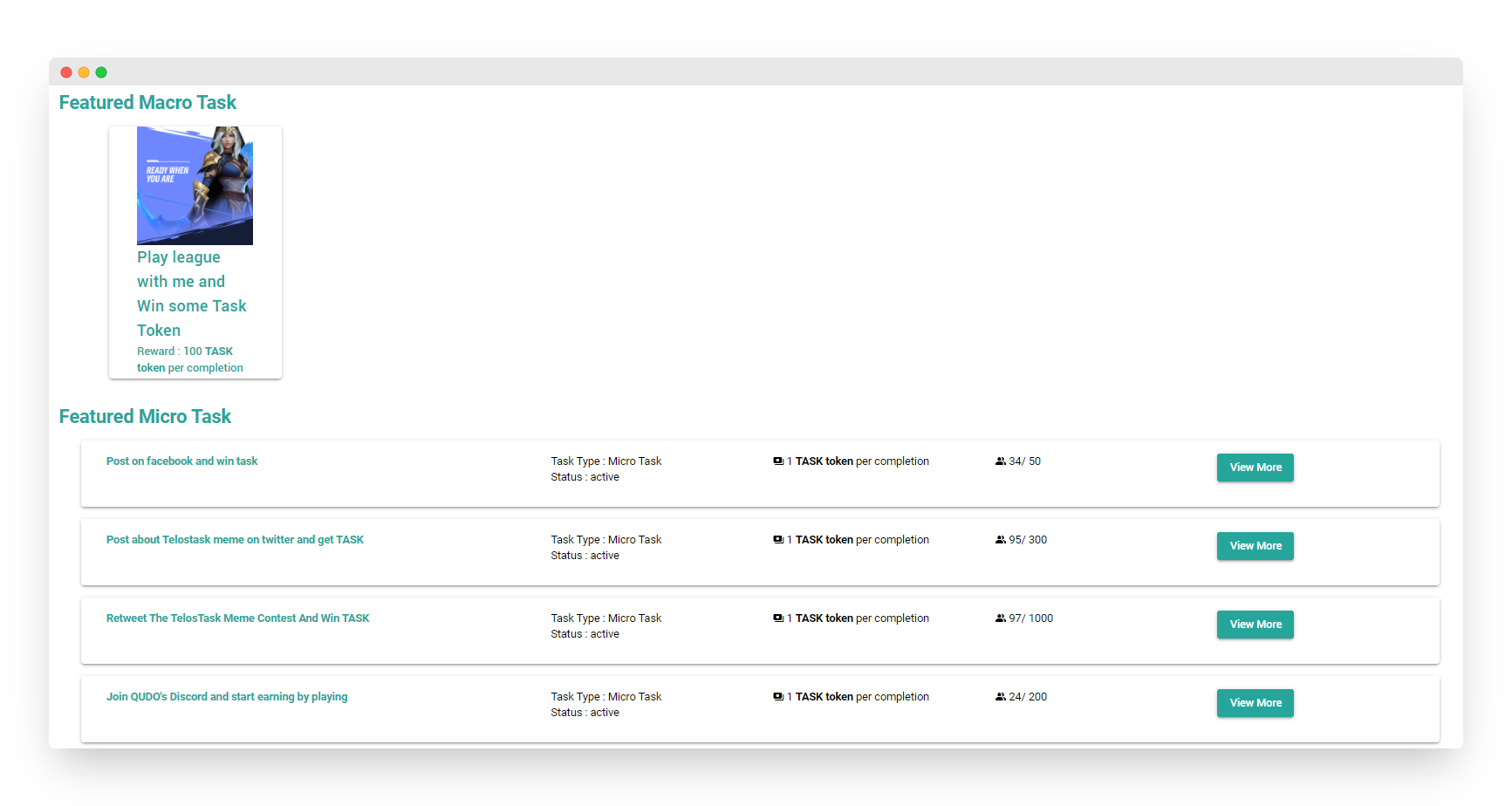 Each task will show the category, budget, and estimated time to finish. So users/freelancers can comfortably choose which task suits them the best and choose to complete it.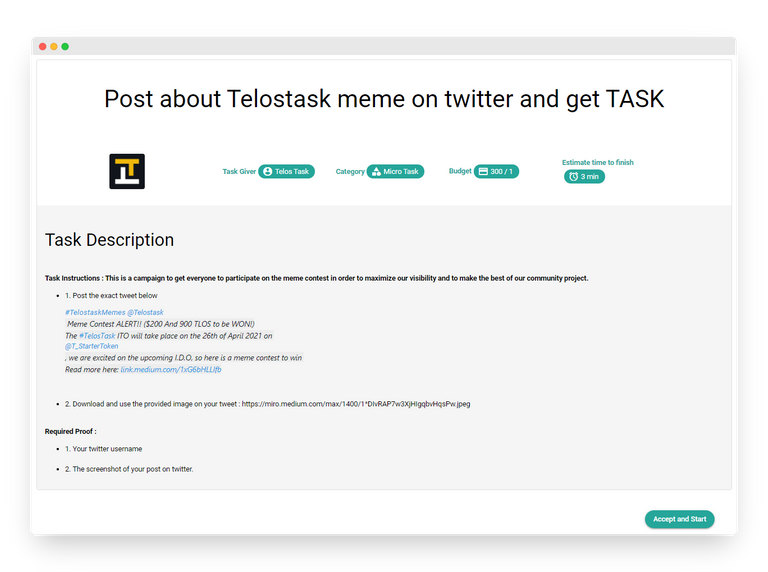 Source: https://telostask.app/
Once you accept and start, you will be required to provide proof of task completion. Once you submit the proof, the task owner will accept the submission and your tokens will be credited to the associated wallet. The platform uses an escrow system to automate & secure payments of Tokens over Telos Network.
Right now the website is quite basic and very few tasks are available but it's worth trying because most of them are pretty easy to do. Hopefully, as the platform grows, we will see more Task Givers & Freelancers so that we have enough opportunities for everyone.
Gig Economy Is Booming
We are currently dealing with a global pandemic and the job crisis is on the rise. This pushed many people into the Freelance market. The benefit of such a market is that you can do the job from the comfort of your home and it pays really well.
It's a win-win for both the parties involved because task owners can now outsource their work at affordable prices and it provides a revenue stream for skilled or unskilled freelancers. According to a Mastercard study done in 2019, the global gig economy was predicted to reach $400+ billion by 2023. That's huge! By 2027 more than 50% of US workers will take part in this in some or another way.
"This is the real power of high-capacity blockchain. Now anyone can instantly create a free Telos account with an easy-to-remember name and log into it with no more hassle than logging into Twitter. It's a mass adoption-ready platform that's desperately needed right now as people try to figure out reliable new ways to earn income and perform business tasks in the post-COVID world."
Destiny Marshall, Team Lead - TelosTask
Source: Telos launches new gig economy platform
How Blockchain Adds More Value
Blockchain technology can solve many underlying problems of the current freelancing market by providing the following:
Peer to Peer freelance marketplace where everyone can join
Fast & Secure (Escrow) and borderless payments
Fair compensation of labor
Openness and transparency of tasks created or completed by users and their gig history
No Late payments or Poor communication
I would love to witness such platforms revolutionizing the gig market in the next few years and providing a sustainable platform for both gig creators and freelancers. Hive is just perfect to serve the gig economy for the very same reason Telos is. It's Fast, Scalable & Powerful. ;)
Just to let you know guys, @thelogicialdude is planning to launch such a marketplace under the @hivehustlers community in the near future. It would be interesting to see something like this built & grow on Hive, potentially adding to the eCommerce within the ecosystem.
---
If you have liked my post, please make sure to upvote and reblog to support me. See you in the next one!

https://leofinance.io/@finguru

https://twitter.com/finguru6

finguru#4062
---

No financial advice. For infotainment purposes only.
Posted Using LeoFinance Beta