We've all perhaps known all about the Paris climate agreement that rolled in 2015, which USA supposedly hopped out and then back in 2021.
Burning of fossils fuels has been a growing problem in the world. Top business institutes
have been caught up in entanglement, somewhat competing to be top funders and we've seen a couple records made by banks of the world.
After formal president of the United States Donald Trump, pulled out of the Paris climate agreement in 2020 without much of a rational conviction, the Biden's administration hopped back in January. The US special Presidential Envoy for Climate, John Kerry claimed on Thursday that the US aims to raise climate-related ambitions amongst concerned countries and accelerate the new and greener energy.
In the US focus to partner with top fossils fuels burners, institutions to reduce its carbon emissions, Bank of America publishes its net zero goal ahead of 2050.
The 4th place Fossil funders and famous cryptocurrency hater institute,
Bank of America said on Thursday it will deploy $1 trillion for its environmental business initiative to push for green finance by 2030, expanding on the $300 billion it had announced for the same project in 2019. The second largest U.S. bank said the latest announcement puts its total commitment to sustainable finance by 2030 at $1.5 trillion.
At some point we wonder how exactly things will go from here. Green Energy has been of existence for quite some time, but for some monetary reasons, carbon burning has still led the electricity funding.
On a 2030 Operational Goals release on February 11,2021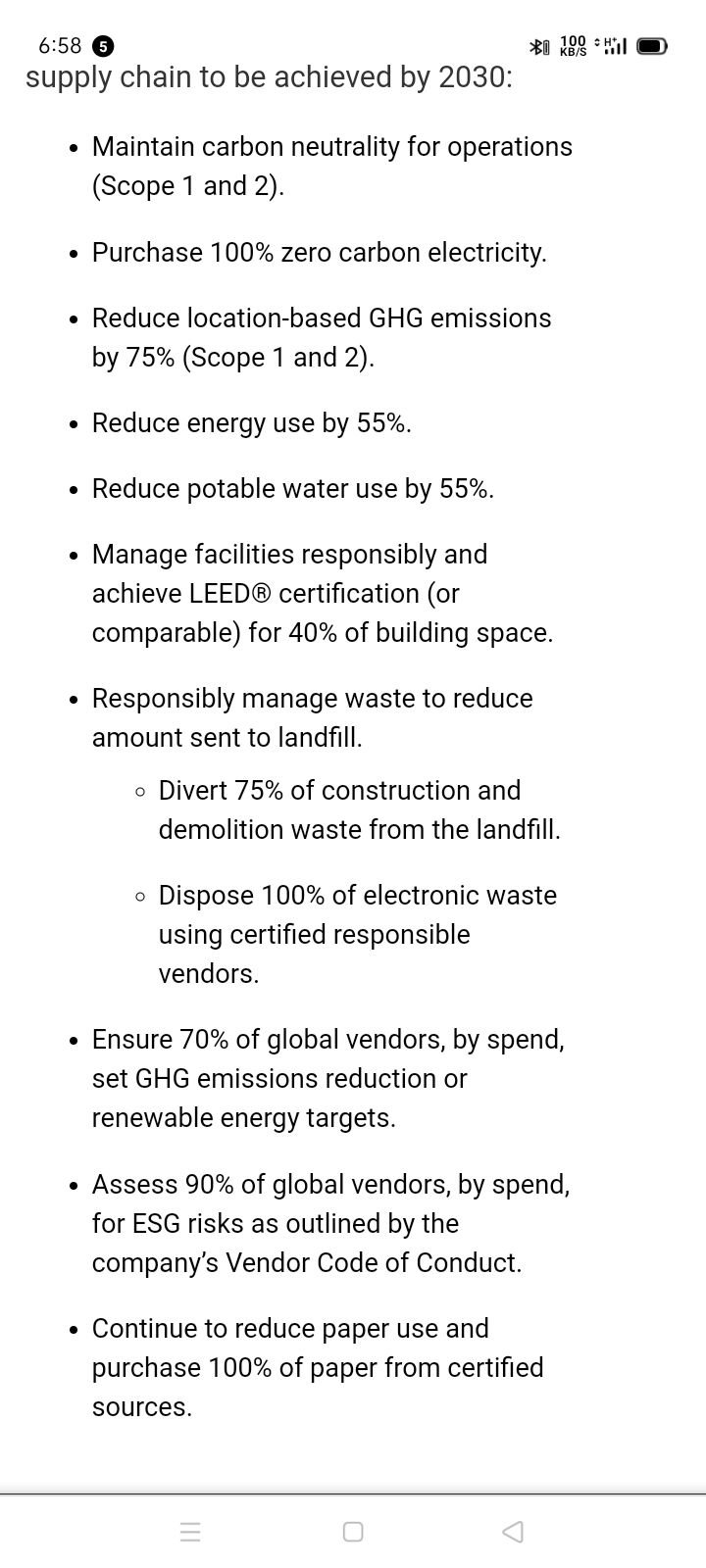 Bank Of America Outlines its 2030 targets and Capital funding towards a zero net emission.
Report says that Since 2007, the company has supposedly directed more than $200 billion in capital and has committed to deploy a total of $445 billion by 2030 under its Environmental Business Initiative. The company already expects to exceed this commitment in advance of 2030 based on current financing activity. Under this initiative, the company partners closely with its clients to finance the adoption of low-carbon solutions, including resource-efficient building construction, renewable energy, sustainable transportation such as electric vehicles and charging infrastructure, and resource-efficient agriculture.
While the Importance of adopting green energy source is now realized by these major players, it is only delightful to see some steps taken towards them, but till actualization it remains nothing but promises.
To spice things up and target-driven moves to give "Bank of America" a good political stand as though they intend to keep their influential status, The top 4 fossils fuels funder went off on another Clout chasing and obviously clear monetary gain-related plot by deploying $1 trillion for sustainable finance by 2030 published today April 8.
Last month, Mastercard Inc was reported to make a claim that it would link bonuses for its senior executives, solely for their performance in helping the company achieve its goals of cutting its carbon usage, improve financial inclusion and gender pay parity. While I missed out on that one, no comments could possibly be laid here.
In addition,
Citigroup Inc has also been placed on the list, launching a new investment banking unit to support efforts towards environmental sustainability.
In a certain perspective, we expect a clap into this new technology, greener energy sources is life changing because global warming is a real thing but sadly most ain't aware and majority don't care. Maybe after having all this said institutions cut down on carbon burning, we expect having a less toxic atmosphere or maybe we are just in to listen and hope on empty audio promises.
But in all, París Climate Agreement stands to disagree if most of the approaches made really meets its target all round.
Keeping Tabs on the World's Climate Action Plan, Paris Agreement was introduced and brought into action in 2016, it was initially considered by many to be a step forward to the world's climate action. For five years now to have gone by, more and more countries have been reported to have dig in and established carbon neutrality targets.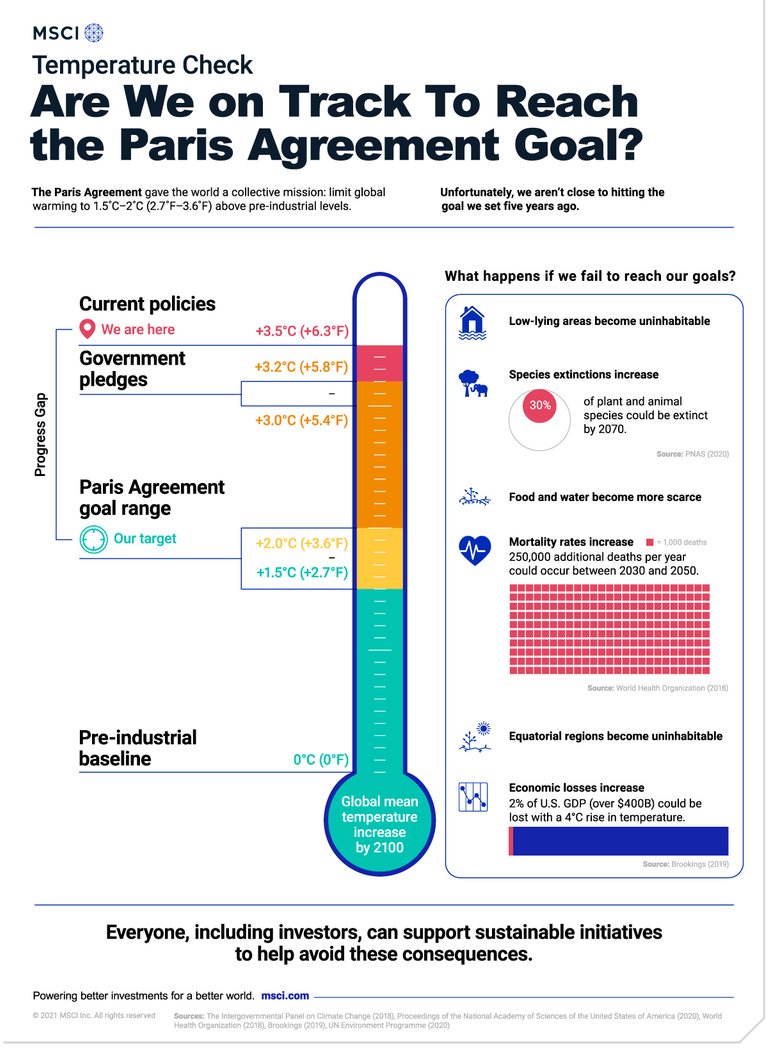 This graphic from MSCI gotten here shows where we are reported by PCA in relation to the Paris Agreement goal, and what may happen if we fail to reach it.
Despite A total of 191 countries which have been reported to solidified their support with formal approval.
We are on track for 3.5 degrees Celsius global warming by 2100—far beyond the maximum warming goal of 2 degrees, report states. Even if we take government pledges into account, which is the amount by which countries intend to reduce their emissions, we are still far from achieving the Paris Agreement goal, that's in addition.
Though we ain't clicking the targets from here, at least not now. I honestly don't know where we're heading from here, but this only points out to a reason why most institutions have got to step down, a lot going on in the world, most times beneficial products like the Electric cars are over looked. Gone are the days where crude was over valued, it is now clear that time has passed and so should most of the tech tools and discoveries that are now just a danger to man's existence. Green energy is the way forward, electrically powered cars built in Sectors running in a renewable energy source platform as well, is all where to focus attentions to. I mean it wouldn't be funny having a company building electric cars just to eliminate the need for petrol, yet it is also caught up burning carbon in the process. Technology is changing and also damaging the world, it's only funny that most times we ignore the better ends and go with greed, but from here, we lay down no more...
It's a push to a better world, fingers crossed...
Thanks for reading this far, all comments are most welcomed
Posted Using LeoFinance Beta