---
VERSIONE ITALIANA
---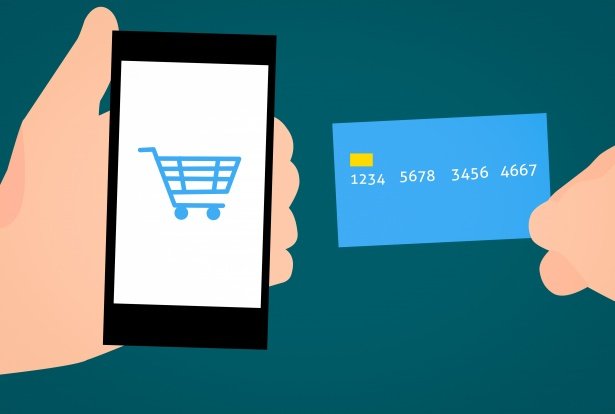 ---
Disclaimer: il presente articolo contiene referral link che sei libero di seguire o meno.
---
Questo articolo è una rielaborazione di un mio stesso articolo scritto tempo fa per MakeMoneyForum -ormai scomparso
---
Quest'articolo ha l'intento di aiutare tutti coloro che come me hanno provato a realizzare un piccolo e-commerce a costo zero, ma non sono mai riusciti a trovare la soluzione più adatta alle proprie esigenze.
Io, per esempio, le ho provate tutte. I siti pre-costruiti tipo Weebly, le soluzioni free per Wordpress, le piattaforme con gli e-commerce già confezionati. Ma in tutti ho trovato il lato negativo. Se i siti pre-costruiti ti chiedevano una fee mensile troppo alta, le soluzioni con Wordpress necessitavano capacità di programmazione troppo elevate per i miei standard. Così ho desistito e per parecchio tempo ho lasciato perdere la costruzione di un e-commerce.
Oggi, invece, posso proporvi una mia soluzione molto più semplice. Sicuramente meno professionale rispetto ad un vero e proprio sito e-commerce, ma molto efficace e molto smart. Insomma, il giusto compromesso tra facilità di programmazione e settaggi e costo.
Devo avvertirvi, però, che non avrete un e-commerce con migliaia di articoli, ma se volete vendere poche cose ad un pubblico ben mirato e volete qualcosa di facilmente condivisibile, e volete dedicarvi più al lato social rispetto alla programmazione e alla gestione di un e-commerce, allora questa è la soluzione che fa per voi. Ovviamente è sempre qualcosa di non-professionale, ma a costo quasi zero.
Non avremo bisogno di molte cose, ci basterà uno smartphone o un tablet che tutti abbiamo e un lettore di carte (facoltativo). Ma vediamo nel dettaglio cosa ci occorre.
Necessario:
uno smartphone
Whatsapp Business e ovviamente un numero di telefono (cellulare o fisso)
SumUp (lettore di carte facoltativo)
conto corrente con IBAN (io mi trovo bene con Hype)
Do' per scontato che abbiate già uno smartphone o un tablet e un numero di telefono (può andar bene anche il fisso nel nostro caso), quindi non sto qui a consigliarvene uno e passerei direttamente al primo step.
Installare Whatsapp Business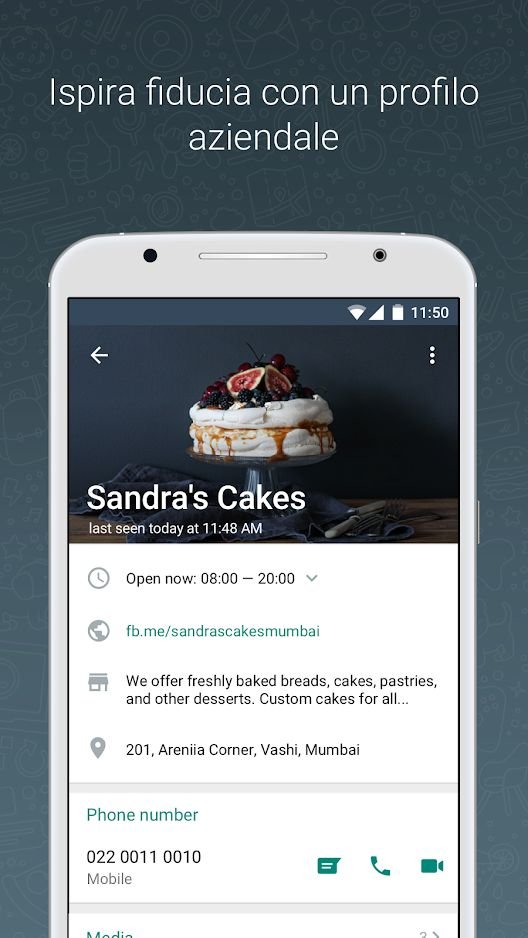 Fonte PlayStore
Prima di tutto andiamo nello Store del nostro cellulare e scarichiamo e installiamo l'applicazione Whatsapp Business .
Creiamo il profilo del nostro store e personalizziamolo. Diamogli la nostra identità. Aggiungiamo l'immagine del profilo, il nostro logo, e compiliamo il tutto il più dettagliatamente possibile. I nostri futuri clienti apprezzeranno i dettagli e si fideranno di più di una persona che non ha nulla da nascondere.
Una volta avviata l'applicazione, siamo pronti per condividere il nostro negozio...ma dobbiamo prima crearlo.
Andiamo allora in Strumenti Attività dal Menu e tappiamo su Catalogo. Grazie al "+" possiamo inserire qualsiasi articolo vogliamo del nostro negozio aggiungendo un'immagine, il nome dell'articolo e il prezzo di vendita. In più è possibile aggiungere anche un link ad una pagina web, una descrizione un po' più dettagliata e il codice articolo.
Ora popolate il vostro negozio con gli articoli che volete vendere e spammatelo tramite i vostri canali social condividendo semplicemente il link.
E ora come faccio a ricevere i pagamenti?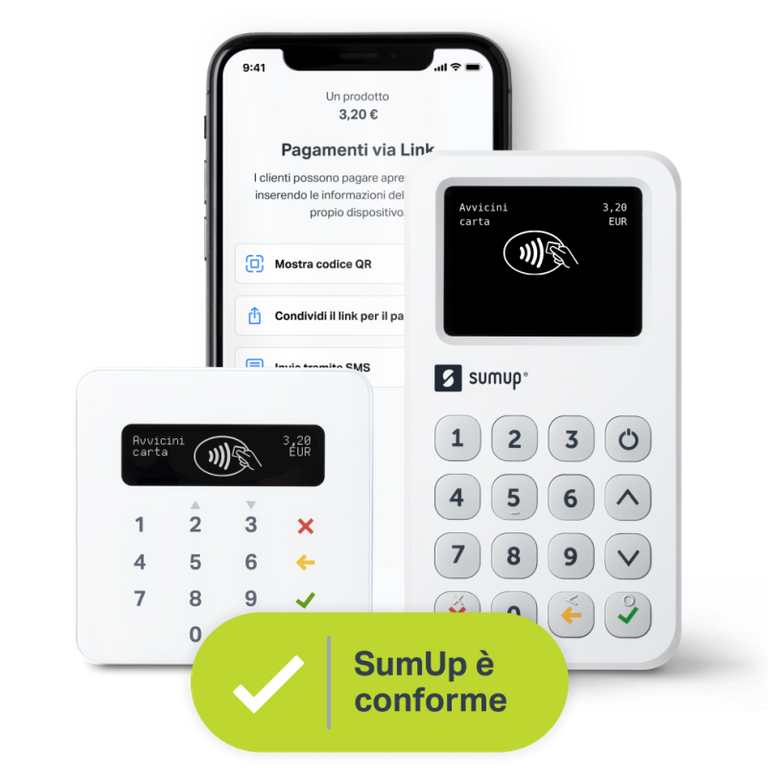 Fonte SumUp
Semplice! In questo vi aiuta SumUp.
SumUp è conosciuto per aver dato la possibilità a tutti i commercianti di accettare pagamenti tramite POS, senza avere un canone fisso mensile, ma pagando solamente una fee per ogni utilizzo. Pagherete infatti una commissione dell'1,95% su ogni vendita che farete, quindi se i prezzi dei vostri prodotti non sono elevati, tenete presente il costo della transazione.
Ma oltre a questo ci dà la possibilità anche di creare dei link di pagamento grazie ai quali i nostri clienti possono acquistare tramite carta di credito. Come fosse un normalissimo acquisto on-line.
Il tutto è molto semplice, basta creare un account SumUp come persona fisica (o come azienda se siamo intestatari di una Partita IVA), tenere a disposizione l'IBAN del nostro conto corrente su cui vogliamo ricevere i soldi delle nostre vendite e scaricare successivamente l'app sul nostro dispositivo mobile.
Lanciamo quindi l'app e logghiamoci con le nostre credenziali. Ora quando effettui una transazione, invece di selezionare "Lettore di carte", dovrai selezionare "Pagamenti via Link".
Condividendo il link generato, il tuo cliente potrà pagare tramite carta di credito come se stesse facendo un semplicissimo acquisto on-line.
ATTENZIONE: SumUp prende una commissione del 2,5% per gli acquisti virtuali (quindi tramite link) o dell'1,95% per gli acquisti tramite carta di credito
E se non ho un IBAN?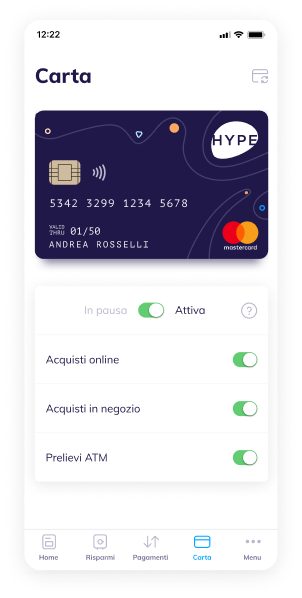 Fonte Hype
Ti suggerisco un'altra applicazione: Hype.
Hype è un conto corrente a canone zero del gruppo Banca Sella.
I limiti per il conto a canone zero sono veramente bassi (€ 2.500,00 all'anno come giacenza massima della carta), ma il vantaggio è che se vi servisse invece un plafond illimitato, basteranno meno di € 3,00 al mese.
Incassandone più di € 200,00 al mese, una spesa di € 3,00 è poca roba.
Aprendo il conto riceverai a casa la carta di credito e oltre ad offrire il pagamento tramite SumUp ai tuoi clienti, potrai offrire anche quello a mezzo bonifico bancario.
Ora non ti resta che vendere e guadagnare.
Ma attenzione, il tutto devi farlo rispettando le tassazioni e le regole fiscali in vigore.
Io in questo modo ho creato un e-commerce del tutto gratuito della mia attività, di cui fino a qualche giorno fa avevo solamente il negozio fisico.
---
ENGLISH VERSION
---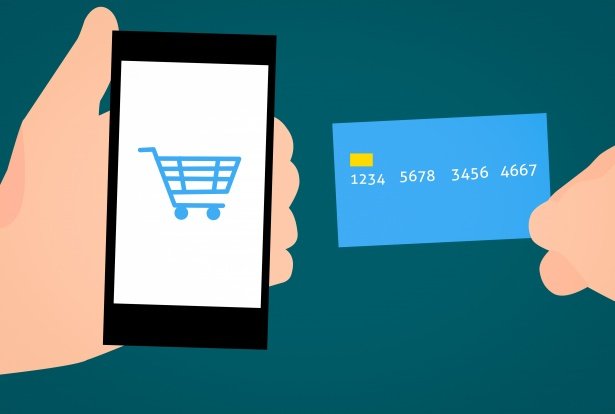 ---
Disclaimer: This article contains referral links that you are free to follow or not.
---
This article is a reworking of my own article written some time ago for MakeMoneyForum which has now disappeared
---
This article is intended to help all those who, like me, have tried to create a small e-commerce at no cost, but have never been able to find the solution that best suits their needs.
I, for example, have tried them all. Pre-built sites like Weebly, free solutions for Wordpress, platforms with pre-packaged e-commerce. But in all of them I found the negative side. If the pre-built sites asked you to pay too high a monthly fee, the solutions with Wordpress required programming skills that were too high for my standards. So I gave up and for a long time I gave up building an e-commerce.
Today, however, I can offer you my much simpler solution. Certainly less professional than a real e-commerce site, but very effective and very smart. In short, the right compromise between ease of programming and settings and cost.
I must warn you, however, that you will not have an e-commerce with thousands of items, but if you want to sell a few things to a well-targeted audience and you want something that can be easily shared, and you want to dedicate yourself more to the social side than programming and managing a e-commerce, then this is the solution for you. Obviously it is always something unprofessional, but at almost no cost.
We won't need a lot of things, we just need a smartphone or tablet that we all have and a card reader (optional). But let's see in detail what we need.
Necessary:
a smartphone
Whatsapp Business and obviously a phone number (mobile or landline)
SumUp (optional card reader)
bank account with IBAN (I'm fine with Hype)
I take it for granted that you already have a smartphone or tablet and a phone number (a landline can also be fine in our case), so I'm not here to recommend one and I'd go straight to the first step.
Install Whatsapp Business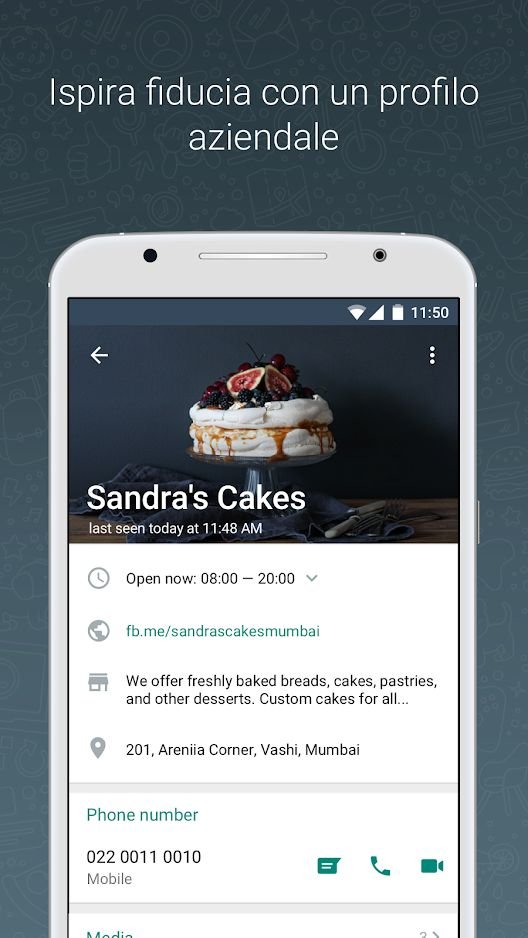 First of all, let's go to the Store on our mobile phone and download and install the Whatsapp Business application.
Let's create our store profile and customize it. Let's give them our identity. We add the profile picture, our logo, and compile everything in as much detail as possible. Our future customers will appreciate the details and will trust a person who has nothing to hide.
Once the application is launched, we are ready to share our store ... but we must first create it.
So let's go to Activity Tools from the Menu and tap on Catalog. Thanks to the "+" we can insert any item we want from our shop by adding an image, the name of the item and the selling price. In addition, you can also add a link to a web page, a slightly more detailed description and the item code.
Now populate your shop with the items you want to sell and spam it through your social channels by simply sharing the link.
How do I get paid now?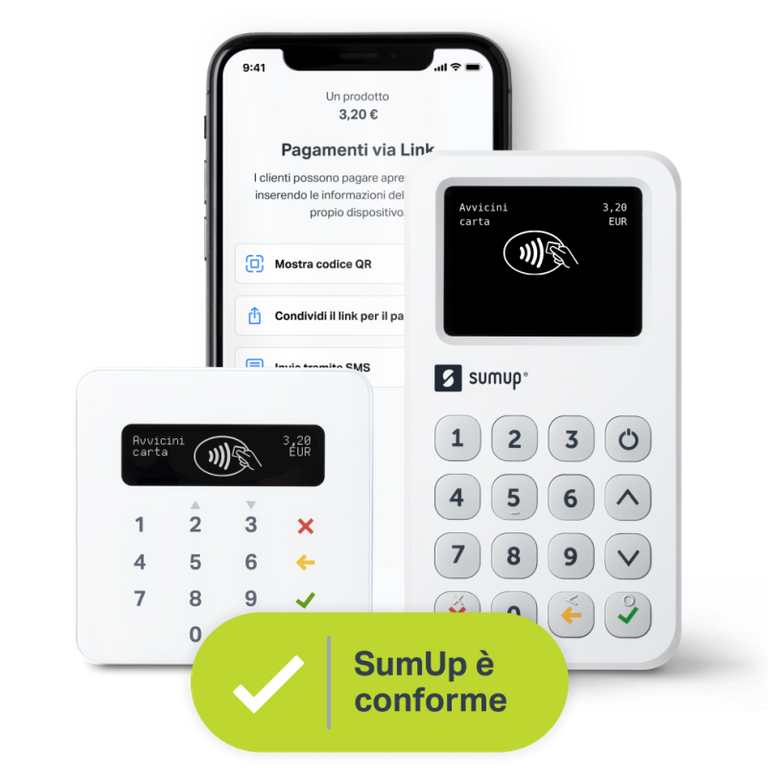 Simple! SumUp helps you with this.
SumUp is known for giving all merchants the possibility to accept payments via POS, without having a fixed monthly fee, but paying only a fee for each use. In fact, you will pay a 1.95% commission on each sale you make, so if the prices of your products are not high, keep in mind the cost of the transaction.
But in addition to this it also gives us the possibility to create payment links thanks to which our customers can buy by credit card. As if it were a normal online purchase.
Everything is very simple, just create a SumUp account as a natural person (or as a company if we have a VAT number), keep the IBAN of our current account available on which we want to receive the money from our sales and subsequently download the 'app on our mobile device.
Then launch the app and log in with our credentials. Now when you make a transaction, instead of selecting "Card reader", you will have to select "Payments via Link".
By sharing the generated link, your customer can pay by credit card as if he were making a very simple online purchase.
ATTENTION: SumUp takes a 2.5% commission for virtual purchases (therefore via link) or 1.95% for purchases via credit card
What if I don't have an IBAN?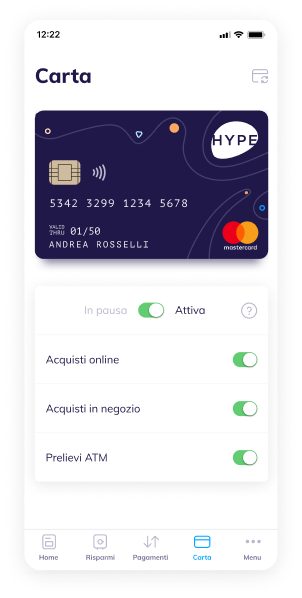 I suggest another application: Hype.
Hype is a zero-fee current account of the Banca Sella group.
The limits for the zero-fee account are really low (€ 2,500.00 per year as maximum card stock), but the advantage is that if you need an unlimited ceiling instead, less than € 3.00 per month will suffice.
By cashing in more than € 200.00 per month, an expense of € 3.00 is not much.
By opening the account you will receive the credit card at home and in addition to offering the payment via SumUp to your customers, you can also offer that by bank transfer.
Now you just have to sell and earn.
But be careful, you must do everything in compliance with the taxation and fiscal rules in force.
In this way I created a completely free e-commerce of my business, of which until a few days ago I only had the physical store.