DYGYCON 6 is coming!
What is Dygycon?
DYGYCON is a digital networking event for the crypto community. Crypto-appreciative folks from all walks of life can gather at these conventions to promote their own projects, to learn about and interact with new and exciting upcoming projects in the crypto space, and to socialize and network with other crypto-minded people.
Splinterlands organizes and hosts this event as a thank-you to our partners, players, friends, and community members who have been so instrumental in our game's growth.
Attendants get to enjoy exploring the different rooms of the conference, holding private meetings and joining group chat rooms, listening to speakers, competing for prizes, and interacting with the many booths that have been set up for the event.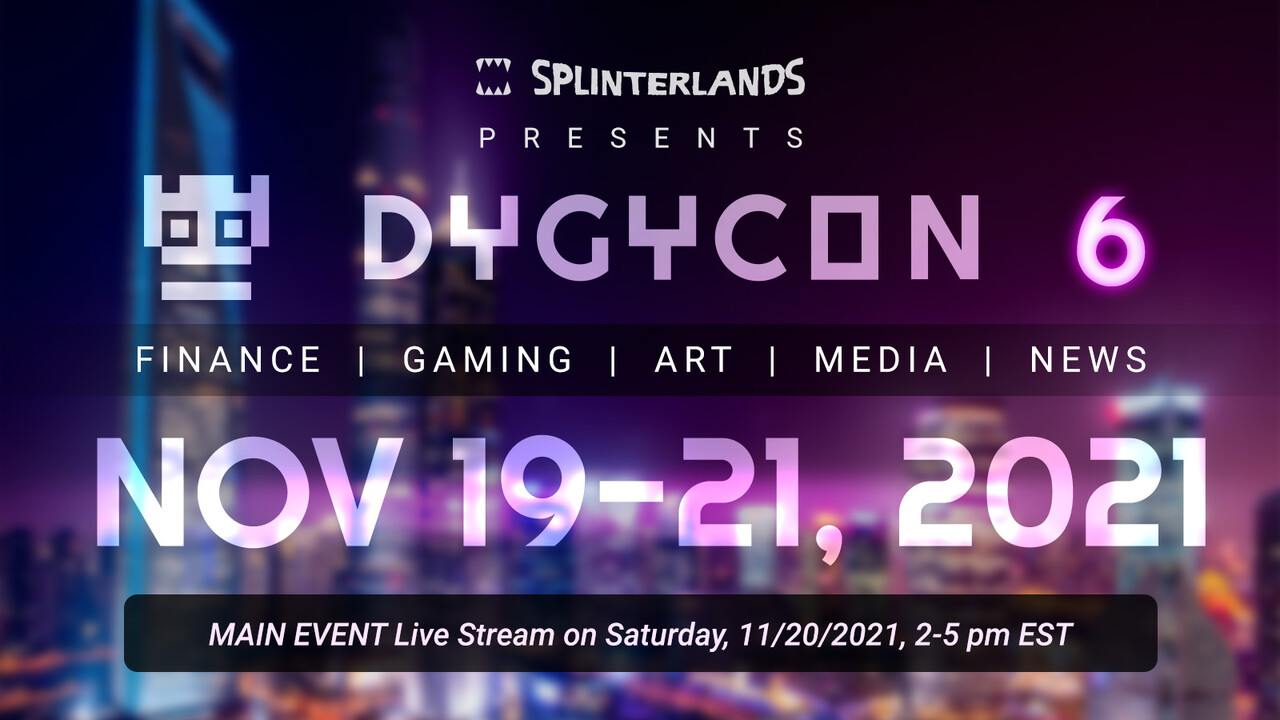 ---
How can I join Dygycon?
Participants can register at any point before or during the event, using this website, where they will be able to curate their avatar for the event. Attendants may then join any time during the three hour event.
---
When and Where is Dygycon?
DYGYCON is a virtual event that takes place in the DYGYCON Expo virtual conference center. It takes place every two months, usually the 2nd or 3rd Saturday.
The next DYGYCON takes place over an entire weekend, beginning Friday, November 19th, at 5:00 AM EST and concluding on Sunday, November 21st at 11:59 PM EST. The largest events will be happening on Saturday. Below is the current tentative schedule for Saturday and more to be announced soon.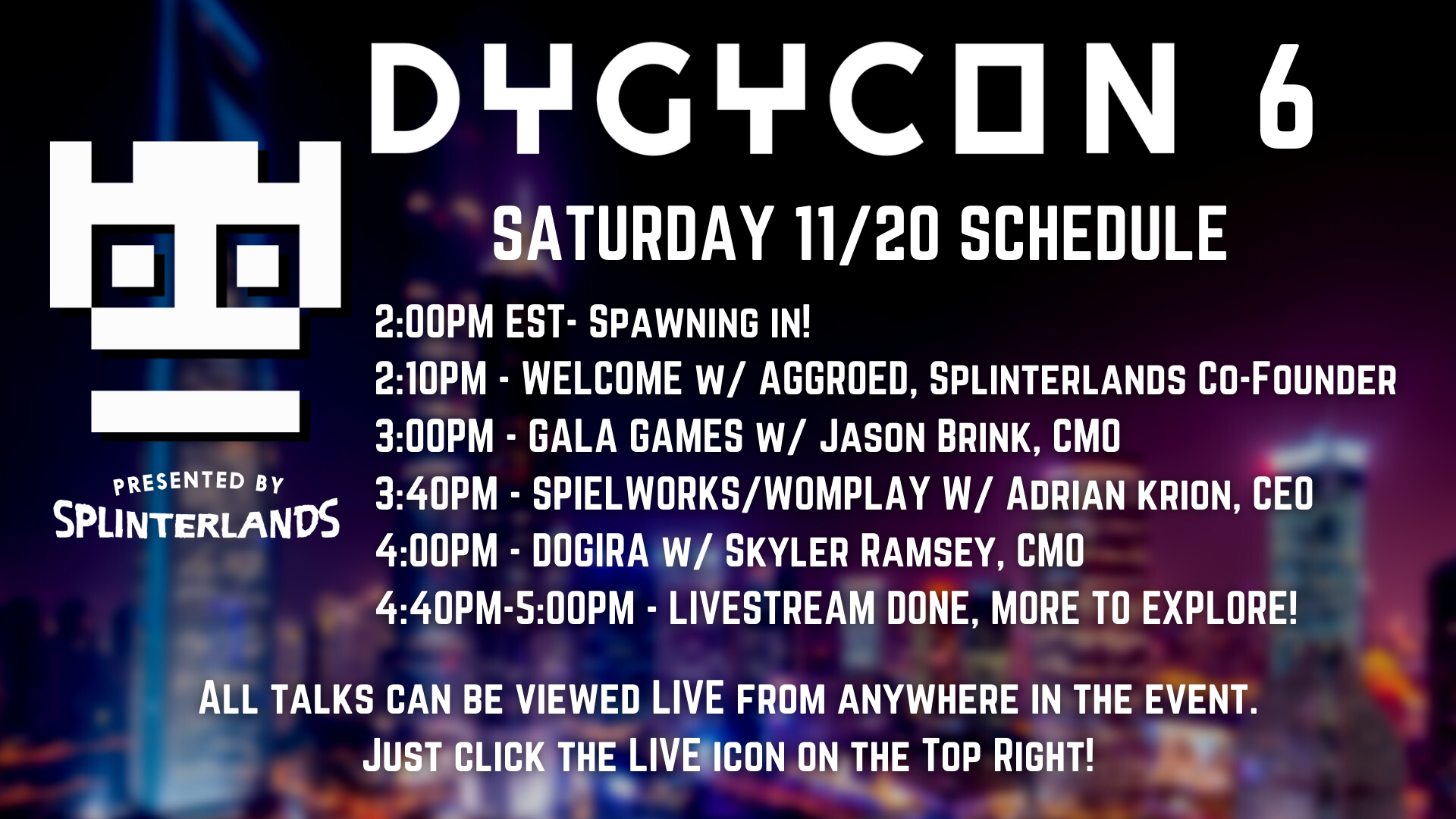 Those wishing to attend DYGYCON 6 can find more information here and on Twitter.
---
Who is involved in Dygycon?
DYGYCON attracts between 1,000 and 1,500 crypto enthusiasts each session, who hail from over 20 countries all around the world. Though we come from different walks of life, we are united by our enthusiasm for blockchain technology as well as the many exciting new projects on the crypto horizon.
The event also attracts experts from the crypto space, who come to DYGYCON as speakers to share what they are working on. Past speakers have included experts from such companies as Gala Games, Superworld, Silica neXus, and our own SPLINTERLANDS.
Visiting the DYGYCON booths is another great way to expand your horizons and learn about exciting blockchain projects. Each booth functions as an independent chatroom, allowing participants to network with each other and topic experts. Booths also contain slideshows and links for those interested in learning more, and some booths offer giveaways and extra activities.
In September, DYGYCON 5 featured over 25 Crypto-focused sponsor booths, including:
CryptomonKeys
Dogira
DYGYCON SWAG
Splinterlands
SplinterShards (SPS)
Dark Galaxies
NFT Art Museum
EXODE Game
Anyobservation
BLOCKCHAIN CARDS
LOAK | Wearable NFTs
NFT HORIZON
Blockchain Game Alliance
MaGESpire
Gala Games
Nifty Drops
CRYPTONADES
Brave
CryptoStache
NFT Showroom
The Sandbox
Blockchain Founders Fund
Polypixels
NFThub.com
ZenSports Arena
Silica neXus Project
Gamerjibe
Each successive DYGYCON features a more expansive array of Crypto booths, as well as many repeat sponsors. Plans for DYGYCON 6 include the popular NFT Auction, a scavenger hunt, and collaborations with the sponsors for more events, activities, and giveaways.
Follow @DYGYCON on Twitter so you don't miss a single update!
---
---