We're Going Underground 🥡 Can We Sell Black Market Takeaway Fried Rice From Home?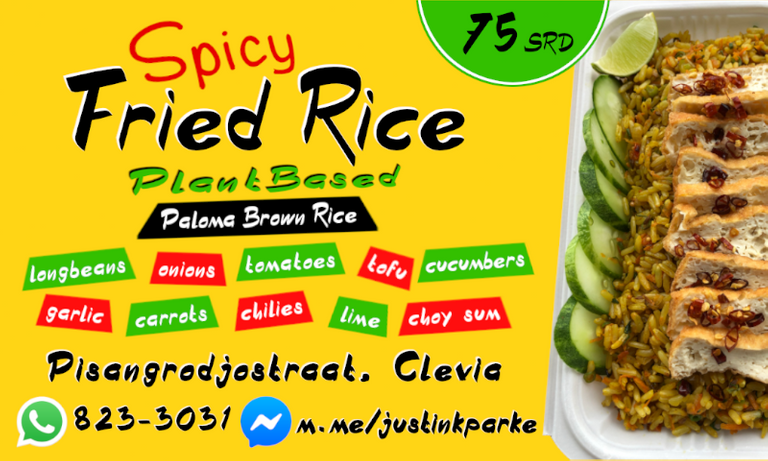 Determined not to withdraw any HIVE and also get out from under Western Union's deathgrip, @Sreypov and I decided to market our stellar vegetable fried rice here in Suriname.

You Don't Know If You Don't Try
     We are going to be selling this fried rice from home without proper licensing, but many things I wouldn't have dared do before the pandemic hit Suriname are now being overlooked by the government. I have specifically noticed many Suriname locals doing a lot of WhatsApp underground business, especially food and haircutting. Biodegradable takeaway containers are readily available and cheap, so we bought a stack and rolled the dice.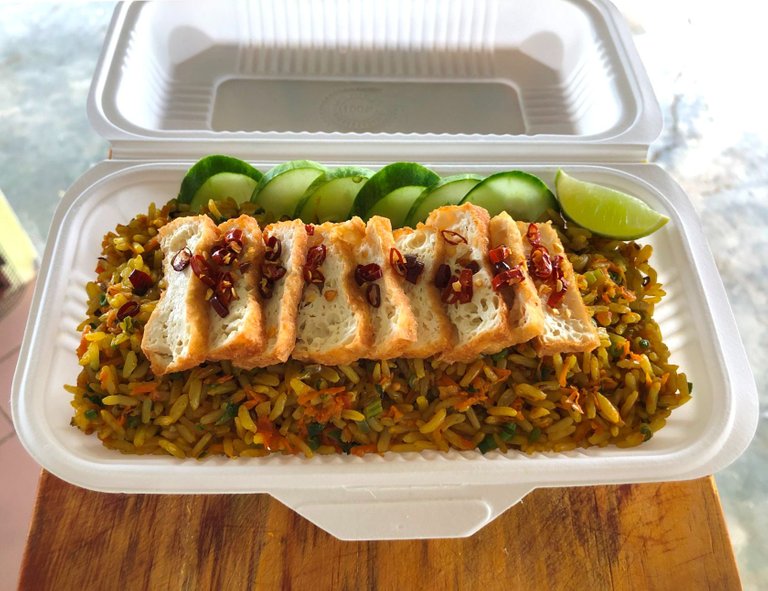 We have a tiny kitchen and limited refrigeration, so these are the factors limiting how many different things we could make fresh and fast. I think for now, especially in this experimental stage, doing one thing really well is the best choice. We're selling this container at 75 SRD ($4.16 USD), which is twice the cost of what a normal fried rice here costs.
Facebook Flyer I Made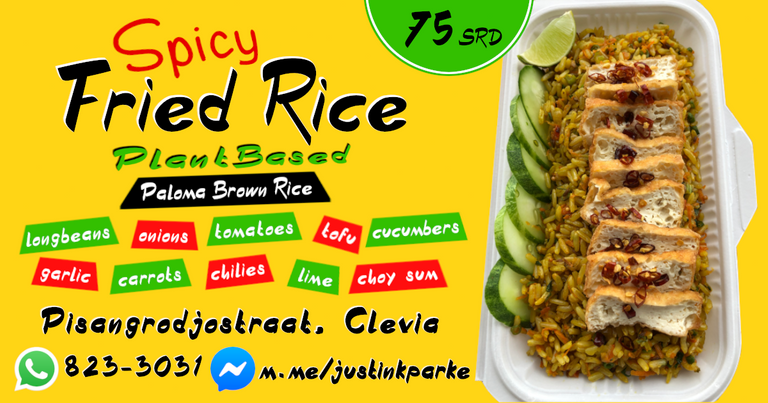 Time is always limited, but this is what I put together today for marketing on the Facebook Suriname Vegan Community. We don't have high hopes for this, but I'm curious to see how this venture will go. The local fried rice barely has any vegetables, is void of seasoning, uninspired, and @Sreypov and I still haven't had a fried rice we would call "delicious" anywhere in the country.
     It's a shame people aren't socially available here, because we would much rather walk around the neighborhood and pass out flyers to build a local customer base. But based on the rudeness we've experienced foraging mangoes and coconuts in the neighborhood, we'd much rather have customers who are seeking deliciousness.
     Time will tell if this is a good idea or not, but it would be really nice to cover our living costs from locally made money. Selling 10 to 15 fried rice containers per day would ensure the future growth of our Hive accounts, and I would love to not stand in line for hours at a distant Western Union every few weeks.

🙏 THANKS FOR READING 🙏
If you enjoyed this post, please upvote and reblog.
CLICK HERE TO JOIN HIVE AND START EARNING CRYPTO LIKE US

---
Posted on NaturalMedicine.io
---
---