The women/girls empowerment project graduates two trainees on the 28th of March 2021
ecoDesigns Weekly Meeting Report
In an extraordinary weekly meeting held on Tuesday 23rd February at ecoDesigns workshop at 13:00PM, the trainees and trainers of ecoDesigns resolved that the graduation of two trainees of ecoDesigns, Mrs Tita Sandrine and Mrs. Confidence Dede will hold on the 28th of March 2021. This graduation was initially scheduled to hold in December 2020 but due to the socio-political crisis in the English speaking regions of Cameroon as well as a few social challenges that faced the management of ecoDesigns, the graduation was postponed.
During the extraordinary meeting,it was resolved that the graduation will begin with a thanksgiving mass to hold at All Saints Parish, Bayelle from 09:00AM and immediately after the thanksgiving mass, the team will proceed to ecoDesigns workshop where the graduation proper will hold.
From 2020 till date, different members of ecoDesigns have witbessed a series of happy and sad events. On the sad note, Mr. Green, Founder/Executive Director of The Greens lost his brother and aunt, Mrs. Justine Akisah, Director of Training for Fashion Designing and Textile Recycling lost the grand mum, Mrs. Bime Delphine, a trainee lost the dad, whereas Mrs. Tita Sandrine, one of the graduands lost the father.
On a happy note, Mrs, Asabe and Miss Sonita both out to birth bouncing baby boys. The purpose of the thanksgiving was to thank God for life, celebrate the new lives within the ecodesigns family and pray for the repose of the souls of the faithfully departed.
It was also resolved that renovation works should be done at the ecoDesigns workshop to give the workshop a beffitting look.
The renovation work comprising of painting, carpeting, signboards and completion of a textile collection booth was estimated at 100HBD.
Deliberated upon was the issue with respect to food and drinks and it was agreed that we make pasteries, fruit salad and then purchase sweet drinks for our guests. A cake and champagne was also agreed to be acquired.
Besides the food and drinks, we agreed to rent canopies and chairs as well as rent a sound system for the event.
The following budget was established for the graduation;
Renovation of ecoDesigns Workshop - 100HBD
Food and Drinks for at least 80 persons - 75HBD
Graduation cake and champagne - 25HBD
Certificates and signboards - 30HBD
Others - 20HBD.
The total graduation budget was estimated at 250HBD
Sources of Finance for Graduation
The following pledges were made as well as sources of finance for the graduation highlighted,
Ngalim Franklin aka Mr. Green, Founder/Executive Director of The Greens pledged 50HBD
Mrs. Nchang Notburga, Director of Training in charge of Embroidery pledged 30HBD
Mrs. Akisah Justine, Director of Training in Change of Textile Recycling and Fashion Designing pledged 30HBD
Mrs. Dede Confidence, the graduand pledged 20HBD
Mrs. Tita Sandrine, the graduand pledged 20HBD
Steem fundraising was estimated at 75HBD. It was resolved we do a 30days countdown to the graduation during which we shall share pictures and videos of the works of ecoDesigns. All post rewards will be used to sponsor the graduation ceremony and ecoDesigns activities,
Donations from friends, family and appeal letters to organizations in the region was estimated to raise 25HBD.
The deadline for reception of contributions was slated for the 15th of March 2021 whereas the deadline for the completion of renovation works at ecoDesigns was set for the 20th of March 2021.
Meet some trainees of ecoDesigns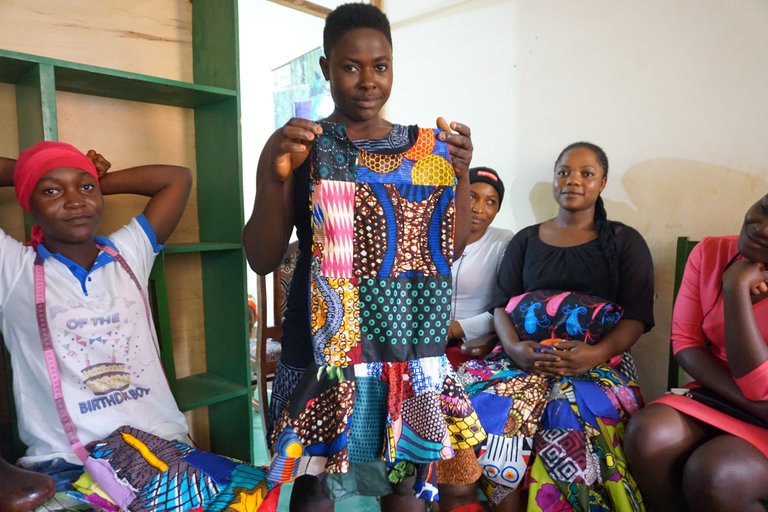 Confidence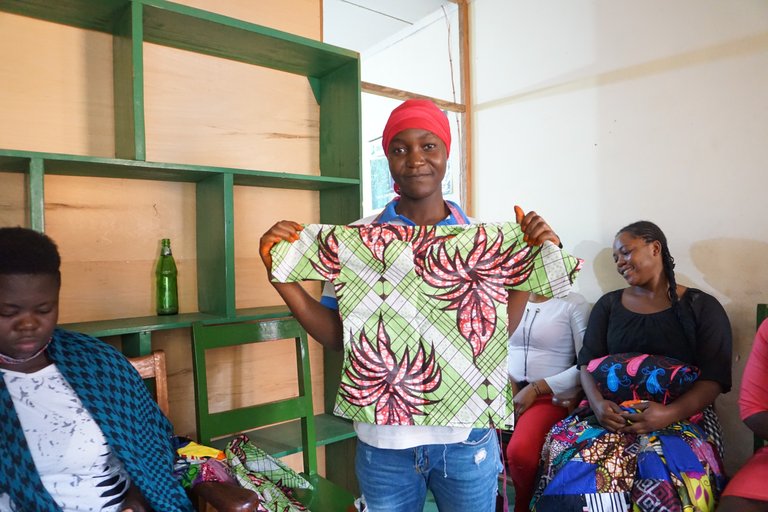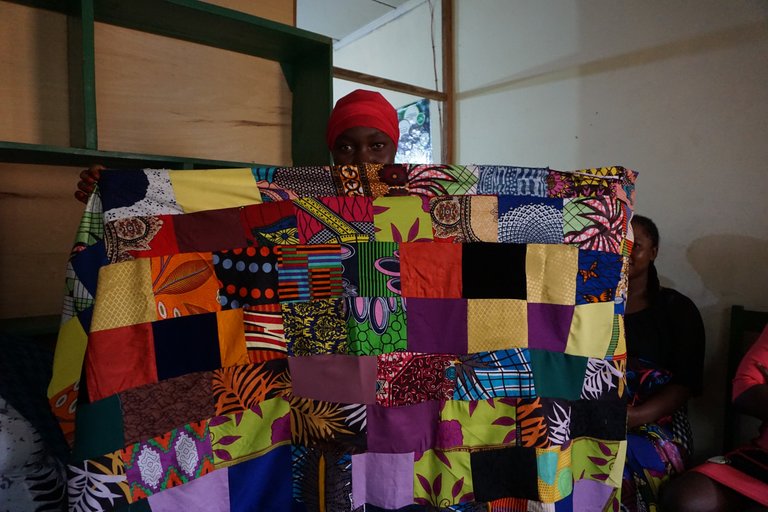 Moradatou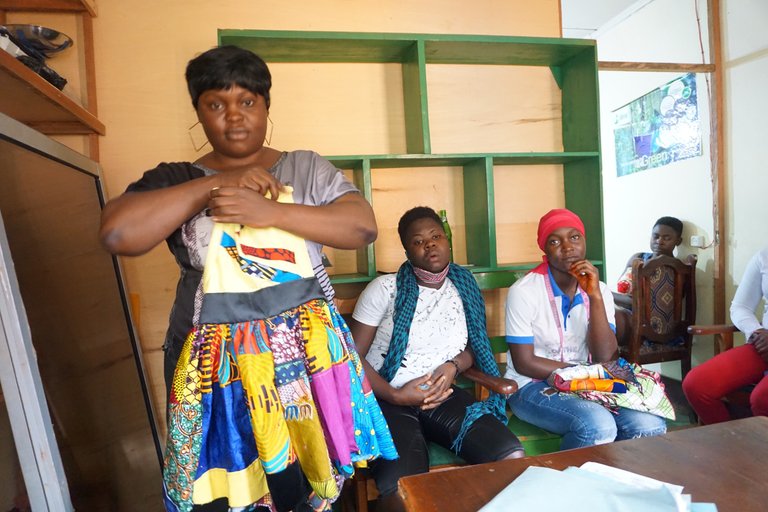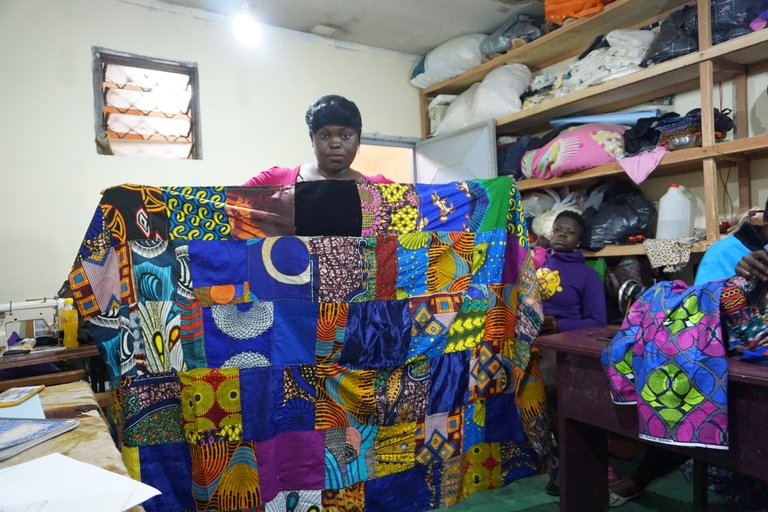 Delphine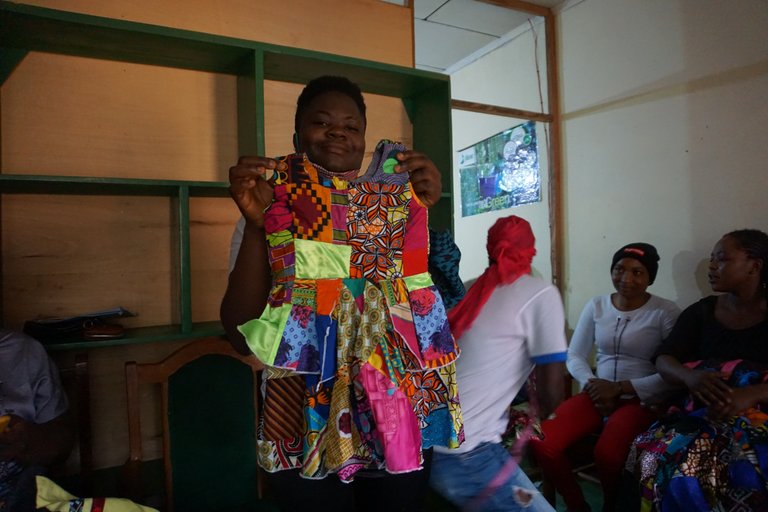 Sandrine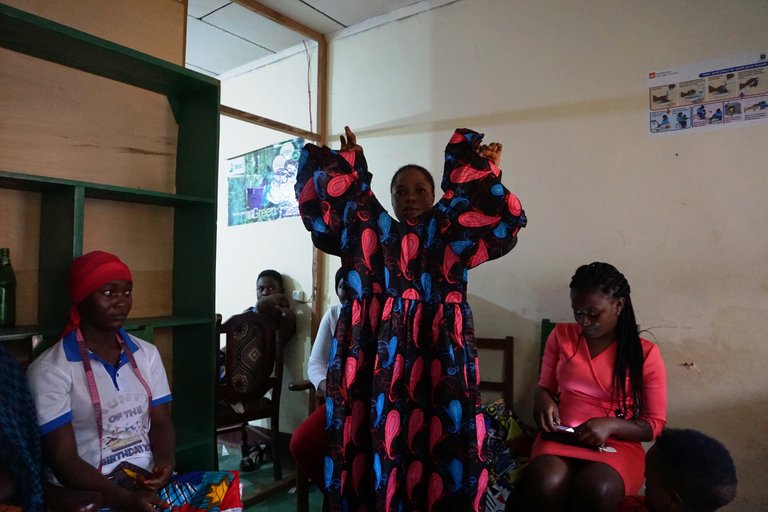 Blessing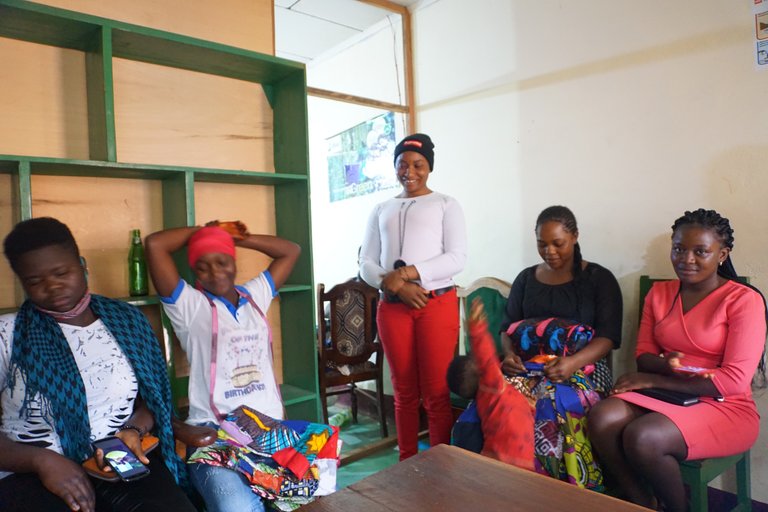 Rahimatou
About ecoDesigns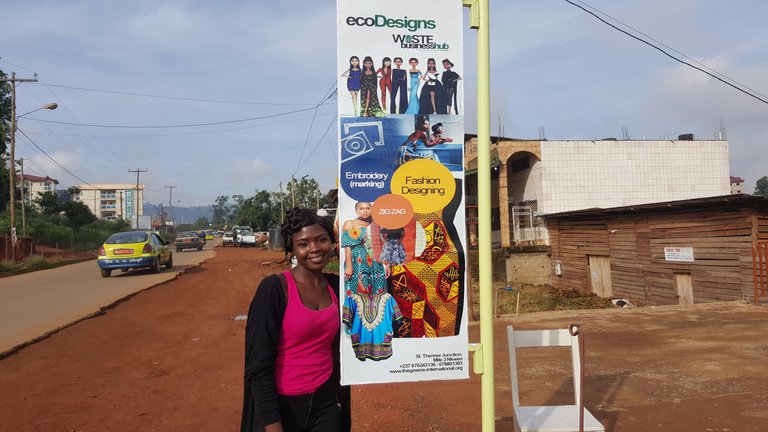 @ecoDesigns is @thegreens' textile recycling and fashion designing hub that is training women and girls for FREE in Textile Recycling and Fashion Designing in a bid to reduce female unemployment, inequalities and poverty, promote female entrepreneurship, combat textile waste pollution and climate change as well as improve the health and wellbeing of orphans, prisoners, underprivileged and poor people via the donation of free clothes and shoes the hub is collecting from the city.
ecoDesigns was created after our 2017 research that involved over 400 Tailors/Fashion designersin the city of Bamenda, North West Region, Cameroon, were we realized that;
They are more than 800 Tailors and Fashion designers in the city, with each tailor generating an average of 2 – 5kg of textile waste per week and more during festive periods. We realized from this research that the tailoring/fashion industry in Bamenda generates about 1600kg to 4000kg of textile waste every week.
More than 75% of the tailors/fashion designers burn or throw their textile waste in the landfill and that many of them were unaware of the environmental impact of the textile waste and the textile industry as a whole.
On the other hand, in an oral interview with more than 100 persons from diverse households in the city, we realized that more than 80% of the people burn or throw their old/unwanted or damaged clothes and that not up to 5% of them knew the environmental impact of the textile industry as a whole.
Its against these research backdrops that ecoDesigns was created. The hub currently has 02 Training Directors and 07 women and girls who are learning textile recycling and fashion designing for free.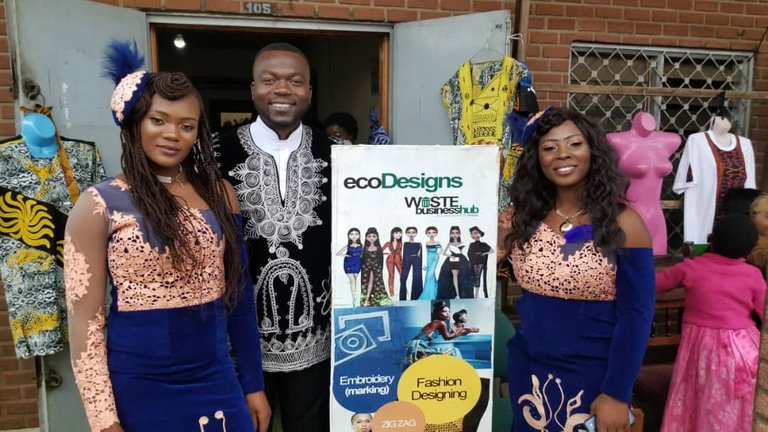 pioneer graduates of @ecodesigns with @mr-greens
The two years old hub has graduated two ecoFashion Designers, collected and upcycled over 12,000 pounds of textile waste into reusable pads, pillows, chalkboard erasers, garments, dolls, mattresses, Laptop bags, scarecrows, etc.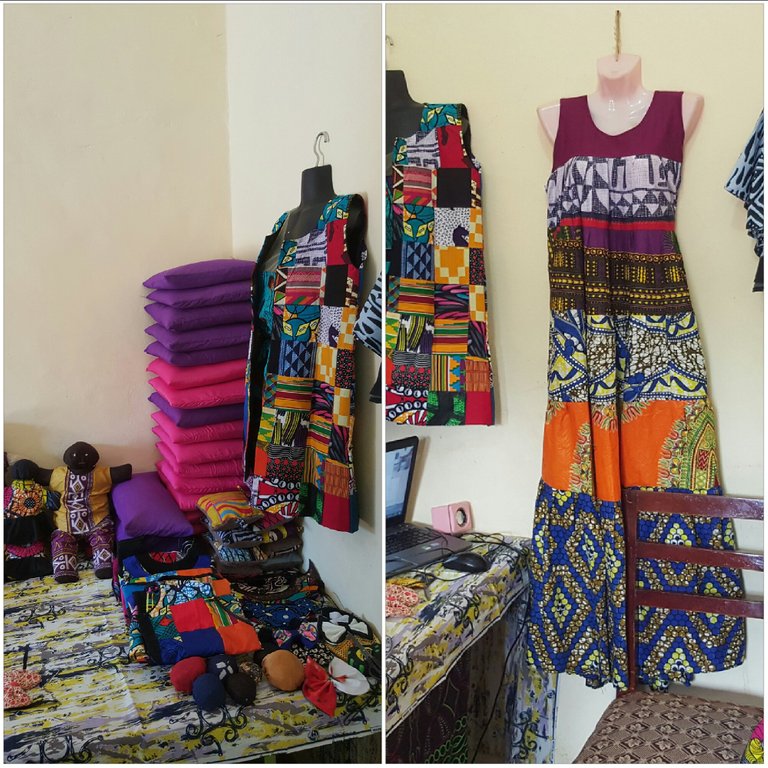 The hub has also collected over 2000 dresses from the city of Bamenda and redistributed to over 300 persons who are internally displaced, orphans, underprivileged, etc.


The Greens is a grassroots environmental organization that strives to educate, inspire and engage young people to take action to combat climate change and be at the forefront of biodiversity conservation and waste management.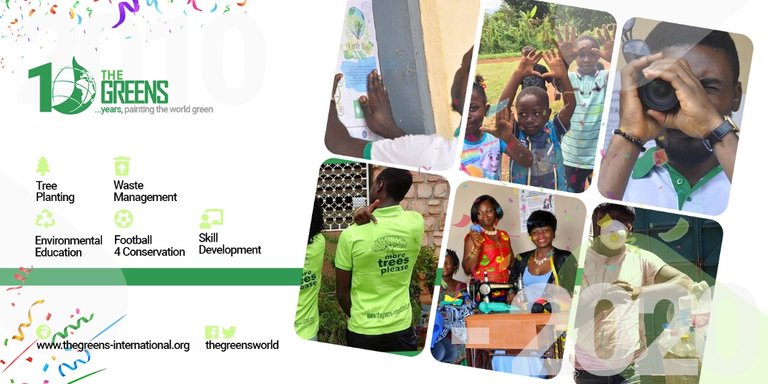 ---
---