PGM DeFi , a little idea! (ita/eng)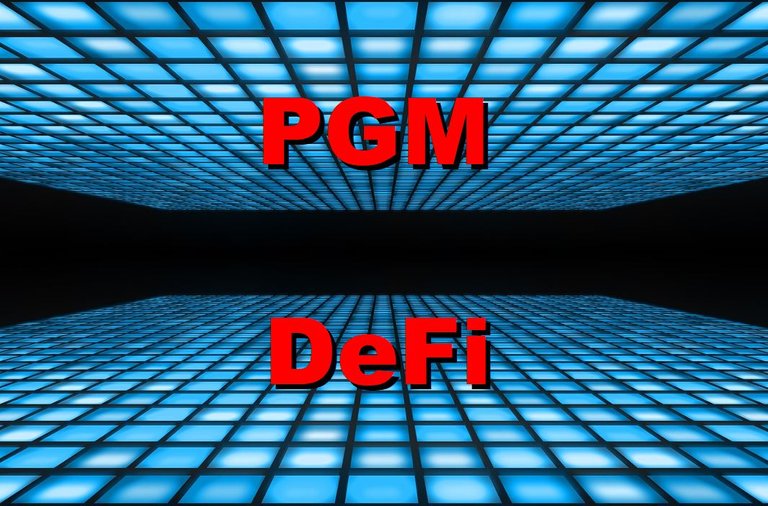 Hello all friends of the PGM community, today we are here to talk about an update that will turn the world of PGM upside down, definitely making it more interesting with the DeFi project, which is this decentralised finance that we want to get in on creating more and more uses for PGM!
---
Now that PGM has so much value, thanks to the many advantages it offers, we believe it is time to also increase liquidity as demand grows! In fact our goal is to provide more and more PGMs in order to put them up for sale, in case some user is interested in becoming an orca, whale or dolphin in the community we are creating with PGM!
---
This is a project we have recently decided to undertake, and which we want to support and share with all of you!
In fact on PGM's discord channel (https://discord.gg/7rbDCEyY) you can find channels totally dedicated to DeFi , in those channels we are looking for people who are really interested in the project , to be part of the PGM team , this will give them huge benefits , and we will of course provide them with liquidity in terms of PGM and more!
For the time being only one user has offered, but we hope to see the number increase.
---
The first project to join "PGM DeFi " is @pgm-curator , an account which is already working at the moment but which we will now explain in more detail!

At present it works with a number of proxies that we aim to improve!
At the moment, the healing project works in this world:
You delegate HP to this account
Every day you receive 90% of the earnings from votes (APR) in liquid HIVE
Every week a pool of 300 PGMs is distributed, so the more you delegate the more PGMs you get!
As we can see, the project already works with a pool programme, which we obviously want to improve, but we will tell you more about this in the future!
---
CONTEST
We are also looking for a little help from you users, in fact we would like to know if you can give us a hand by creating a small logo for the PGM-DeFi
This contest will have some simple rules:
Original
Delivered in 2 days
And the prize will be:
PGM 1000
On top of that every work you hand in (of quality) will receive 1 HIVE of thanks!
---
---
---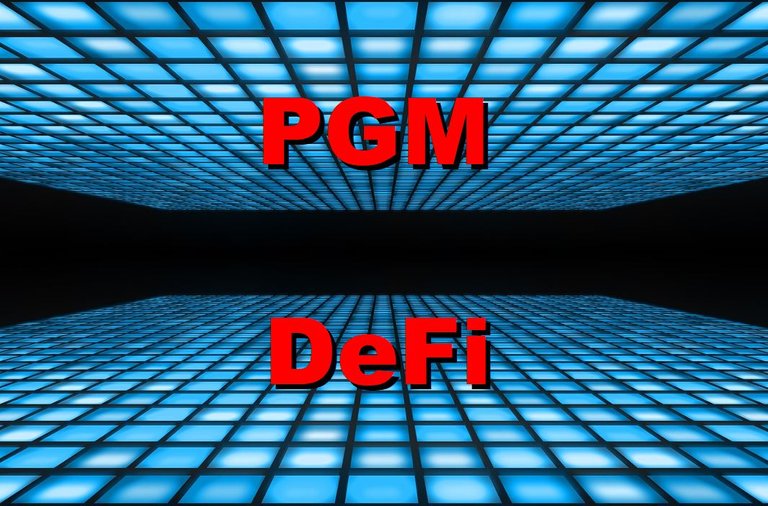 Ciao a tutti amici della community di PGM , oggi siamo qui per parlare di un aggiornamento che stravolgerà il mondo di PGM , rendendolo sicuramente più interessante con il progetto di DeFi , ovvero questa finanza decentralizzata che vogliamo c'entrare come obbiettivo creando sempre più utilizzi per PGM!
---
Ora che PGM ha tanto valore , grazie ai molteplici vantaggi che offre crediamo sia arrivato il momento di aumentare anche la liquidità visto che la richiesta cresce! Infatti il nostro obbiettivo è quello di fornire sempre più PGM per metterli anche in vendita , in caso che qualche utente sia interessato a diventare orca , balena , ma anche delfino della community che stiamo creando con PGM!
---
Questo progetto è un progetto che abbiamo deciso di intraprendere da poco , e che vogliamo supportare e condividere con tutti voi!
Infatti sul canale discord di PGM (https://discord.gg/7rbDCEyY) potete trovare dei canali dedicati totalmente alla DeFi , infatti , in quei canali cerchiamo gente che sia veramente interessata al progetto , per prendere parte del team PGM , questo gli conferirà dei vantaggi enormi , e gli andremo ovviamente a fornire delle liquidita in termini di PGM e non solo!
Per il momento si è offerto un solo utente ma speriamo di veder aumentare il numero.
---
Il primo progetto ad entrare a far parte di "PGM DeFi" è @pgm-curator , account che allo stato attuale già funziona ma che ora vi andremo a spiegare meglio!

Allo stato attuale funziona con una serie di deleghe che puntiamo a migliorare!
Al momento il progetto di cura funziona in questo mondo:
Deleghi HP a questo account
Ogni giorno riceverai il 90% del guadagno dai voti (APR) in HIVE liquidi
Ogni settimana viene distribuita una pool di 300 PGM , quindi più deleghi più PGM prendi!
Come possiamo vedere , il progetto già funziona con un programma di pool , che ovviamente vogliamo migliorare ma questo ve lo diremo meglio in futuro!
---
CONTEST
Stiamo cercando anche un piccolo aiuto da parte di voi utenti , infatti vorremo sapere se potete darci una mano creando un piccolo logo per la PGM-DeFi
Questo contest avrà delle semplici regole:
Originale
Consegnato in 2 giorni
E il premio sarà di:
1000 PGM
Oltre a questo ogni lavoro che ci consegnerete (di qualità) riceverà 1 HIVE di ringraziamento!
---
---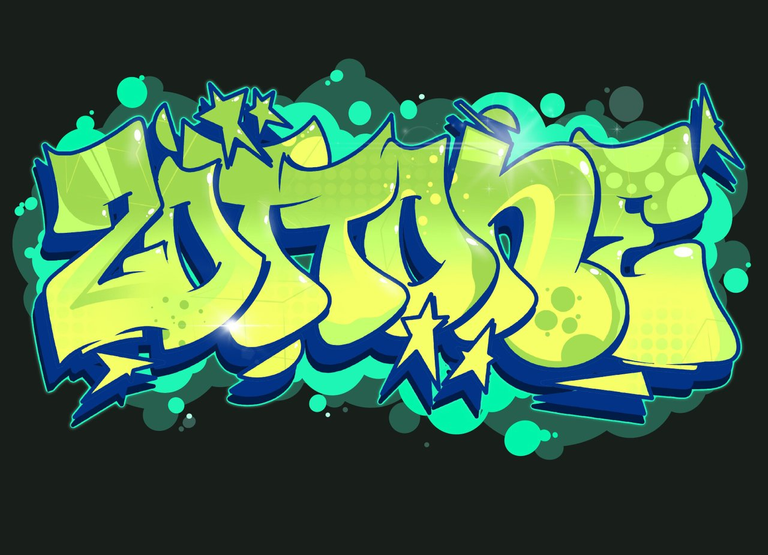 Follow me on
TWITTER ---> https://twitter.com/zottone444
TORUM ---> https://www.torum.com/u/zottone444
HYPPER ---> https://hyprr.com/profile/zottone444
NOISECASH ---> https://noise.cash/u/Zottone444
READCASH ---> https://read.cash/@Zottone444
BLURT ---> https://blurt.world/@zottone444
JOIN ON TELEGRAM ITALIAN GROUP ---> https://t.me/hiveitaly
FOLLOW HIVE ITALIA ON ---> Twitter -- Instagram -- Fecebook
photo by me / @hashkings /hive-engine
---
If you want to buy/sell Dcity cards with the PGM token from the NFTM.art shop click here
---
My private socials
Instagram---> ale_zotta_
Twitch ---> zottone
---
Links that may be useful to you for the PGM token
Buy it here
If you don't know how to buy the PGM token click here
If you want to know what projects we collaborate with, click here and here
If you want to become a sponsor of the project click here
joins the PGM discord server
FOLLOWE PGM ON TWITTER
Buy games by paying with hive-HDB-Pizza Token here @thebeardflex
To buy my microphone click here
To join my fortnite community click here
---
@solymi
@serhotest
@captainquack22
@nyinyiwin
@nyimwa
@davot
@chapelle
@jakkal
@pousinha
@gestion.alive
@amaillo
@steem82868
@dynamicrypto
@torran
@japex1226
@r1s2g3
@jonimarqu
@krueger053
@hive-131968
@stea90
@elikast
@ravenmus1c
@servelle
@arpuch
@luizeba
@hhayweaver
@atma.love
@solairitas
@itharagaian
@stdd
@mad-runner
@davidxxl
@agog
@tokutaro22
@ivanslait
@brianhuang
@johnripper
@operahoser
@failingforward
@thgaming
@zottone444
@c3r34lk1ll3r
@new.things
@florenceboens
@mehmetfix
@kryptodenno
@maggotmilk
@uggya
@aweee
@danideuder
@cpol
@drunksamurai
@stewie.wieno
@kizunasport
@imno
@henruc
@nahueldare3627
@pablodare
@token-thx
@thx.archon
@adie44
@badpupper
@forsakensushi
@eijibr
@bananofarmer
@mryoung1979
@freed99
@iamalivechalleng
@elkingplayer
@kraaaaa
@andy-vibes
@michupa
@bokica80
@beeber
@dagz
@jfang003
@falcout
@criptosectadepit
@xheadhunterz
@pregosauce
@lozio71
@ww-ww
@mein-senf-dazu
@visionaer3003
@newenx
@edgerik
@noctury
@mauriciolimax
@flaxz
@maruskina
@hoosie
@yeckingo1
@floki-skarsgaard
@rachaeldwatson
@urkanon
@koshwe
@mchero
@savvytester
@zionazrael
@zonadigital21
@psyberx
@mario89
@hafiz34
@celf.support
@andy4475
@thecuriousfool
@sissim72
@astrocreator
@coccodema
@barski
@flauwy
@splintercell-01
@dubble
@dksart
@libertygame27
@libertycrypto27
@rzc24-nftbbg
@eustace-kidd
@benthomaswwd
@dstampede
@bitdoge
@blesker
@felixgarciap
@ruralio
@bobthebuilder2
@bananasfallers
@marshmellowman
@shikiphantom
@ecto1337
@darmst5339
@cryptounicorn420
@mvl2304
@shiftrox
@invest-time
@isiksenpalvoja
@definethedollar
@iamraincrystal
@siphon
@mateodm03
@skuration
@jbtc19warrior
@taintedblood
@lobaobh
@nelthari
@trippymane
@metronet
@jakkal-spt
@javivisan
@spongebob27
@skott83
@chubb149
@veteranforcrypto
@uveee
@underlock
@morenow
@mairapanelo
@andy-cine
@hatke
@braaiboy
@mizuosemla
@casimirio
@skgcrypto
@be-alysha
@rocinanteprimo
@flaxz.alive
@dewabrata
@curatingunicorn
@olympicdragon
@budino04
@bencwarmer
@noonespecialz
---
---