LeoFinance Engagement League - Positioned for free 100 LEO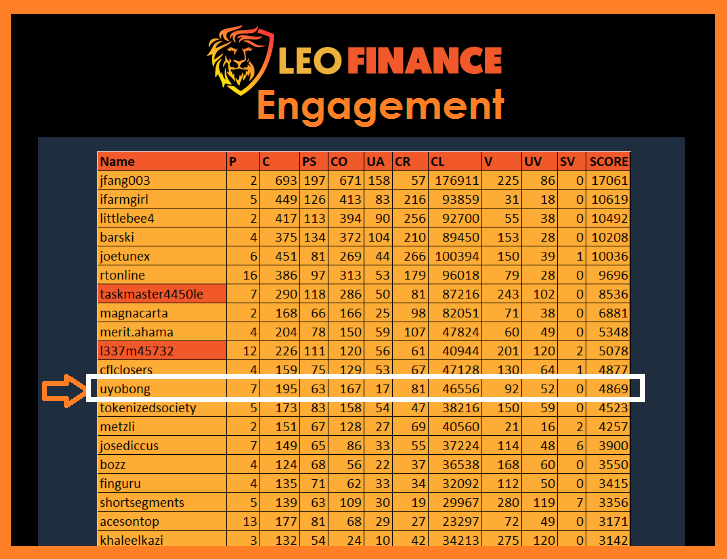 Days ago, I shared how to earn free LEO tokens in 2022. I am excited to have commented my way into the top 12 spots on this week's LeoFinance Engagement league table published few hours ago. This qualifies me for a 100 LEO reward from @khaleelkazi.
The LeoFinance community is committed to providing crypto-finance solutions to the teaming cryptocurrency and blockchain enthusiasts. Premiered on Hive blockchain, LeoFinance has expanded it's reaches to Ethereum, Binance Smart Chain, and Polygon blockchains.
The blogging interface of Leofinance is gradually growing into a top news front for cryptocurrency, blockchain and finance and is presently hosting over 800 users monthly creating and consuming crypto-finance contents.
The LeoFinance community is dedicated to maintaining a high Monthly Active Users (MAU) as its leading KPI. To ensure that there the user base of the community continues to spread across blockchains while also deepening, there have been several initiatives to encourage engagement of users in terms of posting and commenting on the LeoFinance blogging interface.
Each day passing, LeoFinance users are crushing the engagement numbers and several initiatives are initiated to encourage more users' participation in posts and comments engagement. The initiatives also helps to improve investment returns to LEO stakeholders as activities on the leofinnance frontend increases.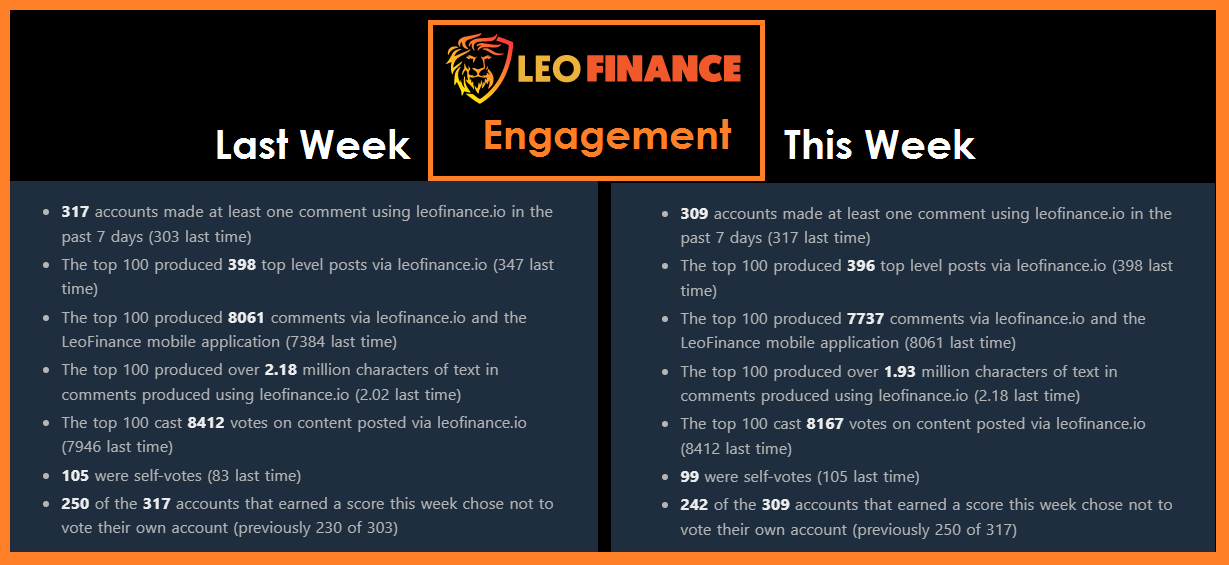 This week's LeoFinance engagement league reported that 309 users made at least one comment through the LeoFinance frontend over the last week. One Hundred (100) of the users combined to create 8167 comments. It is expectant that the 209 users not covered in the report would have created close to 2,000 comments which would bring the LeoFinance comments engagement to 10k over the week.
I am hopeful that in the sooniverse, Monthly Active LeoFinance users on would cross over the 1k mark and we'll consistently generate 50k comments and more in a month.
Thanks to everyone that made this week's LeoFinance engagement league fun. Thanks to Khal in advance for the 100 LEO. I'm gunning for at least 250 comments over the next 7 days and that should position me for the top 10 spots in the league.
It can only get better!
---

Learn more about POLYCUB - the Best Sustainable DeFi?
These posts would be of benefit in explaining more on the DeFi 2.0 pioneered in PolyCUB and how it plays out as a game-changer in the DeFi space, optimizing yield and serving long term decent profits to investors. They are: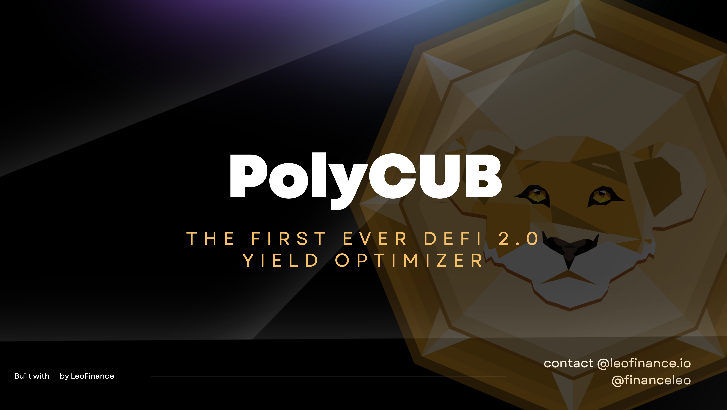 Are you yet a part of this fast evolving change in the cryptocurrency industry. The earlier the better!

What is LeoFinance?
LeoFinance is a blockchain-based Web3 community that builds innovative applications on the Hive, BSC, ETH and Polygon blockchains. Our flagship application: LeoFinance.io allows users and creators to engage and share content on the blockchain while earning cryptocurrency rewards.
LeoFinance | CubFinance | Hivestats | LeoDex | LeoFi
Delegate HP & Earn 16% APR, Paid Daily. Currently @ 2M HP
---
Join Hive Here and start a new work!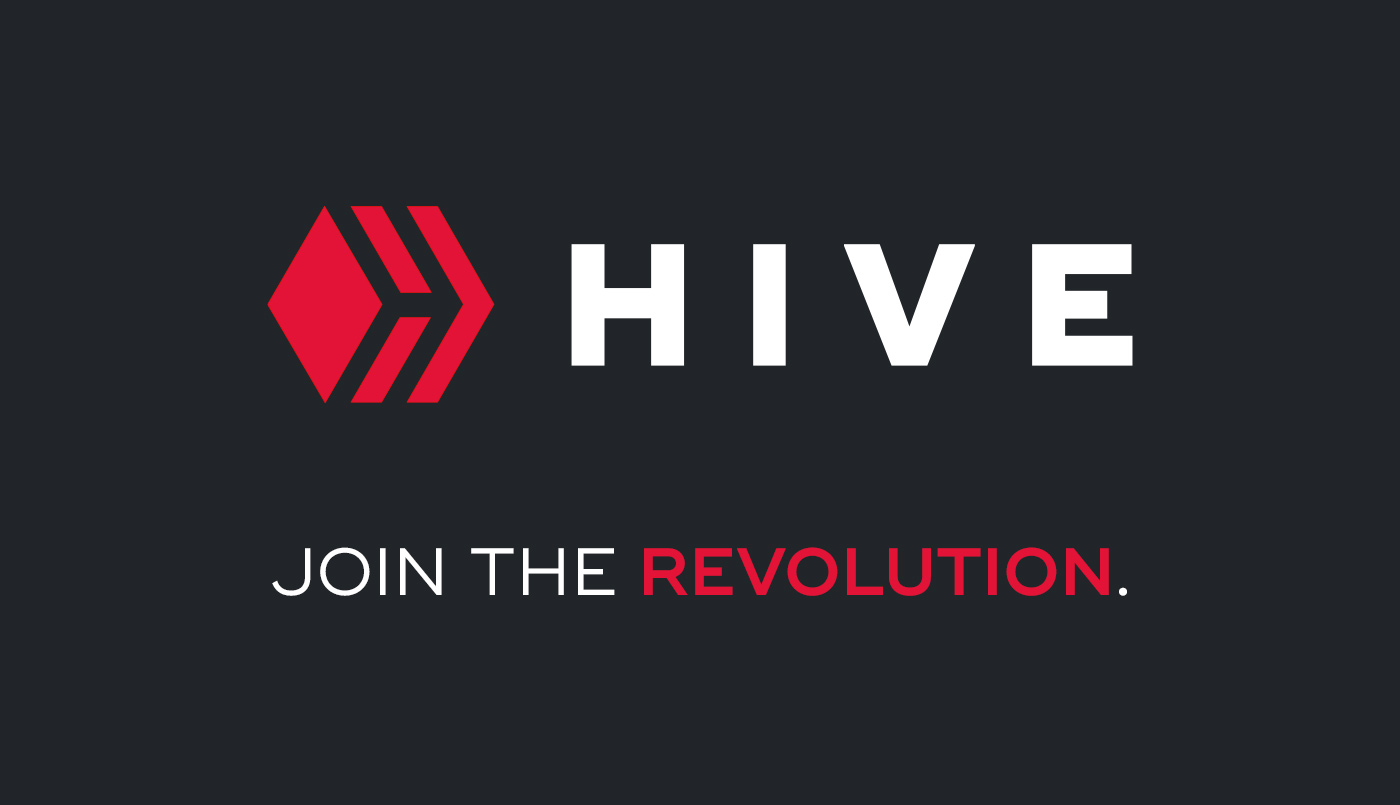 What is Hive?
Hive is an innovative and forward-looking decentralized blockchain and ecosystem, designed to scale with widespread adoption of the currency and platforms in mind. By combining the lightning-fast processing times and fee-less transactions, Hive is positioned to become one of the leading Web3 blockchains used by people around the world. source
About me...
I am a called teacher, a serial entrepreneur and a Graduate of Agricultural Engineering. Nigeria is my root and a place full of opportunities. I dropped out of a Master's Degree program due to funds, yet I do not regret growing the courage to start my business from the scratch. Today, I've built layers of Businesses on the Hive blockchain in terms of Curation and it's a sustainable passive way of earning crypto while learning.
I am your favourite Hive Tribes Promoter and Curapreneur!
I am @Uyobong.
Let's connect on Twitter
Posted Using LeoFinance Beta
---
---