HPUD December - My $107 Contribution (500 ONEUP, 700CTP, 50LEO, 50POB, 150LIST, 1k SPT, 100k SPORTS)
It's a huge privilege to be alive and partaking in the blessings that December 2021 brings to humanity. Looking back at the past 11 months completed, I can say that the year has been a wonderful one so far and trusting that we'll all see the new year with good health and a right state of mind. The first and second quarter of 2021 was a spending season for me. I had almost drawn out a great part of my investment on Hive and hive-engine tokens to fund projects off the chain. Glad that I was able to re-start my engagement on Hive by the second half of the year while peak investment and content creation has been witnessed from October.
Today is December 1, and like in other months, its a day tagged "Hive Power Up Day (HPUD)", set aside to encourage Hive users to power up a part of their earning to help reward other users while also increasing their governance stake in the blockchain. Dedicated tags for sharing posts reporting the amount of Hive powered up are #hpud and #hivepud. While I may not have some Hive to power up today, I've always ensured I always power up some of my second layer tokens.
Here's my motivating lines "never miss a Monday Power-up. Do it, either HIVE or Hive-engine tokens". Powering up your second layer tokens as with Hive helps the user to increase the amount of rewards given out during upvotes on hive-engine outposts while also helping to keep some Hive out of circulation in form of SWAP.HIVE. Some second layer communities like ProofOfBrain also reward Brain Power Up Week (BPUW) for POB token staking within the first Seven (7) days of the month.
Anyone that has been around this blockchain for Six months would have understood the value of powering up tokens especially with #hpud (Hive Power Up Day), a campaign to encourage all Hivers to power-up at least 10 Hive on the first day of each month. We now have power-up campaigns have Hive-engine like #bpuw (Brain Power Up Week) for the POB token and others.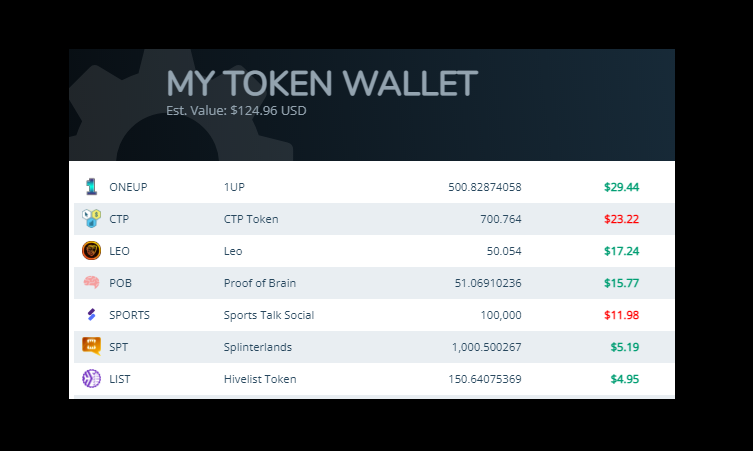 It was interesting to power up Seven (7) tokens worth $107 earlier today. Beginning the month with this huge investment is a great start for me. Last month, I powered up tokens worth $68 on November 1. I'm glad that it gets better and soon, total power up on a day like this could round up to $1000 if not more. The tokens powered up and the amount are as follows:
For now, LEO, ONEUP, CTP, POB, SPORTS, SPT and LIST is my complete curation portfolio at the second layer of Hive. I am endeared by the developments within the communities as well as the usecases (present and potential) of the tokens. I hope to cross the 10k stake mark for ONEUP, POB and LEO soon while looking forward to holding at least 50k CTP, 100k SPT, 150k LIST and 100 million SPORTS. I'm looking at a bigger picture of holding tokens worth $1 million in stake in a few years.
I'm geared up to scale with my CTP stake as I partake in the 5th edition of CTP Power Up challenge that comes with a huge reward in addition to my curation returns. Other token with an additional staking reward are LIST (COM rewards) and SPT (SPS rewards). These are all options for passive earnings available here on Hive blockchain.
I see the future of Hive thriving through the contributions of the second layer tokenized communities. By tomorrow, I would be able to set targets for these tokens for the month of December. This would require an intentional power up of these tokens weekly.
In every little way we can, let's push Hive either from the main chain or at the layer level. It all adds up to Hive's growth.
What is Hive?
Hive is an innovative and forward-looking decentralized blockchain and ecosystem, designed to scale with widespread adoption of the currency and platforms in mind. By combining the lightning-fast processing times and fee-less transactions, Hive is positioned to become one of the leading Web3 blockchains used by people around the world. source
What is Hive-Engine?
Hive-Engine is a smart contract platform on top of the Hive blockchain. It allows communities and businesses to build their own tokens, which are then built on top of the technology provided by Hive. This is the ultimate layer 2 solution. The token created on Hive-Engine is then immediately tradable with Hive on their exchange.
About me...
I am a called teacher, a serial entrepreneur and a Graduate of Agricultural Engineering. Nigeria is my root and a place full of opportunities. I dropped out of a Master's Degree programm due to funds, yet i do not regret growing the courage to start my buzsines from the scratch. Today, I've built layers of Businesses on the Hive blockchain in terms of Curation and it's a sustainable passive way of earning crypoto while learning.
I am your favourite Hive Tribes Promoter and Curapreneur!
I am @Uyobong.
Let's connect on Twitter
Posted Using LeoFinance Beta
---
---