Meme challenge #263 - Entry #1

Here is my entry #1 for #memechallenge # 263. This is my first ever entry in to the memechallenge so hopefully you all like will like it.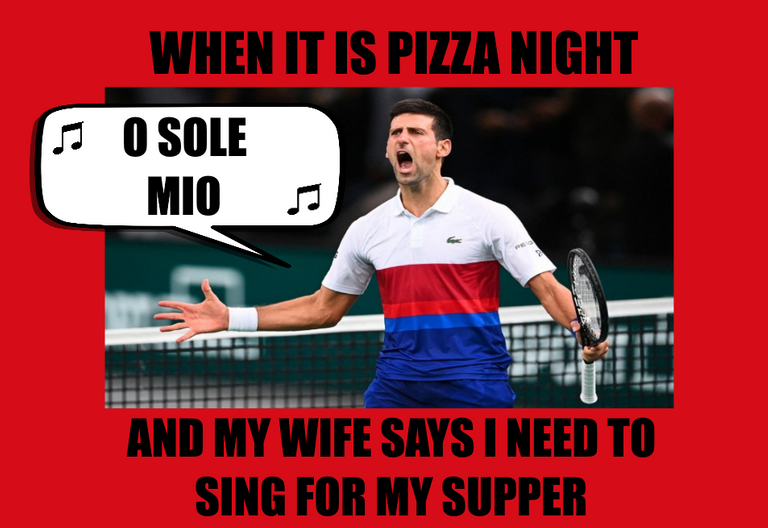 My Process
I started with the original photo from the challenge.
I pasted that into my image editor of choice paint.net which is a great free image editor with lots of features including adding layers.
For this meme I decided to go away from the obvious theme that he is yelling about something, and picked something that he could also be doing that would make him look like that. I eventually settled in on singing for his supper.
I added a background layer, and using the color picker picked the color from his red stripe and used the fill to turn the background layer red.
Next I added the text, using the font Impact.
Then to add a bit more interest, I headed over to pixabay.com to pick up some free to use graphics including the cartoon bubble and music notes. Pasted those in, resized them, added some more text and ... boom ba da bing. I was done.
Let me know what you think in the comments! Maybe you will get some #pizza (and an #lolz) for your dinner too!
The #memechallenge is a weekly contest run by @fibra59 where you are challenged to create an original meme starting with a provided photo. Prizes are awarded for the top 3 memes. Wish me luck!
Rules
Entry must be posted in Memechallenge Community (https://hive.blog/trending/hive-177075)
Title of every entry must contain "Meme challenge # - Entry #"
Entry must have #memechallenge hashtag
Your meme must contain text
You can add/remove something from the original photo but again photo without text isn't a meme
End of challenge will be on Sunday at 12:00 (UTC +1)
Each user can have up to 3 entries that will be considered in challenge
---
---